​On April 8, 2020 Tuscany Suites, LLC ("Tuscany") sued Oracle America, Inc. and its subsidiary Micros Fidelio Worldwide LLC (collectively "Oracle"), in San Francisco Superior Court alleging a single claim for breach of contract.  Tuscany runs the Tuscany Hotel and Casino in Las Vegas, Nevada.  The lawsuit alleges that Oracle made promises about the capabilities of its hardware and software including that it had a leading integrated management program for hospitality users such as Tuscany but that it failed to deliver on these promises.  According to the Complaint:
 
This is yet another example of a dissatisfied customer suing Oracle for over promising and under delivering.  Another unhappy customer, Barrett Business Services is also currently suing Oracle for breach of contract and related torts in San Francisco Superior Court.  Oracle had demurred to Barrett's initial complaint, arguing in part that the plaintiff had failed to plead what specific provisions of the contract Oracle had allegedly violated, and relying on its disclaimer of warranties and the contract's integration clause to attack Barrett's contract claim.  We would not be surprised to see Oracle attack Tuscany's complaint via demurrer on the same grounds.  In the Barrett case, the Plaintiff filed an amended Complaint, which added claims for intentional misrepresentation and other detailed factual allegations, which made its pleading less susceptible to a successful demurrer.  Perhaps Tuscany will do so here as well.

​Tuscany alleges that:

 
Tuscany claims that Oracle's various breaches have caused it damages of at least $3,000,000.  Tuscany contends that Oracle's breaches have resulted in chaos for Tuscany, which has lost substantial business and good will as a result of Oracle's alleged failure to perform.  According to the Complaint: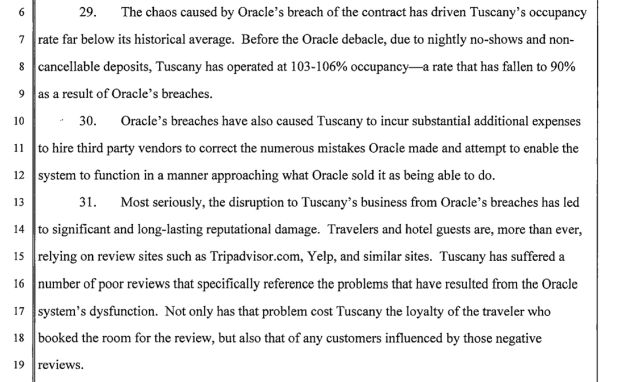 ​Tactical Law will continue to monitor the case and bring you any updates.  The case is Tuscany Suites, LLC v. Oracle America, Inc., San Francisco Superior Court Case Number CGC-20-584091.
The content of this article is intended to provide a general guide to the subject matter. Specialist advice should be sought about your specific circumstances.