The USPTO refused registration of the mark ACTTRA, finding it likely to cause confusion with the registered mark ACTARA, both for agricultural insecticides. Applicant argues that its mark "is a two syllable word pronounced as 'ACK-tra'"whereas the cited mark "is a three syllable word
pronounced as 'ac-TAR-a.'" How do you think this appeal came out? In re ISCA Technologies, Inc., Serial No. 87321402 (April 24, 2019) [not precedential] (Opinion by Judge Thomas Shaw).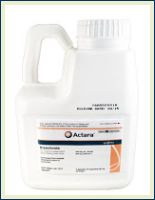 The Board took only six pages to affirm the refusal. Since the goods are identical, a lesser degree of similarity between the marks is needed to support a Section 2(d) refusal. The Board was not persuaded by applicant's argument.
It is well settled that there is no correct pronunciation of a mark. Viterra, 101 USPQ2d at 1912. For example, Registrant's mark also could be pronounced "ACT-a-ra" which sounds very similar to the purported pronunciation of Applicant's mark, "ACK-tra." Given the slight differences in the possible pronunciation of the last syllable or syllables of the marks, consumers who hear the marks spoken by others might not notice, or could easily forget, the difference. See Viterra, 101 USPQ2d at 1912; In re Energy Telecomms. & Elec. Ass'n, 222 USPQ 350, 351 (TTAB 1983) ("Slight differences in the sound of similar marks do not avoid a likelihood of confusion.").
The Board found the marks similar in appearance (both begin with ACT), sound, connotation (neither mark had any), and overall commercial impression.
And so the Board affirmed the refusal.
The content of this article is intended to provide a general guide to the subject matter. Specialist advice should be sought about your specific circumstances.