As the 2018 playoffs neared, Boston Celtics' fans were worried because star point guard Kyrie Irving was injured and unable to play. But reserve point guard Terry Rozier swooped and hooped onto the scene to deliver a breakout performance that helped the Celtics make a run at the Eastern Conference Finals. Thrilling fans, Rozier stole an inbound pass (and the victory) from the Indiana Pacers and flew in for the game-winning dunk 1.5 seconds before the buzzer. Rozier's performance fueled an increase in the popularity of his nickname "Scary Terry" among fans. Rozier and his marketing team alley-ooped the nickname to the next level by featuring the Scary Terry character—depicting Rozier's jersey with the popular "Scream" mask—on t shirts, sweatshirts, and other merchandise that quickly sold out after Rozier posted Scary Terry on Instagram.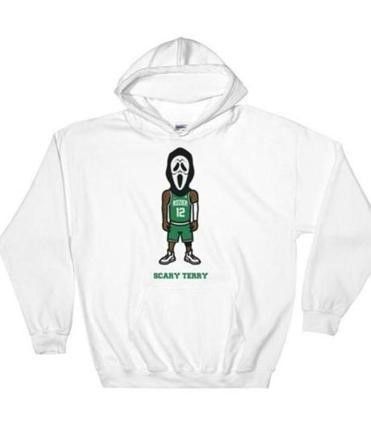 Now Rozier is facing an off-court challenge to keep Scary Terry alive. Fun World, a costumes and masks manufacturer, sued Rozier for copyright and trademark infringement for his allegedly unauthorized use of the Scream mask in his Scary Terry merchandise. Complaint, Easter Unlimited Inc. d/b/a Fun World v. Terry Rozier, No. 18-06637 (E.D.N.Y. Nov. 20, 2018). According to the complaint, the Scream mask—originally called the Ghost Face Mask—"has been a famous copyright and trademark of Plaintiff's for years." As the complaint explains, Fun World designed the mask and then licensed it in 1996 "for use in the popular slasher film series 'Scream'"—as result of which the Scream mask became "widely famous and a popular Halloween costume mask."
Fun World accuses Rozier of adopting—without permission, and both willfully and maliciously—the Scream mask design "as his own mascot" for producing merchandise, including t-shirts and sweatshirts. Fun World has asserted direct, contributory, and vicarious copyright infringement, as well as trademark infringement, trademark counterfeiting, and dilution by blurring. Fun World is seeking damages, attorney's fees, and a permanent injunction against Rozier.
While Rozier's basketball court performance was pressure-tested during the NBA playoffs, now it is time for Rozier and his legal team to make some good moves in a different court to keep Scary Terry alive. Stay tuned.
The content of this article is intended to provide a general guide to the subject matter. Specialist advice should be sought about your specific circumstances.