While the UK government and Ofcom progresses plans for Online Harms laws in the UK, the outgoing US President continues to test the boundaries and patience of social media platforms.
Following the scenes of violence in and around the US Capitol building last night, taking account of the social media posts he published during and after the attack on the Capitol building, the social media platforms took decisive action.
Trump has been suspended from Twitter for 12 hours. That suspension will be lifted in the next few hours on condition that three of his most recent posts are, and remain, deleted.  Twitter said it required the removal of three tweets for "severe violations of our Civic Integrity policy".  In response to this threat of a longer-term suspension, it appears that Trump was persuaded to remove the posts himself rather than Twitter deleting them on his behalf.
In one deleted tweet, which was posted while the rioters were inside the Capitol building, Trump addressed the rioters by video, telling them that he loved them, calling them 'patriots' and asking them to go home in peace, but reiterating that the election was 'stolen' from him and making other incoherent statements. In a live speech to supporters a couple of hours before the Capitol building was attacked, Trump had said he would "never concede", repeated claims that the election had been "stolen" from him and his supporters, and going so far as stating that Biden will be an "illegitimate" president, among other claims.
Responding to unfolding events, Twitter stated: "We have been significantly restricting engagement with Tweets labelled under our Civic Integrity Policy due to the risk of violence". 
Some of Trump's earlier tweets, which were less controversial and called for respect for law and order, remain visible.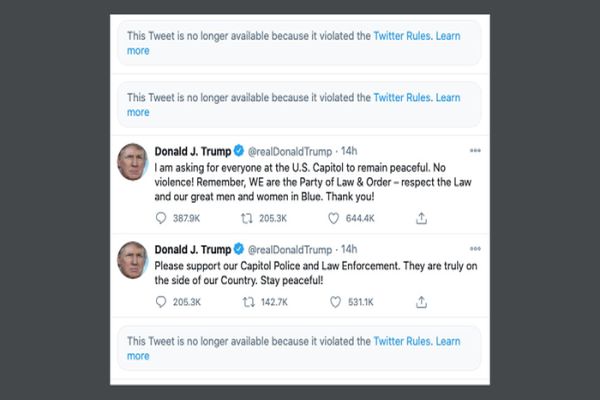 Twitter made clear that "Future violations of the Twitter Rules... will result in permanent suspension of the @realDonaldTrump account"
A number of the president's tweets have been flagged by Twitter in recent months for violating its rules about spreading misleading and potentially harmful information on a range of issues, from the election being 'stolen' through to Trump's claims that having the virus means he can't get or transmit Covid-19 again.

How have other social media platforms reacted to the events of the past 12-24 hours?
The other platforms have also taken action, with YouTube removing the video mentioned above, Facebook and Instagram banning Mr Trump for 24 hours. Snapchat also stopped Mr Trump from creating new posts, but did not say if or when it would end the ban.
Facebook said: "We removed it because on balance we believe it contributes to rather than diminishes the risk of ongoing violence."
Repercussions and reverberations
It is too soon to tell what the wider repercussions will be, in the US and elsewhere. 
One likely impact in the months to come is that the UK government and Ofcom will be closely watching not only the political developments but the actions and reactions of the social media platforms in handling these issues as the UK government looks to formulate its own regulatory framework to guard against a range of 'online harms', which might include political sedition. These are important issues, and now more than merely theoretical, and considers the ways in which social media platforms should and/or can be regulated 
In the meantime, even in the absence of regulation, the social media platforms seem to be stepping up to the plate in the face of this unprecedented challenge to established democratic institutions, customs and norms. 
Their 'crisis management' plans, and those of the UK government, will now probably involve a few more scenarios, as previously unimaginable scenarios look increasingly possible.
The content of this article is intended to provide a general guide to the subject matter. Specialist advice should be sought about your specific circumstances.