The coronavirus pandemic has required a rapid and dramatic shift to remote work, raising important implications for workplace privacy and information security. Some of these concerns are new; others are the same concerns that employers have always held, now amplified by the increasingly blurred lines between work and home. All of these concerns will remain as the workplace travels from the office to the home and, in the near future, back again. Some are compliance-related: how can employers make sure they are crafting appropriate employee-related privacy policies but not inadvertently creating increased risk of liability? How should employers think about privacy issues in the event of an internal investigation? How can businesses ensure that their trade secrets remain protected in the new remote environment? How might the remote workplace and these employee privacy issues impact litigation best practices? Join Foley Hoag partners Kristyn DeFilipp and Chris Hart as they explore these issues.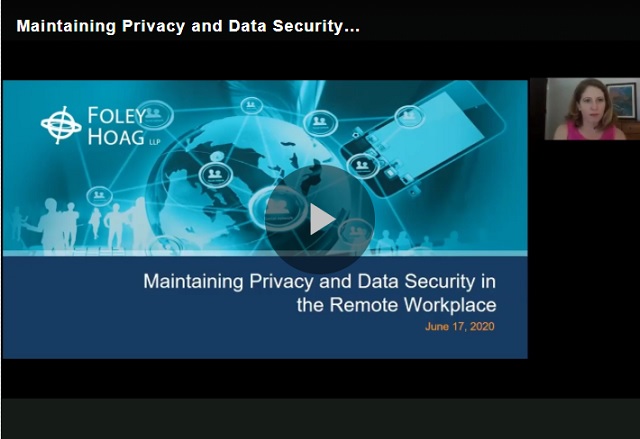 In this webinar, we discuss the following topics:
Key privacy and information security compliance consideration for the workplace
Privacy compliance needs in the remote environment
Managing privacy issues in investigations and litigation
Best practices to reduce employer liability relating to privacy and information security
Speakers:
Click here to download presentation materials.
To view Foley Hoag's Security, Privacy and The Law Blog please click here
The content of this article is intended to provide a general guide to the subject matter. Specialist advice should be sought about your specific circumstances.