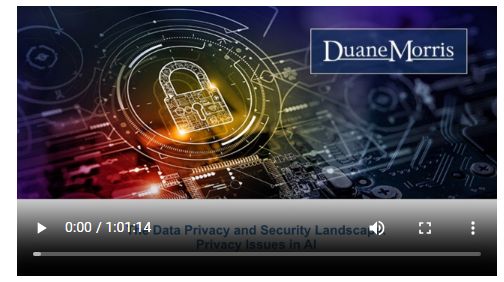 Duane Morris presented a webinar, The Data Privacy and Security Landscape: Privacy Issues in AI, on Thursday, September 14, 2023.
About the Program
As artificial intelligence becomes more advanced, it has the potential to process vast amounts of data, including personal information about consumers and employees. While this can provide valuable tools for businesses, it also raises several privacy, ethical and human rights concerns. This webinar will cover key areas of privacy risk when using AI including:
Privacy risks inherent in AI training, development and licensing
Automated decision-making risks and compliance requirements
Data minimization and security risks
Privacy risks and regulatory requirements for employers using AI in recruiting
Ethical considerations in training and using AI models
The regulatory landscape in the United States and abroad
Presenters
John Benjamin, Partner
Michelle Hon Donovan, Partner
Robert Carrillo, Special Counsel
Brooke Tabshouri, Special Counsel
Disclaimer: This Alert has been prepared and published for informational purposes only and is not offered, nor should be construed, as legal advice. For more information, please see the firm's full disclaimer.