Every quarter, RPX publishes its take on trends impacting patent litigation and the patent marketplace. Last week, 2020's Q2 in Review showed that there has been a significant increase in patent litigation despite the broader economic downturn caused by the COVID-19 pandemic, with NPEs surging in the final days of June and operating companies outpacing prior second quarters. The first half of the year also saw a marked increase in litigation hitting the Automotive market sector, while Biotech and Pharma, Semiconductors, and Networking also experienced a sizable bump.
Moreover, the Western District of Texas continued to grow in popularity, overtaking the District of Delaware as the top patent venue in Q2. As further noted in RPX's second-quarter review, that uptick may be due to the efforts of District Judge Alan D. Albright, who has implemented rule changes and conducted outreach to attract litigation to his district. However, his approach to certain types of motions may give defendants cause for concern.
Top Patent Litigation Districts in Q2 2020 by Defendants Added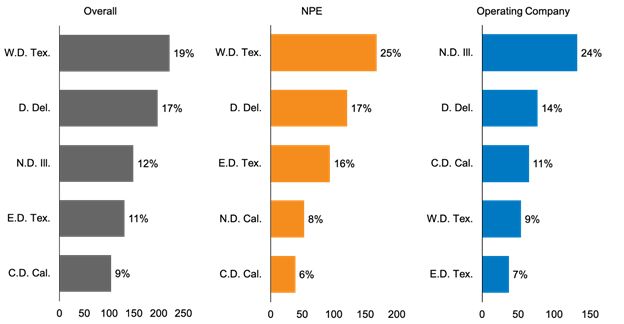 Additionally, multiple avenues for challenging patent validity were impacted by judicial decisions in the second quarter. In April, the Supreme Court precluded the appellate review of inter partes review (IPR) time-bar rulings through its opinion in Click-to-Call, with subsequent activity indicating that Click-to-Call could also affect other Patent Trial and Appeal Board (PTAB) procedures, like joinder. The Supreme Court also denied another series of constitutional challenges against the IPR regime itself, while the PTAB has continued to feel the impact of the Federal Circuit's October decision in Arthrex. Moreover, patent eligibility rulings continue to be affected by the Federal Circuit's 2018 decisions in Berkheimer  and Aatrix, as the resulting decline in Alice invalidations persisted through Q2 2020—with operating company patents seeing a particularly low invalidation rate in the first half of the year.
Meanwhile, the divestiture of patents from Intellectual Ventures LLC led to even more new litigation as NPE plaintiffs launched campaigns asserting such assets throughout the second quarter. Prolific litigants like IP Edge LLC also continued to stockpile patents in Q2, as other NPEs like Acacia Research Corporation and Fortress Investment Group LLC made notable acquisitions of their own—all signaling additional litigation likely to come.
To read RPX's full second-quarter review, click here.
The content of this article is intended to provide a general guide to the subject matter. Specialist advice should be sought about your specific circumstances.