EXECUTIVE SUMMARY
What will the supply chain of the future look like?
That question, as we brace for the continuing effects of COVID-19, is at the top of executives' minds. And yet each vision seems to beget more questions: about alternative supply chain models and contract terms, about identifying supplier distress and implementing new technologies, about where suppliers will be located and – of course – about striking the right balance between cost-efficiency and resiliency.
Our survey of nearly 150 manufacturing executives – more than 60% of whom are members of their company's C-suite, and who work in a wide array of industries – offers a perspective on what business leaders are thinking when it comes to these vital questions, as well as how the future supply chain is beginning to take shape.
What is clear is that some change is certain, in light of not only the pandemic but also the geopolitical landscape and economic headwinds that preceded it. Our respondents know this – only 7% are not undertaking contingency planning efforts to prepare for future disruptions.
What will these preparations entail?
For starters, 43% of respondents have already withdrawn some of their production or sourcing from China or are planning to do so. Many of these manufacturers are looking to reshore closer to home, whether in the U.S., Canada or Mexico. Seventy percent agree that companies will, as a result of the pandemic, lessen their focus on sourcing from the lowest-cost supplier in favor of higher supply chain resiliency. A similar percentage (62%) agrees that the focus on just-in-time (JIT) manufacturing models will also decrease.
Relatedly, over the next year, many manufacturers expect to: strengthen relationships and increase transparency across their supply chains (42%), multi-source products to reduce reliance on any one supplier (39%) and diversify their supply chains among multiple geographies (30%). They will also review contract terms (25%) – especially with regard to sole source and force majeure provisions – and consider new technologies, such as tools to improve supply chain visibility and tracking (47%) and operational analytics (39%).
It will not be easy, since business leaders continue to face growing concerns over consumer demand (58%), employee safety (43%) and additional challenges wrought by COVID-19 and evolving geopolitical risks. However, the case for supply chain transformation has been simmering for some time – and the virus may finally force change.
"There are lessons to be learned from this pandemic," said Vanessa Miller, co-chair of Foley's Coronavirus Task Force and co-chair of the Supply Chain Team. "Among them is that cost may not be the only consideration, that companies can stabilize their supply chains by bringing on alternative suppliers or moving certain functions in-house, and that technology can help stem future disruption. But the principal lesson – wake-up call, really – might simply be that such disruptions are an unshakeable reality,and that executives must have a proactive strategy if they hope to head them off."
ALTERNATIVE SUPPLY CHAIN MODELS: A MOVE TOWARD STABILITY AND RESILIENCE
Two survey findings point to a potentially drastic shift in the way manufacturing company executives generally think about their global supply chains: from a concentration on minimizing lead times and cost to one that prioritizes stability and resilience in the face of disruption.
When asked if, as a result of COVID-19, companies will focus less on sourcing from the lowest-cost supplier and instead place greater emphasis on a supplier's ability to provide more resilient and flexible processes, 70% of respondents agreed (and 20% of those respondents strongly agreed) – only 7% did not.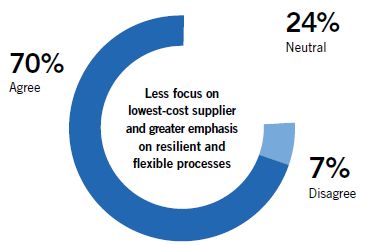 "This is a significant shift in perspective, but not necessarily a new one," said Miller. "After the Great Recession, we saw calls for sweeping change, albeit on different issues, only to find that some of it was easier said than done. But 2020 is not 2009, and we may very well see companies follow through, especially if they see continuity of supply begin to overtake price as a key driver for success."
Many manufacturers, across numerous industries, still rely on a single source for the supply of various materials and components. By multi-sourcing these products – as 39% of respondents are planning on or already doing – and working with customers to develop a preapproved list of alternative suppliers, companies can better mitigate potential interruptions.
The first step in this process? Mapping the entire supply chain, including suppliers and sub-suppliers, as well as tracing inputs from raw materials to finished goods – then assessing critical risks at each step, from natural disasters to tariffs, power outages to labor issues, and any number of other potential hazards.
Another key survey result supports this shift toward stability and resilience: 62% of respondents agree (and 17% of those respondents strongly agree) that the pandemic will lessen companies' focus on JIT manufacturing models that emphasize low costs and lean inventory.
"Just-in-time production models have been used effectively to create optimal efficiency in the manufacturing process. But they carry the risk of not having products available when disruptions like COVID-19 impact material availability, pricing and consumer demand," said Kate Wegrzyn, co-chair of Foley's Coronavirus Task Force and co-chair of the Supply Chain Team. "The question remains whether loss of sales during disruptions outweighs keeping the cost of manufacturing down when JIT is running smoothly. In any case, companies will have to address the weaknesses in the JIT model that the pandemic has made apparent while building greater flexibility into their supplier base to avoid shortages."
To address these issues, companies might consider storing additional inventory themselves to protect against disruptions – or shift the obligation to suppliers by requiring them to maintain a "bank" of materials and component parts for future use. Considerations here involve who pays for additional warehousing costs (i.e., buyer or seller), how much inventory to bank, whether the goods are perishable and how frequently they need to be replenished.
Click here to continue reading ...
The content of this article is intended to provide a general guide to the subject matter. Specialist advice should be sought about your specific circumstances.