Introduction
With the commencement of Indian gaming in 1979 and its continued expansion, Indian tribes have had a substantial source of new capital available to Tribal governments.
In 2020, Indian Tribes brought in $27.8 billion in gaming revenue, an unprecedented drop of 19.5% from the $34.5 billion in gaming revenue in 2019. The decline was due to the COVID-19 pandemic. See IndianAZ.com (August 17, 2021). As normalcy returns, revenues are anticipated to rebound.
Tribes have used these revenues to expand business activity throughout their reservations and outside their In expanding their activities, Tribes are increasingly partnering with non-Indian businesses that bring expertise and new capital to their lands.
This presentation introduces the key issues involved in doing business with Indian Tribes on Indian lands.
There are legal complexities unique to dealing with an Indian Tribe that must be addressed when structuring a successful transaction.
Basic Facts of Indian Tribes
The Federal Register lists all Federally Recognized Indian Tribes. There are 574 Tribes listed. See Notice by the Bureau of Indian Affairs, 86 FR 7554 (1/29/21).
Arizona has 22 Federally Recognized Indian Tribes.
Arizona's Tribes occupy over 19,000,000 acres of land, roughly 26.99% of land in the State, a greater percentage of land than any other State in the continental United States.
Indian Tribes control 56 million acres of land in the continental United States and substantial natural resources.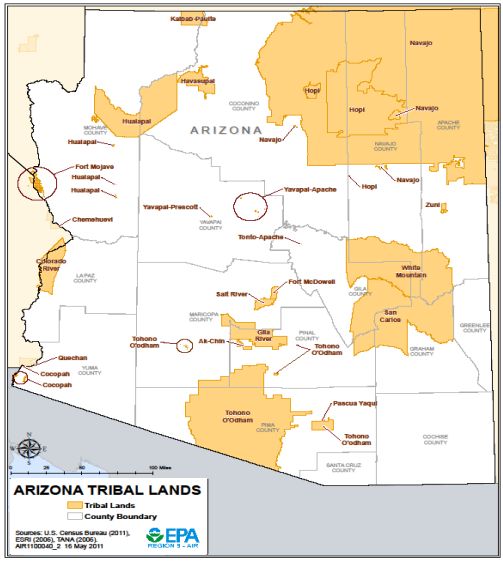 The Legal Status of an Indian Tribe
A Federally Recognized Tribe is a legal designation that establishes certain relationships between the United States and the Tribe.
Recognition is "a formal political act, it permanently establishes a government-to-government relationship between the United States and the recognized tribe as a 'domestic dependent nation,' and imposes on the [federal] government a fiduciary trust relationship to the tribe and its members." H.R. Rep. No. 103-781, 103rd Cong., 2d Sess., 2 (1994).
Recognition "imposes upon the Secretary of the Interior specific obligations to provide a panoply of benefits and services to the tribe and its members. In other words, unequivocal federal recognition of tribal status is a prerequisite to receiving the services provided by the Department of the Interior's Bureau of Indian Affairs (BIA), and establishes tribal status for all federal purposes." H.R. Rep. No. 103- 781, 103rd Cong., 2d Sess., at 3 (1994).
Besides Federally Recognized Tribes, there are also State-Recognized Tribes and unrecognized tribal This presentation focuses only on Federally Recognized Tribes.
Structure of Tribal Governments
Indian Tribes "are distinct, independent political communities, retaining their original natural rights in matters of local self-government." Santa Clara Pueblo v. Martinez, 436 S. 49, 55 (1978).
An Indian Tribe is free to maintain or establish its own form of government. See 1-4 Cohen's Handbook of Federal Indian Law § 4.01 (2017).
Each Tribe may determine its membership, enact criminal and civil laws, levy taxes, control tribal property, exercise powers delegated by Congress, and adjudicate tribal disputes.
The forms of government that Tribes use to govern themselves vary widely. Some have very familiar structures like a three-branch form of government, that is legislative, executive, and judiciary, while others have only a Tribal Council which has the sole authority.
Download : PowerPoint Presentation (sackstierney.com)
The content of this article is intended to provide a general guide to the subject matter. Specialist advice should be sought about your specific circumstances.