The Department of Homeland Security (DHS) extended the COVID-19 remote completion flexibilities for Form I-9, effective November 1, 2022 – July 31, 2023. Additionally, in August of 2022, DHS invited public comment on a Notice of Proposed Rulemaking (NPRM)1 regarding new policies for consideration in Form I-9 completion, such as permanent virtual document review options in light of new technologies and the expansion of remote work and hiring. There have been some discussions to allow a remote verification process in the future limited to companies enrolled in E-Verify and participating in a training program for fraudulent document detection and/or anti-discrimination training. Note: Unfortunately, no permanent virtual document review option is currently available for Form I-9 completion, and one is not anticipated in 2023.
Scope of Remote Completion Flexibility Policy:
DHS clarified its guidance regarding the scope of the remote flexibility policy announced on March 20, 2020 and March 31, 2021. The guidance clarified that as of April 1, 2021, employers must inspect employees' Form I-9 identity and employment eligibility documentation in-person for those employees who physically report working at a company location on any regular, consistent, or predictable basis. Thus, for any employee hired or re-verified after APRIL 1, 2021, employers were temporarily exempted from in-person verification requirements for Forms I-9 when the position was fully remote with no expectation of the employee returning to an employer worksite on a regular and consistent basis.
DHS expects that once "normal" operations resume, all employees onboarded using remote verification MUST report to their employer within three business days for in-person verification of identity and employment eligibility documents for Form I-9 completion. If employees are physically present at a work location, DHS confirmed that NO EXCEPTIONS are applied for remote verification of identity and work authorizing documents. DHS at least noted that if newly hired employees or existing employees are subject to COVID-19 quarantine or lockdown protocols, DHS would evaluate remote verification on a case-by-case basis.
What are "normal operations"? DHS has advised:
Normal operations" was nebulous when ICE2 first announced a temporary option for virtual Section 2 review and remains impossible to define. ICE recommended focusing instead on planning for the "end of increased flexibility by ICE." HSI3 noted that the ability to remotely verify the documents is for employers who are operating "100% remotely" and if they are at a company where employees have started to come back, the expectation is that they will have started to verify those employees. HSI expects that a company should have HR capacity commensurate with its employee numbers, so that a company would have the required capacity to onboard its new hires via the required in-person process within the three-day verification period. For example, a company that onboarded 600 to 700 people during the virtual I-9 COVID exception should reasonably have an HR capacity of a size sufficient to address the subsequent in-person verification requirement. Companies can also consider the use of authorized representatives.
Regarding the end of remote verification flexibility, HSI stated that once leadership says, "no more flexibility," then HSI could require all employees to be verified within three days. The goal is to communicate the end to flexibility as soon as practical to employers. HSI will work with USCIS to clarify expectations.4
What if the company's representative completed Forms I-9 using the remote policy or continued to use the remote policy when employees were physically present on-site at the workplace? Below are five considerations:
Compile a List of Forms I-9 completed using remote verification for active employees and prepare a memo to attach to Forms I-9 completed for inactive employees using remote verification, which cannot be updated by in-person verification.
Advise those on the list to review the instructions to Form I-9 and the acceptable documents listed on the Form I-9 and to establish a date as soon as possible with the designated company contact to present their chosen original documents for identity and employment verification purposes.
Establish a process for the review by the employer's designated representative of the documents in person.
Continue or start (as applicable) the process of in-person document review with the goal of completing in-person review before July 31, 2023.
Use the posted guidance on how to update Form I-9 when remote verification is used. DHS provides the following examples:
Figure 1: Performing Physical Inspection Once Normal Operations Resume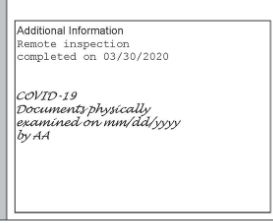 If the person who performed the remote inspection also performs the physical inspection, they should indicate the date they physically examined the documents and then add their initials in the Additional Information field.
Figure 2: Performing Physical Inspection by a Different Person Once Normal Operations Resume
If the person who performed the remote inspection cannot also perform the physical inspection, the person who performs the physical inspection should indicate the date they physically examined the documents as well as their full name and title in the Additional Information field.
Figure 3: Notating Remote and Physical Inspection for Reverification (Section 3 of the Form I-9)

Employers should make required notations for remote and subsequent physical inspections of reverifications in the Additional Information field in Section 2. If the same person performs both the remote and subsequent physical inspections for a reverification, complete as shown. If a different person performs the physical inspection, that person should write their full name and title instead of their initials.
Please consult with experienced immigration counsel regarding Form I-9 compliance in approaching your plan of action to address remote completion updates for Form I-9. As usual, the review of the actions taken and the reasons for them by a company regarding Form I-9 remote completion during the pandemic are essential to mitigate risk and develop a solution
Footnotes
1. 87 FR 50786 (Aug 18, 2022).
2. U.S. Immigration and Customs Enforcement
3. Homeland Security Investigations
4. This information is from the American Immigration Lawyers Association (AILA) Verification and Documentation Liaison Committee meetings with agency representatives.
The content of this article is intended to provide a general guide to the subject matter. Specialist advice should be sought about your specific circumstances.