The first four primaries represent just four percent of all pledged delegates but greatly influence perceptions going into later primaries. In previous presidential races, the eventual nominee has finished first or second place in every "first four" primary since 2004 (except in the 2008 GOP race). If this holds true, the Democratic nominee will be Sen. Bernie Sanders or former Vice President Joe Biden. Pete Buttigieg and Amy Klobuchar dropping out has changed the entire dynamic of the race. As we head into Super Tuesday, watch the early states on the East Coast to get a read if a clear winner starts emerging or if Biden continues to sweep southern states. If Biden performs well in Texas and California he will be able to keep delegate counts within a viable range of Sanders.
Delegate tracker as of 2/25/20
(Super Delegates excluded)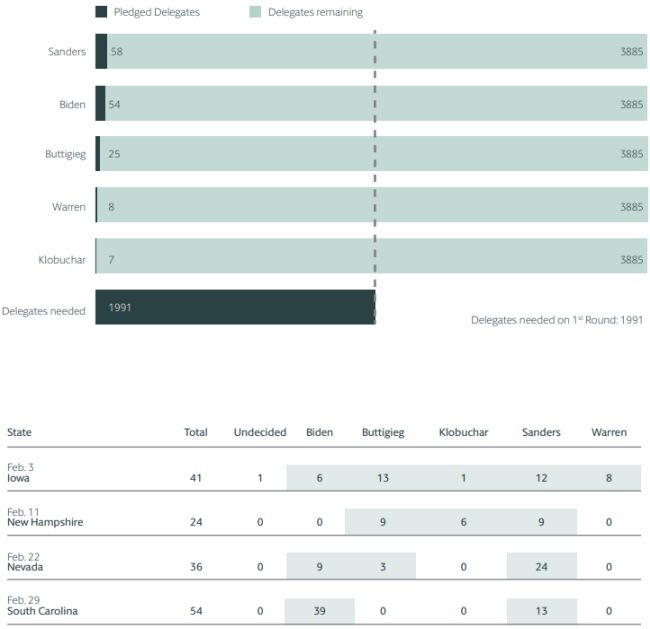 Iowa
Iowa had painful technical glitches that substantially delayed reporting of results and diminished the boost for both Buttigieg and Sanders, that Iowa typically gives the winning candidate. The lower than expected Democrat turnout undermined the Sanders electability argument-which has been that he can best mobilize and generate an enthusiasm among younger and newer voters so as to increase the turnout and beat Trump. The entrance polls didn't substantiate that. When Obama won the Iowa caucus in 2008, almost 6 in 10 of the attendees were first time caucus goers. On Monday night only 1 in 3 were first time attendees.
Sen. Norm Coleman, Senior Counsel
To view the full article click here
The content of this article is intended to provide a general guide to the subject matter. Specialist advice should be sought about your specific circumstances.