The International Advertising Association is sponsoring a virtual fireside chat on "Global Advertising and Policy Issues" with Mary K. Engle, the Executive Vice President, Policy, for BBB National Programs. The program will be held on February 15, 2023 at 9:00 a.m. ET.
BBB National Programs is the home (among other things) of many of the most influential advertising self-regulatory programs in the United States, including the National Advertising Division and the Children's Advertising Review Unit.
In this fireside chat, which I'll be hosting, I'll be talking with Mary about the state of advertising self-regulation in the United States, how the role of self-regulation has been evolving, and how self-regulation is tackling some of the most important issues we're facing today, such as issues related to social media, climate change, and diversity. And, I'm sure we'll also touch on broader advertising and consumer protection issues as well, drawing on Mary's many years as head of advertising practices at the Federal Trade Commission.
The program is free and no advance registration is required. To watch, join us on YouTube, Facebook, or LinkedIn.
This program is part of a series of IAA fireside chats exploring how advertising policy is developed and enforced around the world. To see our prior programs, which have included chats with Ad Standards Canada, the Advertising Standards Council of India, the U.S. Federal Trade Commission, the International Chamber of Commerce, UNICEF, and the United Nations, please visit the IAA Public Policy Council's video library.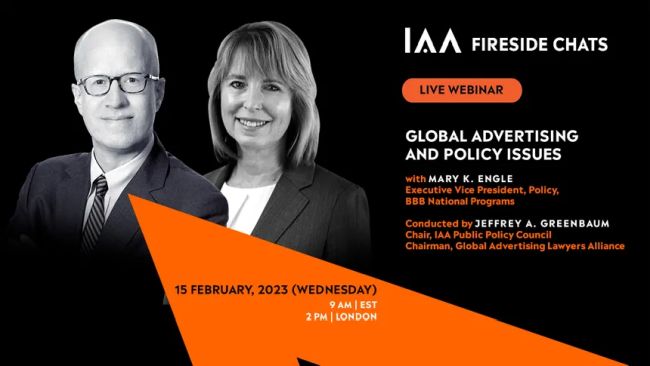 The content of this article is intended to provide a general guide to the subject matter. Specialist advice should be sought about your specific circumstances.