Willkommen bei unserer neuen Serie für den Mittelstand zum Thema Mitarbeiterentsendung und Compliance! In unserem fünften Artikel greifen wir die wichtigsten Punkte zu dem so genannten ,Vertreter' im Kontext der EU Meldepflichten auf.
Teilen Sie uns gerne Ihre Herausforderungen zu den EU Meldepflichten mit und wir werden sie in zukünftigen Beiträgen adressieren.
Die europäische Gesetzgebung (die so genannten Entsenderichtlinien) erlaubt EU Mitgliedstaaten verwaltungstechnische Kontrollmaßnahmen im Rahmen der Mitarbeiterentsendung einzurichten, um eine effektive Überwachung zur Einhaltung der Meldeverpflichtungen sicherzustellen.
Wann muss ein Vertreter benannt werden?
Generell müssen die Unternehmen bereits in der Meldung vor Arbeitsbeginn eine Kontaktperson / Vertreter benennen. In den meisten Fällen muss dies über das online Portal erfolgen, z.B. SIPSI in Frankreich oder LIMOSA in Belgien, etc.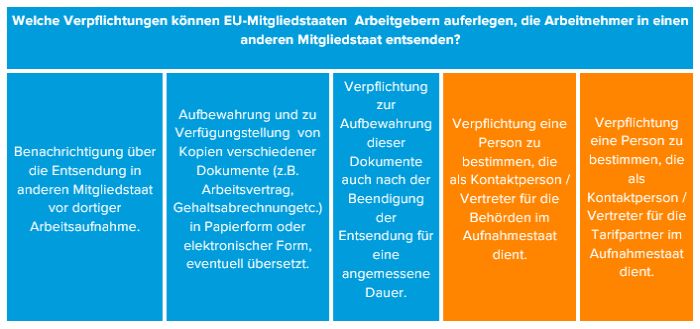 Aufgaben des Vertreters
Die Hauptaufgabe der Kontaktperson / Vertreter ist es die Unterlagen zu verwahren und diese bei Kontrollen seitens der Behörden auf Verlangen vorzulegen. Trotz der EU-rechtlichen Rahmenbestimmungen unterscheidet sich der Inhalt der Implementierung der
Verpflichtungen hinsichtlich Bereitstellung von Kontaktpersonen / Vertretern von Mitgliedsstaat zu Mitgliedsstaat.
Angaben der Kontaktperson / des Vertreters
Prinzipiell für die Benennung der Kontaktperson / Vertreter sind die folgende Angaben erforderlich:
Name, Vorname, Geburtsdatum und Geburtsort
E-Mail- und Postadresse in Aufnahmestaat
Einverständniserklärung der Kontaktperson / des Vertreters
Dauer der Benennung
Ort, an dem die Unterlagen aufbewahrt werden.
In manchen Mitgliedstaaten ist dies in lokaler Sprache und schriftlich vorzulegen.
Beispiel für die Benennung einer Kontaktperson in Belgien
In Belgien zum Beispiel muss der Arbeitgeber zeitgleich mit der Einreichung der Anmeldung die Anmeldedaten der Kontaktperson im Online-Portal angeben. Die Kontaktperson kann jede beliebige natürliche Person sein. Dies kann deshalb der Arbeitgeber selbst sein, ein Mitarbeiter des Unternehmens oder eine dritte Person in Bezug auf das Unternehmen.
Beispiel für die Benennung eines Vertreters in Frankreich
Der Vertreter ist der Ansprechpartner der französischen Behörde (Arbeitsaufsichtsbehörde, Polizei, Finanzamt, etc.). Er muss zwingend Französisch sprechen und über eine Postanschrift und E-Mail Adresse in Frankreich verfügen. Sein Name und seine Kontaktdaten sind auf der on-line Entsendemeldung aufzuführen. Die Ernennung des Vertreters bedarf der Schriftform.
Weitere Informationen zu aktuellen Entwicklungen finden Sie hier:
Überarbeitung der EU-Entsenderichtlinie
Wir brauchen faire Bedingungen
EU Measures to Combat Social Dumping: An Overview in Context of Posted Workers
Posted Workers Compliance and AI Social Security Certificates: The Current Status Quo Presents an Ambiguous Picture
The content of this article is intended to provide a general guide to the subject matter. Specialist advice should be sought about your specific circumstances.