University and Immigration – the new laws coming into effect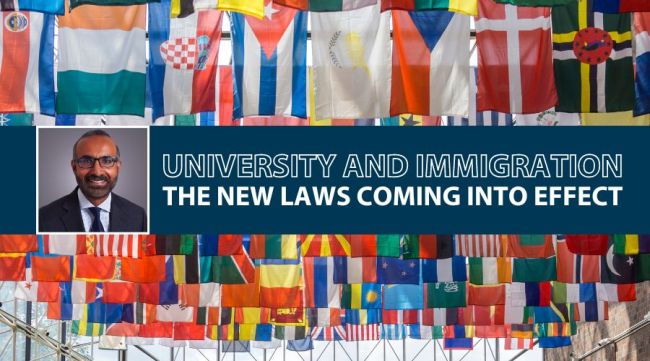 With the university population heading back to campus this month, students from across the world will be entering the UK to learn at some of the world's top establishments. Immigration continues to be a key area for the government and country as a whole as it looks to reduce net migration to the UK. But what impact will this have on students coming to our shores? Partner and Head of Immigration, Sohan Sidhu, shares what they can expect.
Net migration in the UK hit a record 606,000 in 20221, according to official figures released in May. The UK Government has since pledged to cut dependency on foreign labour and is now looking at plans to limit the number of family members overseas students can bring to the UK.
Currently, those on a postgraduate course can be joined by a partner and their children. Last year, almost 136,000 visas were granted to dependents of students – more than an eight-fold increase from 16,000 dependents in 20192.
Students from China and India, who make up nearly a quarter of the country's student population, will be among those most affected.
From 1st January 2024, the Home Office have announced that they will remove the rights for international students to bring dependant family members with them to the UK, unless they are on Postgraduate courses currently designated as research programmes. The changes are therefore due to be implemented for the cohorts starting classes next January and University leaders have now warned the new law could mean a spike in applications in September from students wishing to study with dependents in Britain, before the new rules come into force.
Sohan Sidhu, said: "As the change will only apply to students who are starting courses from the beginning of next year, there will be no impact to students who are making applications for courses starting in the autumn of this year but from 1st January 2024, international students will only be able to bring dependants if they are government sponsored or are studying for a PHD, doctorate or a research based higher degree. In view of this imminent rule change, it is quite possible that there will be a spike in student visa applications particularly among those students who were planning to enter the UK with their partner and/or children. It has also been suggested that once the rule change takes effect next year, this could discourage students from even applying for student visas to the UK because of their inability to be accompanied by their family."
Mr Sidhu, who is listed in the Who's Who Legal, which recognises leading international solicitors in their specialist fields and is also featured in the Legal 500, believes the new laws will cause the UK to lose the talented students who are looking to study, work and thrive in the UK.
Mr Sidhu explains: "Foreign students bring a wealth of knowledge and skill to the United Kingdom. A recent report by Universities UK International, the Higher Education Policy Institute and Kaplan International in collaboration with London Economics said that the economic benefit of international students rose from £31.3 billion to £41.9 billion between 2018/19 and 2021/22. The net benefit to the UK economy, when the cost of the impact on public services is taken into account, is £37.4bn.
"International students diversify our universities across Britain and enable insight and experience which also enriches the lives of British students and the local community. Alongside this, during a long period of study, family members of international students offer a huge amount of emotional and moral support during an arduous period in any students' life."
Visa fees to increase on 4th October 2023
The changes for international students looking to study in the UK do not stop there. In July, the UK Government approved recommendations to boost wages of teachers, doctors and police by between 5 to 7%. Mr. Sunak ruled out tax increases or government borrowing to fund the rise but instead said an increase in Immigration Health Surcharge (IHS) and visa fees would raise £1 billion.
Currently, over-18s pay £624 per year while students and under-18s pay £470 per year. The government has proposed raising the IHS for adults to £1,035 and £776 pounds at the reduced rate.
Work and visit visas will also increase by 15%, while the cost of student and leave-to-remain visas, among others, will rise by at least 20%.
Whilst the new and increased visa fees will apply from 4th October 2023, the increases in the NHS health surcharge are likely to be increased later on this year.
Mr Sidhu believes the impact of such fees would be colossal. He said: "The IHS increase, which is paid for by individuals or their employer, will have a huge impact on many companies. The increase in fees may lead to students and highly-skilled workers to look to other countries to live and work.
"Many businesses will not be able to afford the proposed fees which will result in skill shortages across the United Kingdom and unfortunately, more businesses having to close. The repercussions will be felt across the country as less corporation tax means that the Government will have to find other ways to raise the funds."
Footnotes
1. Migration too high says Sunak, as total hits record level – BBC News
2. Many foreign students to lose right to bring family to UK – BBC News
The content of this article is intended to provide a general guide to the subject matter. Specialist advice should be sought about your specific circumstances.