In April 2018, Sainsbury's and Asda announced that they were planning to join forces and merge into a single entity in a deal worth GBP 7.3 billion (USD 10 billion). If successful, the newly combined entity would have surpassed Tesco as the largest supermarket chain in the United Kingdom.
According to the terms of the agreement, proponents of the merged entity stated that the combined business would have generated at least GBP 500 million (USD 688.62 million) in cost savings and led to a reduction in retail prices of about 10%. Despite these touted benefits, the Competition and Markets Authority (CMA) concluded the merger could lead to a "poorer shopping experience". In February 2019, the CMA also raised a catalogue of concerns in a very strongly worded report on the potential consequences of the merger, focusing primarily on higher prices and reduced choice for customers.
On April 25, 2019, Asda and Sainsbury's announced that the proposed merger was formally blocked by the CMA. The CMA rejected the proposed merger following their conclusion that customers would pay higher prices due to the projected dominance of the new entity in the market, as well as significantly increasing pressure on retail suppliers to the proposed entity.
CEO Compensation: Potential Catalyst for Proposed Merger?
In 2017 Sainsbury's Chief Executive Mike Coup's total realized compensation grew by 63% compared to financial year 2016. As part of his increase in realised compensation, Mr. Coupe received a cash bonus of GBP 499,428 (USD 678,677), despite Sainsbury's reporting an almost 19% drop in profits for that same year. Although company profit accounted for 50% of Mr. Coup's STI performance criteria, he received a bonus award as the company hit the remaining targets linked to the company's acquisition of Argos, the company's Nectar loyalty card scheme, as well as a minimum profit target per the company's remuneration policy. Mr. Coupe was criticised for receiving such a payout while also removing employee benefits, such as paid breaks and bonuses, negatively affecting 9,000 employees.
Most importantly, it could be suggested that the performance criteria for Mr. Coup's LTI awards may have had a hand in his decision to pursue the merger with Asda. His current LTI performance awards include five performance criteria with weights of 20% each: ROCE, EPS, Cash Flow, Cumulative Strategic Cost Savings, and HRG Acquisition Strategies.
Upon examining Sainsbury's performance since 2012, we find revenues for Sainsbury's have remained relatively flat; net income took a dip in 2014, but is slowly bouncing back; and free cash flow appears to have been decreasing slowly since 2012. These three financial performance criteria have a direct impact on the first three previously-mentioned performance criteria for the vesting of Mr. Coup's outstanding awards. Consequently, we find that the remaining criteria, Cumulative Strategic Cost Savings and HRG Acquisition Strategies, to be the last areas where Mr. Coup would be able to directly influence his ability to exercise his outstanding LTI awards.
Interestingly, the Cumulative Cost Savings performance criterion had a target and maximum goal of GBP 450 million and 550 million, corresponding roughly to the same cost savings that the proposed merger would bring to the combined entity (GBP 500 million). These savings would have potentially resulted in a higher level of vesting of Mr Coup's Outstanding STI and LTI Awards, as detailed in the graph below generated from the CGLytics' pay for performance modeler: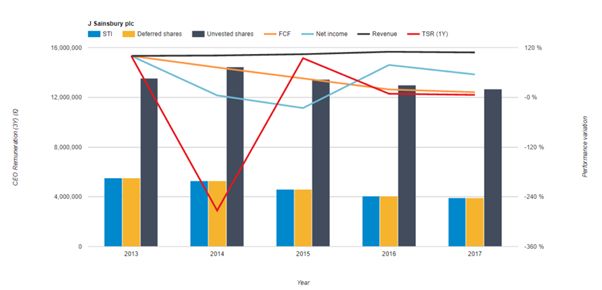 Source: CGLytics' executive compensation intelligence
Despite Mr. Coup's public statements that the primary goals of the proposed merger were to reduce prices and provide customers with greater choice, a deeper dive into the performance criteria for his outstanding STI and LTI awards appears to provide a different perspective.
In the Sainsbury's financial statements for the year ended March 9, 2019, it was revealed that the company had spent GBP 46 million (USD 60.6 million) preparing for the deal. Moreover, on May 1, 2019, Sainsbury announced a drop in pre-tax profit of 41.6% to GBP 239 million (USD 314.8 million), as it counted the cost of restructuring and the failed merger with Asda. Mr. Coup stated recently that he had the full backing of the board for the proposed merger, and current Chairman of the Board, Martin Scicluna, is on record to have said that the attempted merger was "absolutely the right decision".
Take a deeper dive into executive compensation practices
With a wealth of global data, analytics and insights, review executive pay against an array of key financial indicators.
Replicate the peer groups of leading proxy advisors and investors, and instantly compare CEO pay against company performance and their peers.
The content of this article is intended to provide a general guide to the subject matter. Specialist advice should be sought about your specific circumstances.