Introduction
Welcome to the May edition of Gatehouse Chambers' Property Newsletter. We hope you had a fantastic bank holiday weekend.
As I am sure you will no doubt be aware, the Renters (Reform) Bill is out. Please join William Golightly and I at 10am on 14th June with your cuppa at the ready for a Gatehouse Brew on what these mega changes are set to look like.
This month we have an article by John de Waal KC on whether mediation should be compulsory, and a report based on Charlotte John's experience with ChatGPT.
Lina Mattsson also considers the recent case of Sheffield City Council v Scotfield Group Limited, where the council has won a contract termination case in the High Court over land in the city centre.
Last but not least, our two minute interview is with the wonderful Jamal Demachkie.
Next month I will be sunning myself/drowning in mud/soaking up the tunes at Glastonbury '23 so we have the fabulous Katrina Mather taking over as guest editor. See you in July!
Laura Tweedy – Editor
News
John de Waal KC joined The Property Mediators
We are delighted to share the news that John de Waal KC has joined The Property Mediators as part of their expert panel of mediators. Alongside his work as a mediator, John is a highly-regarded property barrister at Gatehouse Chambers and continues to practise in chancery and commercial work with a particular focus on property law and property-related professional negligence.
Professor Martin George joined Gatehouse Chambers as an Academic Associate Member
We also welcomed Professor Martin George as our first Academic Associate Member. Martin is Professor of Land Law at City, University of London, one of a small handful of professors of land law in the country.
Martin teaches and writes on all aspects of the law of real property. His research interests overlap with those of Gatehouse Chambers Property Team, Private Client Team, and Construction Team. He is the co-author of the leading text Thompson's Modern Land Law (8th edition OUP 2022). He teaches Land Law on the LLB and GDL at City and has won many prizes and accolades for his teaching and lectures.
What have we been up to?
Cameron Stocks spent the last month grappling with a fiendishly complicated TLATA and tracing claim, concerning trust properties which had been charged and the proceeds used to purchase a further six trust properties which were rented out for commercial gain over the course of 22 years. When he finally recovered from the trust induced headache, Cameron successfully resisted a summary judgment application in the High Court in a claim for specific performance of a multi-million pound farm sale agreement. Cameron is led by Jamal Demachkie in the wider dispute which is due for trial later this year.
John Clargo has finally concluded his trial in respect of a flooded interior-design practice on the King's Road. He has also represented persons alleging to have acquired title from the estate of Nigerian prince (and practising member of Lincoln's Inn) in respect of a nice North Oxford villa by reason of non-payment of rent after determination of tenancies. An earlier go under the old law was unsuccessful, so he's hoping the new law will be kinder (STOP PRESS: It is. Squatters won (judgment 12 May)). On the other side of the fence (no, not a boundary dispute) he has been trying to evict Rent Act tenants and pubco tenants (different cases). His paperwork has included advice in respect of commercial forfeiture and restrictive covenants.
Adam Smith-Roberts has been dealing with the early stages of a couple of commercial lease renewals (disputed and undisputed), drafting proceedings for an account relating to a trust of of multiple properties, and speaking at our seminar looking at procedural and practical issues in a land dispute.
James Hall has been advising on a case involving the accidental discharge of a charge, rescission of the discharge, land registration issues and priorities between incumbrancers, and whether to seek an injunction to prevent a sale. Nerdy stuff!
Carl Brewin has been missing Court (his clients seem to be in a settling mood, which is good for them), and that has led to some new matters, involving construction of documents, a few lease renewals and relief from forfeiture applications. If only the weather was good enough to take the office outside.
Jamal Demachkie has been intervening in an interesting High Court dispute, acting for a mortgagee whose security is at risk following the tenants' exercise of their rights of first refusal. He has also had judgment handed down in Sterling v Dunelm: a County Court case which adds to the (persuasive, albeit non-binding) case law on treatment of rent-free fit out periods under '54 Act renewals.
Laura Tweedy thinks she might have had the first (to be) reported case where the High Court Judge found that drone use over private property amounted to trespass. The judge also allowed service by QR Code and the urban explorer injunction sought. It was a really fun day in court!
Andrew skelly has moved from the sewers (last month) into the gutter. More specifically, advising as to the ability of the local authority to place wheelie bins on the public highway. Rubbish, in every sense.
Brie Stevens-Hoare KC has been grappling with more easements, complex contractual arrangements between development partners for infrastructure funding and a bit of old-fashioned equity and priorities. With a summer of trials and mediations coming up she has a bit smile on her face.
Lina Mattsson has thoroughly enjoyed all the bank holidays. In between, Lina has had a month of '54 Act renewals and boundary disputes. She has also been advising on various development deals gone wrong, with landlocked plots and neighbours moving fences around.
Daniel Gatty spent some of this month working on the appeal to which he will be responding in the Court of Appeal in July concerning the parties' responsibilities when the court administration messes up, leading to the case going to sleep. That aside, he has been dealing with his usual pot pourri of property disputes – the '54 Act, restrictive covenants, easements, mortgages and conveyancing negligence (alleged) all featured.
Katrina Mather has been enjoying the end of her parental leave with a month away in Japan and is now ready and raring to get back to work next month.
Charlotte John's month has been focused on the principles relevant to establishing constructive trusts and setting aside transactions on the grounds of undue influence in cases involving parents who have transferred assets to children. She has also been considering the tricky question of when the courts will recognise an implied trust over foreign land.
Should mediation be compulsory?
Should mediation be compulsory? That is the question to be addressed by the Court of Appeal on 28th June 2023 in the case of Churchill v Merthyr Tydfill County Borough Council (CA -2022-001778), a leapfrogged appeal from a DDJ in Cardiff County Court. Permission to appeal was granted by Andrews LJ who said that the case "raises an extremely important issue relating to access to justice."
Read the full article by John de Waal KC here.
ChatGPT - Generative AI and the Law
Readers will probably have heard by now of OpenAI's ChatGPT. Many of you will have experimented with it, or one of the other available generative artificial intelligence (AI) models such as Microsoft's Bing. If you have not yet utilised any of these new technologies, you will very likely have read about them. This article is based on Charlotte John's experience with this novel technology, chiefly ChatGPT, as at May 2023, and aims to provide some thoughts on the potential benefits and pitfalls for the legal profession in its use as well as examples of potential use cases.
Click here to read the full article by Charlotte John.
Did you miss? Sheffield City Council v Scotfield Group Limited, Camstead Limited [2023] EWHC 990 (Ch)
Sheffield City Council v Scotfield Group Limited, Camstead Limited [2023] EWHC 990 (Ch)
C and D1 had entered a contract for sale of a development site in March 2019 for a price of £2.565 million. The contract was a detailed contract to allow C, the local authority, to have control over the development of land sold.
Read the full summary by Lina Mattsson here.
Events
Property Bar Association: the construction of service charge provisions in leases
Location: Gatehouse Chambers
Date: Thursday 1 June 2023
A review and analysis of the recent decision of the Supreme Court on the principles of contractual construction and their application to the interpretation of service charge provisions in leases.
To register your interest please email enquiries@propertybar.org.uk
Click here to book.
Junior to Junior (J2J) Insolvency Half Day Conference 2023
Please note: this event is fully booked.
Location: Gatehouse Chambers
Date: Tuesday 6 June 2023
Speakers: Junior Insolvency Team
Our Junior Insolvency Team will refresh your knowledge of some of the key principles, procedure and strategic considerations involved in corporate and personal insolvency proceedings.
The team will cover:
transactions at an undervalue and preference claims;
setting aside statutory demands and injunctions to restrain winding up petitions;
moratoriums; and
orders for possession and sale.
Property Brew: Renters (Reform) Bill
Location: online
Date: Wednesday 14th June 2023

Join Laura Tweedy and William Golightly at 10am on 14th June as they talk attendees through the changes presented in the Renters Bill.
Register your interest via email at events@gatehouselaw.co.uk.
2 minutes with Jamal Demachkie
Laura Tweedy interviews Jamal Demachkie for the fourth video in our '2 minutes with...' series.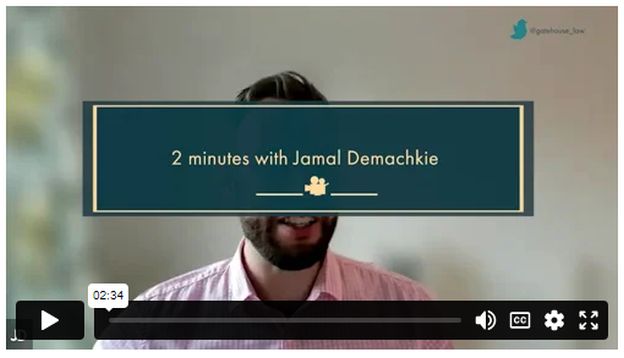 The content of this article is intended to provide a general guide to the subject matter. Specialist advice should be sought about your specific circumstances.