Now that the majority of 2013's investment transactions have been recorded we've crunched the data - and found out just how strong a year it was.  These are the numbers you 'need to know'.
Driven by a number of large deals, investment activity has made a striking return to 2007 levels, marking another significant milestone in the UK's commercial property recovery.  The following are some of the highlights of our analysis: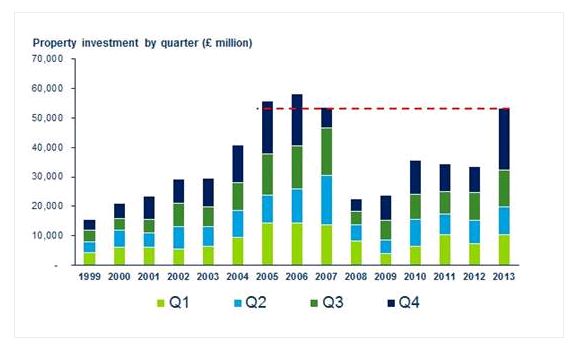 £53.4bn was invested in commercial property in 2013, a 60% increase on the £33.5bn in the year before, and the highest annual total since 2007's £54.4bn. 
The final quarter of 2013 saw £21.0bn of deals, the highest quarterly total this century, beating the £19.4bn recorded in Q4 2006. 
Overseas investors accounted for 44% of the 2013 total. UK institutional funds made 25% of purchases by value, up from 20% in 2012. 
Far Eastern investors were the dominant overseas type, making 14% of all deals.  US and Middle Eastern investors each accounted for 8% of the total. 
The largest share of 2013's total was taken by the office sector, with 45% of the market, a slight decrease on 2012. 
The biggest rise in share was in the leisure sector, up 150% on 2012 with £3.7bn invested in total.
The content of this article is intended to provide a general guide to the subject matter. Specialist advice should be sought about your specific circumstances.