The new world of work: report warns of an unprecedented rise in workplace activism
Across all sectors and geographies workers are becoming more vocal in articulating their views – about the workplace, their employer and about wider social issues – and increasingly holding organisations to account, enabled and amplified by social media. This trend is set to grow and gives rise to new and distinct risks for employers.
The paradox of the robotic age is that automation will only make human skills more valuable. The World Economic Forum estimates that 75 million jobs will be lost to automation by 2022 but 133 million new jobs will be created – jobs requiring uniquely human qualities such as emotional intelligence and fine judgment. But unlike robots, humans have opinions – and that presents its own challenges for employers.
To help prepare for what's ahead, we surveyed ~400 cross-sector C-suites worldwide to understand the triggers and scale of this trend.
Activism on the rise
Key findings reveal that in the next 3-5 years:
Over 80% of companies predict a rise in workforce activism with 95% expecting an increase in workers use of social media to amplify their voice
Respondents anticipate an increase in online digital petitions with 77% expecting to see more crowdfunded legal challenges
Workforce activism is a significant potential threat to corporate reputation, warning this could cost organisations up to 25% of global revenue each year
Almost 50% see activism as a positive force for change.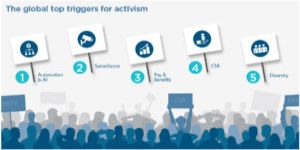 The voice of the workforce will insist on being heard as never before. If traditional, internal communication channels fail to meet their needs, external means of raising concerns will fill the gap.
Adapting to the democratised workplace: Six steps to success
Workplace activism in the age of digital communication calls for a new mindset from employers. Leadership styles may have to change and established procedures and policies will certainly have to be adapted to contend with a more democratised workforce. Protecting and nurturing the trust and engagement between employers and the workforce in this environment is paramount. The organisations that will thrive will be those that find a way to redefine the workforce relationship, manage tensions and create a common, compelling vision.
To succeed in the new world of work download your copy of the report here.
The content of this article is intended to provide a general guide to the subject matter. Specialist advice should be sought about your specific circumstances.