Supply chains have experienced major disruption in the past few years as pandemic and other global events, including Brexit and the Russia/Ukraine war, led to increased freight costs, ports logjams and labour shortages.
To gauge the effects these issues have had on private equity (PE) deal flows and portfolio companies, Alvarez & Marsal's Private Equity Performance Improvement (PEPI) team surveyed PE clients in Europe on the disturbances faced and the strategies used to overcome them. 
We found that the majority of businesses affected by supply chain pressures took quick action to improve resilience. Measures to optimise inventory and sales & operations planning (S&OP) were key in this response, followed by dual sourcing and supplier development initiatives. 
In this article, we will discuss some of the key findings of the survey and explore the new supply chain challenges lying ahead for PE companies in 2023 and beyond.
DEALFLOW LARGELY UNAFFECTED THANKS TO COUNTERMEASURES
Pandemic-related disruptions, including shutdowns, freight cost exposure and increased demand, have been responsible for 65% of supply chain issues, according to the A&M survey. Brexit implications were responsible for 12% of disruptions, and the hikes in energy prices accounted for 9%. Six percent of the supply chain problems were caused by sanctions on Russia.
In 91% of cases, disruptions did not have an impact on their deal flow. The low impact was caused by the temporary nature of many disruptions as well as successful countermeasures taken by portfolio companies and their shareholders. In 9% of cases, the pressures had repercussions on deal flow, by leading to valuation changes or to a postponement of the deal.
INVENTORY AND S&OP INITIATIVES WERE KEY TO IMPROVEMENT
Two thirds of the companies that were affected by disruptions developed measures to improve their supply chain stability. Inventory management and sales and operations planning (S&OP) optimisation were employed by 48% of the companies surveyed. Some also implemented dual sourcing, supplier development and price intelligence measures, each being utilized by 13% of the companies deploying supply chain stability measures.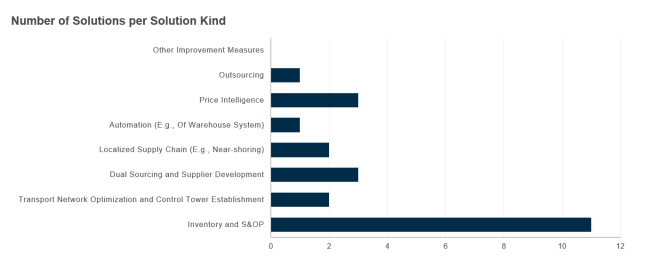 SUPPLY CHAIN PRESSURES SEEM TO BE EASING, BUT NEW CHALLENGES EMERGE
Luckily for PE and portfolio companies, the pressures seem to be easing in recent months as shipping bottlenecks are cleared and consumer demand growth softens. Though shipping costs have yet to reach pre-pandemic levels, they have been dropping for most routes for the past six months, with the Global Container Index price falling consistently throughout 2022. 
Europe has especially benefitted from the decrease in demand, which has eased port congestion and lowered the amount of time ships spend at ports. 
However, specific sectors are still experiencing supply chain troubles. Pharmaceutical companies for example have faced a shortage of key medications, with many attributing the problem due to the industry's overreliance on China and India where 80% to 90% of antibiotics are currently manufactured. 
INVENTORY MANAGEMENT COMES TO FOREFRONT
New kinds of pressures are emerging too. Rising operational costs caused by record inflation are putting strain on companies' cash flow and working capital position. At the same, the uncertain economic outlook makes it hard to plan and navigate demand downturn.
In this environment, inventory optimisation and forecast accuracy should become a priority within supply chain management. By right-sizing inventory levels, companies can free up cash and reduce liquidity risk to better prepare for the looming recession. Improved forecasting and visibility allow businesses to scale down capacity and reallocate inventory as demand shifts.
AN EFFECTIVE INVENTORY OPTIMISATION PROGRAMME SHOULD FOCUS ON THE FOLLOWING KEY AREAS: 
Understanding the status quo
Detailed, technology-driven SKU analysis to define target inventory and coverage days for each SKU, aiming to identify excess and deficient stock
Run supply chain process walkthroughs to great real-time visibility on inventories across all stages and identify major sources of inventory level inaccuracy
PREDICTING THE FUTURE
Review sales forecast accuracy and improve forecasting accuracy by embedding transparent, collaborative planning with external partners and by improving demand stimulating activities internally
OILING THE MACHINE
Review supplier performance and on-time delivery to optimise safety stock levels
Review outstanding purchase orders and contracts to understand option for cancelling or flexing call-offs and overall volumes
Promote and campaign overstocked products
The content of this article is intended to provide a general guide to the subject matter. Specialist advice should be sought about your specific circumstances.