Welcome to the ninth issue of Inside Arbitration
We are delighted to share with you the latest issue of the publication from the Herbert Smith Freehills Global Arbitration Practice. With a new decade afoot, the articles in this issue focus on trend spotting and change.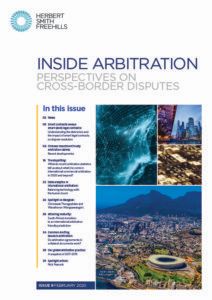 In addition to sharing knowledge and insight about the markets and industries in which our clients operate, the publication offers personal perspectives of our international arbitration partners from across the globe.
In this issue you can find:
Kathryn Sanger and Marco de Sousa looking at the statistics of the main arbitral institutions, highlighting interesting similarities and differences and offering some predictions for the future.
Jonathan Ripley-Evans interviewing Professor David Butler, Emeritus Professor of Law at Stellenbosch University and lead advisor to the South African Government on the International Arbitration Act in South Africa who provides insights into the future of arbitration in South Africa.
Nick Peacock, Vanessa Naish and Jerome Temme looking at common drafting issues in arbitration and whether arbitration agreements work in unilateral documents.
Natasha Blycha, Brenda Horrigan and Guillermo García-Perrote providing an update on what smart legal contracting may mean for businesses and dispute resolution in the future.
Charlie Morgan looking at technology as a disruptor for arbitration and considering how data analytics may change the way we approach all stages of the arbitral process.
Chinnawat Thongpakdee and Warathorn Wongsawangsiri offering their insights into the Thai arbitration market and how Bangkok is developing as an arbitral seat.
Nick Peacock sharing his views on arbitration trends in the banking and finance and technology sectors, including some insights on cybersecurity issues in arbitration.
Nick Peacock and Olga Dementyeva looking at investment treaty claims that have arisen from the dispute over Crimea and what the future may hold for investors.
An infographic sharing some statistics about our Global Arbitration Practice and our case load from 2017-2019.
Our regular "Watch this space" piece highlighting some key developments in global arbitration.
Previous issues can be viewed on our website by clicking on this link here. To obtain hard copies, please contact Arbitration.Info@hsf.com.
We hope that you enjoy reading issue #9 of Inside Arbitration and would welcome your feedback.
The content of this article is intended to provide a general guide to the subject matter. Specialist advice should be sought about your specific circumstances.