A few years ago, it felt like we were in the midst of a clean energy revolution, with the UK Government offering generous subsidies and enticing feed-in tariffs for both small and large-scale solar installations. New-build houses often included solar arrays on their roofs, and it seemed as though solar farms were popping up every few miles along British roads.
However, in recent years, Government subsidies have been reduced and, as a result, solar installations are a far less attractive proposition. We're approaching a time when the cost of manufacturing and installing solar systems is low enough that the return on investment makes installations just about feasible even without generous subsidies, but the UK solar industry definitely seems to have slowed down. The US appears to have experienced a similar downturn, partially as a result of tariffs having been applied to basic solar equipment.
Despite the slow-down, major players in the solar industry are still investing in the industry and, in recent months, some interesting developments have been made by companies, both in the field of solar panels, and in other fields incorporating solar technology. Here, we will look at three of the more interesting recent developments.
Tesla launch solar roof tiles
When they're not making slick electric cars, developing driverless vehicles, sending cars into space or building submarines for Thai cave rescue missions, some of the engineers at Tesla can be found developing solar products for their SolarCity subsidiary.
Earlier this year, Tesla launched a solar panel for a roof, which looks just like a roof tile. This, in itself, is nothing new, but Tesla's version looks just like a standard roof tile, and is said to be far stronger than standard tiles. The electronics and connectors in each tile are resilient to nearly all weather conditions and, according to Tesla CEO Elon Musk, the connectors contain "a shocking amount of technology".
According to the abstract of Tesla's US patent application (US 2018/0122973) in which the roof tile's technology is described, the solar panel includes a backsheet layer, a bottom encapsulant layer, a plurality of photovoltaic cells, a top encapsulant layer having a plurality of louvers constructed therein to block side view of the plurality of photovoltaic cells, and a top layer.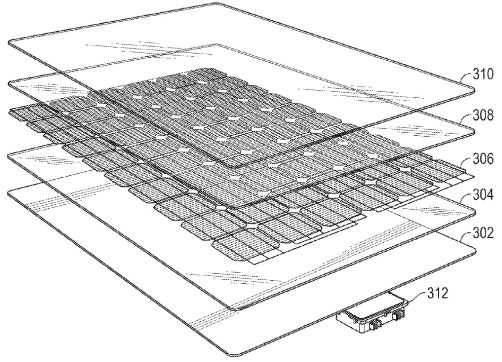 The louvers reflect light in such a way that the tile appears opaque at a lower angle, while still remaining transparent for the sunlight above.
Microsoft introduces solar-powered digital pen
Remember when they started putting solar panels in pocket calculators? As a child, I thought that technology was magical! Well, Microsoft have taken that magic and applied it to a different product. According to US patent application no. US 2018/0157347, which was published earlier this year, Microsoft have introduced solar power technology into a stylus for use with their range of tablet computers.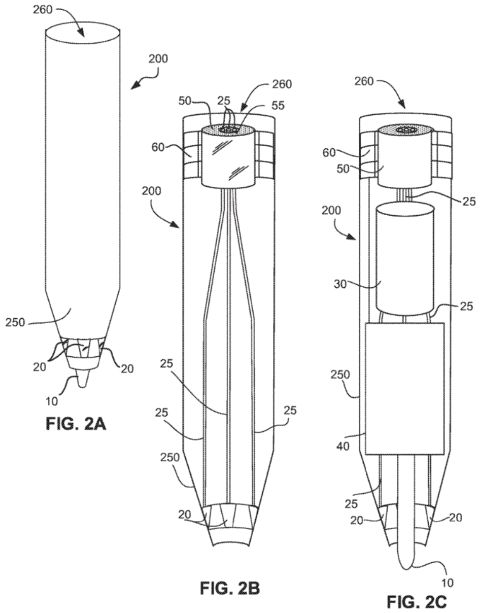 The development for the Microsoft Surface digital pen includes a light-receiving window near its end, configured to receive light at a wavelength typically emitted by the screen of the tablet device. In this way, the battery of the stylus is able to charge during use. The stylus can also receive light from an LED within in a docking unit.
OK, so this doesn't need the sun's power, and it's not going to solve the world's global warming issues, but it's a neat development, and it shows that the use of solar power isn't over just yet.
High-efficiency solar panels on the horizon
Since the first solar panels were developed, it has been an aim for developers to improve the efficiency of panels, so that more of the sun's energy can be harvested and used. Added to this is the need to compromise with costs, achieving efficiency for as little cost as possible.
American company Solar-Tectic LLC recently received a granted patent covering their "amorphous silicon/crystalline silicon thin film tandem solar cell" technology. Solar-Tectic's development is aimed at providing a highly efficient and cost effective solar cell. Currently, cadmium telluride (CdTe) and amorphous silicon (a-Si) are among the materials used in the manufacture of thin-film solar cells, and current efficiencies using these materials peak at around 22%. Using Solar-Tectic's patented Crystalline Silicon Thin-Film (CSiTH) technology, however, efficiencies of 25%-30% are deemed realistic.
Continued improvements in efficiency and cost reduction could lead to further increases in the use of solar technology in domestic and commercial properties and elsewhere.
Conclusion
So, while it may seem like the interest in solar might have taken a downward turn, some major players are still very much interested in this technology, and it will be fascinating to see where future developments made lead.
A recent report noted a huge increase in solar installations in China, and it seems like as long as there's a sun, there will be a reason to continue to grow in this evolving sector. The sun doesn't seem to be setting on solar just yet.
The content of this article is intended to provide a general guide to the subject matter. Specialist advice should be sought about your specific circumstances.