Yeni bir düzen kuruluyor. Yeni normaller, yeni yaklaşımlar. Yediden yetmişe insanların teknoloji ve dijitalleşmenin içine düştüğü, uyum sağlamaya çalıştığı yeni bir dönem.
Bu dönemde otomasyon, yapay zeka ve dijital teknolojilerin etkisiyle beraber iş dünyasının dinamikleri de değişmeye ve dönüşmeye başlıyor. Çalışma modellerinin daha esnek hale geldiği, işgücünden yeni yetkinlikler beklendiği bu çağda; yapılan işler, çalışma biçimleri, yaklaşımlar yeniden ele alınıyor. Spordan sağlığa, üretimden eğitime  kadar tüm sektörleri etkileyecek, çalışmalarımızı değiştirdiği kadar da kolaylaştıracak  yeniliklerle birlikte geleceğin işleri yeniden şekilleniyor.
İş dünyasındaki yenilikler; çalışanların eskiye oranla daha yaratıcı olmasına ve tekdüze ilerleyen iş yükünden kurtulmasına yardımcı oluyor.  Rutin, mekanik, yinelenen, el ile yapılan veya kavramsal işlerde; büyük miktardaki verilerin işlenip organize edilmesinde insanların yerini yapay zeka ve bilgisayar tabanlı sistemler alıyor. Akıllı yazılım, araç, makine ve robotlar gibi sistemler muhasebe, banka, tarım alanları, haberleşme ve üretim hatları gibi birçok alan ve meslekte kullanılarak işlerin daha etkin, hızlı, hatasız ve verimli olarak tamamlanmasına imkan sağlıyor. Muhasebenin bulut bilişimine, pazarlamanın içerik yönetimine, mühendisliğin bir kısmının yapay zeka ve veri alanına evrilmesi gibi bu alanlarda çalışanların işlerinin de yakın gelecekte dönüşüp gelişmesi bekleniyor. Fakat dönüşüm bu alanlarla sınırlı kalmıyor.
2030 yılına kadar hem dünyada hem de Türkiye'de potansiyel verimlilik artışının büyük bir kısmını sağlayacak bu dönüşüm;  iş çevrelerini ve işgücünde bulunan binlerce çalışanı kapsıyor. Kişilerin mevcut mesleğinde dönüşümü yakalayıp teknolojiden tam olarak yararlanması için şimdiden yeteneklerini dönüştürüp yetkinliklerini geliştirerek yeni döneme hazırlanmaya başlaması, ileride karşılaşılacak problemlerin çözülerek fırsatların değerlendirilmesinde önemli rol oynuyor.  Peki geleceğin ihtiyaç duyulan becerileri neler olacak?
World Economic Forum'un İşlerin Geleceği raporunda; 2030 yılında, öngörülen yetenek dönüşümüne göre, en büyük yetkinlik gelişiminin teknoloji alanında olacağı öngörülüyor. Bunu yüzde 22 ile sosyal yetkinlikler ve yüzde 7 ile ileri seviye bilişsel yetkinlikler takip ediyor. Dolayısıyla çalışanların teknoloji yetkinlikleri ile sosyal yetkinliklerini geliştirmeleri büyük önem taşıyor. Böylece bu makalede günümüz çalışanlarının geliştirmesi gereken 3 temel yetkinliği inceleyeceğiz.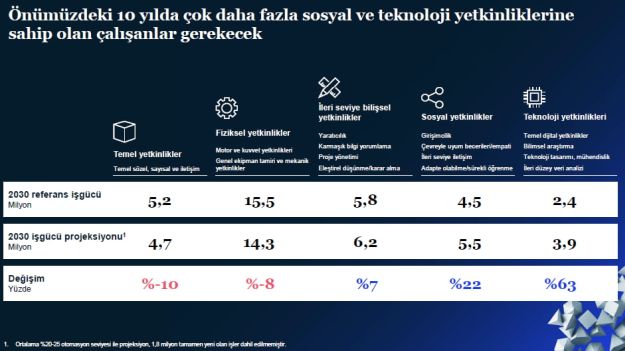 Geleceğin Yetkinlikleri
1. Teknoloji yetkinliğinizi arttırarak işlerinizi kolaylaştırın.
Yakın gelecekte çalışanların var olan bazı becerileri, zamanla işlevselliğini yitirecek. Çalışanlar mevcut görevlerinin takibini kolaylaştıracak, hızlandıracak ve ekip çalışmasını kuvvetlendirecek yeni becerilere ihtiyaç  duyacak ve bazı teknolojilerden yararlanmak durumunda kalacaklar. Geleceğin işgücü yeni veya mevcut bilgi teknolojilerini etkin ve verimli bir şekilde kullanarak görevlerle başa çıkabilmek için dijitalleşen işlerinde verileri okuma, analiz etme, araştırma gibi teknolojiye bağımlı işlere daha fazla vakit ayıracaklar.
Teknoloji yetkinliğini geliştirmek isteyen kişiler başlıca dijital okuryazarlık, dijital iletişim, dijital işbirliği gibi kavramlarda kendilerini geliştirmekle işe başlayabilirler.
2. Sosyal yetkinliklerinizi geliştirerek başarılarınızı arttırın.
Gelecekte en çok aranan nitelikler arasına başta yaşam boyu öğrenme ile birlikte iletişim, empati yeteneği, ekip çalışması, duygusal zeka gibi kavramlar dahil olacak.
Kişiler kariyer hayatlarında yetkinliklerini sürekli güncellemeli, kendi öğrenim yollarını çizmelidir. Kişilerin ve kurumların bu yola sahip olabilmesi için öncelikle "öğrenmeyi öğrenme" becerisini kazanması gerekiyor.
Özellikle günümüz dünyasında liderlik becerilerinin geliştirilmesinde sosyal yetkinliklerin önemi çok büyük. Önümüzdeki 5 yıl içinde kurumsal dünyadaki çalışanların %75'i Y kuşağı olacak. Liderler yeni kuşağın ihtiyaçlarını sezmek ve yeni kuşağa uygun çalışma modellerini yakalamak durumunda kalacakları için en etkili nitelikleri; çalışanlarının zorlandığı noktaları, yeterliliklerini, motivasyon kaynaklarını, çatışma noktalarını anlayabilmek ve empati kurabilmek olacak. Hangi lokasyonda çalıştığımızın öneminin kalmadığı yakın gelecekte, liderler çalışanlarını bir arada tutup, yönetebilmek, performanslarını arttırabilmek için iletişim becerilerini geliştirmeliler. Şirketler için liderlerin kendisinin ve çalışanlarının sosyal yetkinliklerini geliştirip işine ekip ruhunu aşılaması gelecekte var olabilmesine büyük katkı sağlayacak.
3. Bilişsel yetkinliklerinizle fark yaratın.
Bilişsel yetkinlikler zihinsel esneklik olarak tanımlanıyor. Beynin düşünme araçlarından matematiksel beyin, eleştirisel beyin, yaratıcı beyin gibi farklı düşünme sistemleri arasında ne ölçüde hızlı ve kolay değişim yapabildiğiniz bilişsel yetkinliklerinizi ne kadar arttırdığınızla ilgili. Bu bağlamda, yeni kalıplar ve düşünceler arasında benzersiz birleştirmeleri ne kadar yapabildiğiniz bu noktada önemli. Çevik akla sahip olan kişiler bu benzersiz birleştirmeleri çok daha hızla yapabiliyor.
Şirketlerin yeni kararlar almasında, uygulamasında, değişimlere direnmek yerine adapte olup hızlıca motive olmasında en büyük etken bilişsel yetkinliklerinin gelişmiş olmasıdır. Çalışanlarınızın bu yetkinliklerini geliştirmek için onları yeni bilgiler öğrenmek, düşünmenin yeni yollarını keşfetmek, deneyimlerini ve ilgi alanlarını genişletmek, konfor alanlarından çıkmak için yüreklendirin.
Karmaşık bilgileri yorumlayan, durumları eleştirel değerlendirebilen, hızlı kararlar alıp uygulayan ve çevik düşünebilen kişilerin bilişsel yeterliliğinin son derece gelişmiş olduğunu söylemek mümkün. Böyle kişiler organizasyonunuzda eksik ise, yeni işe alımlarda adayların bu özelliklerini de dikkate alın.
The content of this article is intended to provide a general guide to the subject matter. Specialist advice should be sought about your specific circumstances.