Avrupa Parlamentosu, Avrupa Komisyonu tarafından dijital finans stratejisi kapsamında sunulan Kripto Varlık Piyasalarına ilişkin 24 Eylül 2020 tarihli 2020/0265 numaralı Tüzük Teklifi'ni, ("MiCA") 20 Nisan 2023 tarihinde 517 lehte, 38 aleyhte ve 18 çekimser oyla kabul etti. İşbu düzenleme, bugüne kadarki kripto varlıklara ilişkin en kapsamlı düzenleme olarak tarihe geçmekte Avrupa Birliği ("AB") içerisinde kripto varlıkların yasal statüleri ve uygulanacak standart kuralları belirlemekte ve kripto varlıklarla yapılan işlemlerin izlenmesi, tüketicinin korunması, piyasa manipülasyonlarının engellenmesi ve mali suçlarla mücadele edilmesi konularını da içermektedir.
Her ne kadar daha önce Estonya ve Malta başta olmak üzere bazı AB ülkelerinde lisansa ilişkin düzenlemeler yapılmış olsa da; uygulamadaki farklılaşmalar ve denetleme fonksiyonundaki eksiklikler kripto varlıkların ihracı, ticareti, takası ve saklanması için tüketici koruma kurallarının belirlenmesini ve  kripto varlık piyasalarının bütünlüğünü sağlamak amacıyla piyasa manipülasyonlarının önlenmesine yönelik tedbirlerin alınmasına ilişkin tek tip bir düzenleme yapılmasını gerekli kılmıştır. Bu gerekçeler ışığında, MiCA ile AB'nin temel olarak hedefi; (i) kripto varlıkların ihraç edilebilmesi ve ticarette kullanılabilmesi için şeffaflık ve açıklama gerekliliklerinin sağlanmasını, (ii) kripto varlık hizmet sağlayıcılarının ve varlık referanslı token ("asset-referenced token" "ART") ve elektronik para token ("electronic money token" "EMT") ihraç edenlerin yetkilendirilmesi ve denetimin yapılmasını ve (iii) ART ve EMT ihraç edenlerin ve kripto varlık hizmet sağlayıcılarının işleyişinin, organizasyonun ve yönetimini sağlamaktır.
Kripto varlıkların halka arz edilmesi, alım-satım için kabul edilmesi ve AB sınırları içerisinde kripto varlık hizmeti sunulması halinde MiCA'ya uyumluluğun sağlanması gerekmektedir. İşbu hizmetleri gerçekleştiren (i) ART ve EMT dışında kripto varlıkları ihraç edenlere ("CAI") veya (ii) ART ihraç edenlere veya (iii) EMT ihraç edenlere veya (iv) kripto varlık hizmet sağlayıcılarına ("CASP") ilişkin düzenlemeler getirilmiştir. Bu doğrultuda MiCA, tüketicinin ve yatırımcının korunması amacıyla mevcut finansal hizmetler mevzuatı kapsamında düzenlenmeyen kripto varlıkların ihraç edilmesine ve ticaretinin yapılmasına ilişkin olarak şeffaflığa, yetkilendirmelere ve işlemlerin denetimine ilişkin birtakım düzenlemeleri ve kuralları içermektedir.
MiCA ile tüketicilerin işlemleriyle bağlantılı riskler ve maliyetler hakkında bilgilendirilmesi ve piyasa bütünlüğünün ve finansal istikrarın sağlanması hedeflenmiştir. Bu doğrultuda, MiCA kapsamında, kripto varlıkları halka arz edenler veya kripto varlık alım-satım platformu sağlayanların, ilgili varlıklarla ilgili bilgilerin yer aldığı bir teknik rapor ("white paper") hazırlaması gerekmekte olup; hukuka aykırı olarak içeriden bilgi verilmesini ve piyasa manipülasyonunu önlemek için özel kurallar getirilmekte ve eksik, adil olmayan veya net olmayan teknik raporlar, yanıltıcı bilgiler veya kripto varlık ihracatçısının kusuru; zarara uğrayan kullanıcılara tazminat hakkı sağlamaktadır.
MiCA, piyasa manipülasyonuna karşı ve kara para aklama, terörün finansmanı ve diğer suç faaliyetlerini önlemeye yönelik tedbirleri de içermektedir. Kara para aklama risklerine karşı koymak için Avrupa Menkul Kıymetler ve Piyasalar Otoritesi (European Securities and Markets Authority "ESMA"), AB'de yetkisiz olarak faaliyet gösteren uyumlu olmayan kripto varlık hizmet sağlayıcılarını izleyecektir. ESMA'ya, yatırımcıların yeterli bir şekilde korunmaması veya piyasa bütünlüğünün veya finansal istikrarın tehdit edilmesi halinde, hizmetleri yasaklama veya kısıtlama yetkileri verilmiştir. MiCA'nın uygulama usul ve esasları, AB üye devletlerinin ESMA ve Avrupa Bankalar Birliği (European Banking Authority "EBA")  ile birlikte çalışması ile belirlenecektir.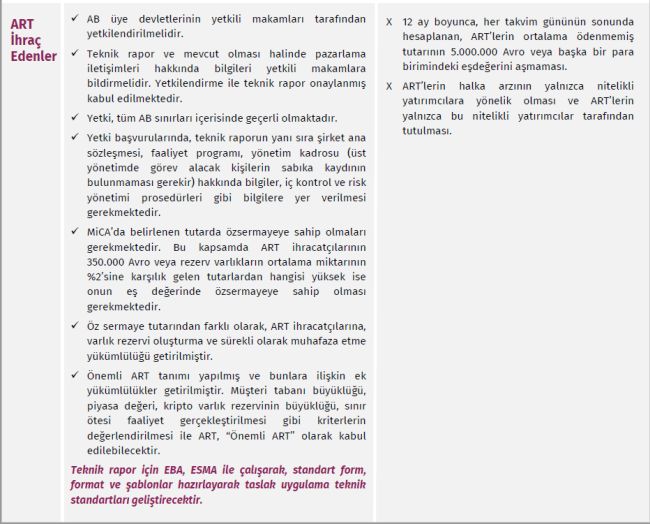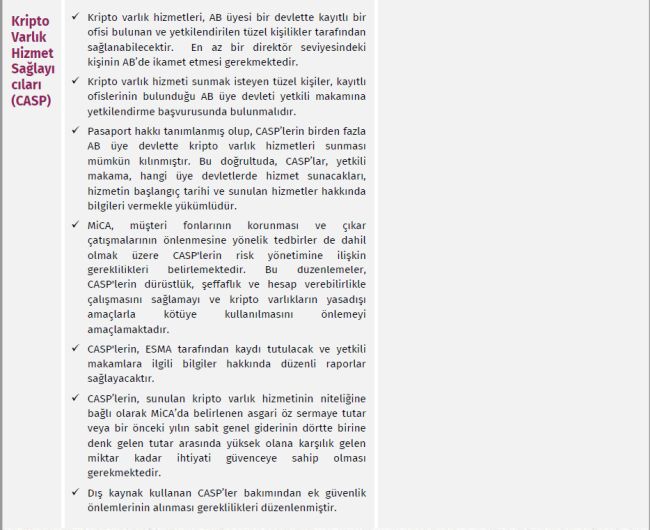 AB'ye uyum kapsamında Türkiye'de üzerinde çalışılan ve daha evvel kripto varlık platformlarına lisans getirilmesini öngören taslakta değişiklik yapılması beklenebilir. Özellikle yurtdışında hizmet veren CASPler bakımından uygulamada farklılaşmaların söz konusu olması ve MICA'daki koşulların sağlanmasının beklenmesi olasıdır.
The content of this article is intended to provide a general guide to the subject matter. Specialist advice should be sought about your specific circumstances.