Yolsuzlukla mücadele kapsamında uluslararası düzeyde yoğun çalışmalar düzenleyen ve bu alanda en etkin sivil mücadeleyi veren uluslararası örgüt olarak kabul edilen Uluslararası Şeffaflık Örgütü (Transparency International), 2019 yılı için hazırladığı Yolsuzluk Algı Endeksi'ni (Corruption Perceptions Index) bugün (23 Ocak 2020) yayınladı.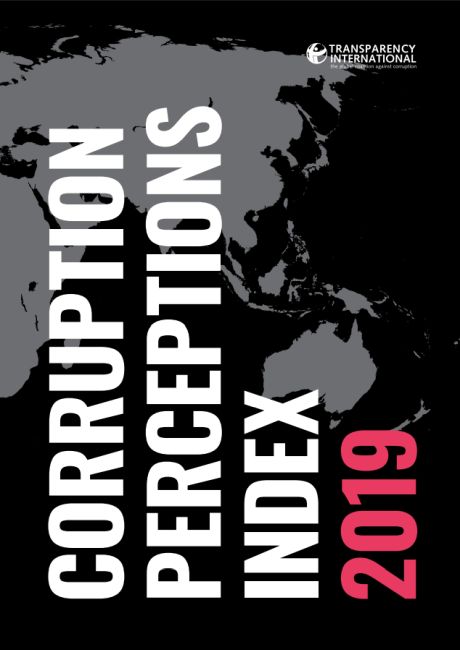 180 ülke ve özerk bölgede yaşayan insanların özellikle kamu sektöründeki yolsuzluk algısını ve yolsuzlukla mücadele kapsamında devlet aygıtlarına duyulan güveni istatistiksel olarak ortaya koyan rapor, incelenen ülkede yolsuzlukla mücadele alanında uzmanlaşmış kişiler ve iş dünyasından insanlarla yapılan görüşmeler ışığında tümevarım metoduyla hazırlanıyor. Bu kapsamda, ülkelerin yolsuzluk algısına 0-100 arası bir değer atfediliyor. Bir ülkeye verilen puan, 100'e yaklaştıkça yolsuzlukla mücadelenin yüksek bir seviyede gerçekleştiği ve devlet aygıtlarına güvenin yüksek olduğu anlaşılıyor. 0'a yaklaştıkça ise yolsuzluğun büyük bir sorun haline geldiği ve mücadelede büyük eksikliklerin olduğu ifade ediliyor.
Tıpkı 2018 yılında olduğu gibi 2019 yılında da incelenen ülkelerin tümünün ortalama puanı 43/100 seviyesinde. Bu durum, yolsuzluğun tüm dünyada büyük bir sorun olduğunu açıkça ortaya koyuyor. Kaldı ki Santiago, Prag ve Beyrut gibi şehirlerde 2019 yılında yolsuzluğa karşı yürütülen büyük çaplı kitlesel eylemler, birbirinden farklı bölgelerde yolsuzluk sorununun toplumlara verdiği ortak zararı gösteriyor.
2019 Yolsuzluk Algı Endeksi Raporu'nun bu yılki ortak çıktısının, (i) siyasete (ve özellikle seçim kampanyalarına) yatırılan büyük miktarlı paraların devlet tarafsızlığını ve demokratik ilkeleri zedeleyerek yolsuzluğu teşvik etmesi ve (ii) kapsayıcı siyasi kurumlar eliyle yapılan müzakere temelli karar alma süreçlerinin yolsuzlukla mücadele kapsamında zorunlu olduğu görülüyor.
Türkiye Nerede Duruyor?
2018 yılında Gana, Hindistan, Burkina Faso, Lesotho, Trinidad ve Tobago, Kuveyt gibi ülkelerle 41/100 puan ile 180 ülke içerisinde 78. sırayı paylaşan Türkiye'nin 2019 yılında tüm bu ülkelerin gerisine düşerek, bir yıl içerisinde 2 puan gibi önemli bir kayıpla 91. sıraya yerleştiğini görüyoruz. 2012 yılından beri 10 puan kaybederek listedeki gerilemesini sürdüren Türkiye'ye, küresel sorunlar bakımından siyasi karar alma mekanizmalarının değerlendirildiği bölümde özel bir yer ayrılması dikkat çekici.
Bu bölümde Türkiye'ye yöneltilen en dikkat çekici eleştiri, siyasi karar alma süreçlerinin müzakere temelli yürütülmemesi. 2019 yılında özellikle belirli sivil toplum örgütlerine karşı müdahalelerin hızlandığı, 1500'den fazla kurum ve kuruluşun kapatıldığı ve malvarlıklarının dondurulduğu tespitlerinin yapıldığı raporda ayrıca, sivil toplum hareketlerinin önde gelen isimlerine karşı yürütülen soruşturmaların ve yapılan tutuklamaların Türkiye'nin endeksteki düşüşünü etkilediği ifade ediliyor. Rapor'da bu kişilerin kim olduğuna veya kapatılan kurum ve kuruluşlara ilişkin ayrıntılı bir bilgi verilmiyor.
Küresel Düzeyde Dikkat Çeken Ayrıntılar
Yukarıda da ifade ettiğimiz gibi, 2019 Yolsuzluk Algı Endeksi Raporu'nun öne çıkan konularından birisi siyasete yatırılan büyük miktarlı paraların yolsuzlukla mücadeleye ve politik güvene verdiği zarar.
Bu kapsamda, özellikle genel ve/veya mahalli seçim dönemlerinde adayların yürüttüğü seçim kampanyalarına üçüncü taraflardan sağlanan finansman desteğine ilişkin regülasyon eksikliğinin, kamu politikalarının istikrarlı bir şekilde uygulanmasına zarar verdiği ve karar verici mekanizmaları hukuk dışı etkiye açık hale getirdiği vurgulanıyor. Bu noktada dikkat çeken tespit, söz konusu sorunun yalnızca düşük puana sahip ülkelerde değil, görece yüksek puana sahip olan Amerika Birleşik Devletleri gibi ülkelerde de büyük bir yolsuzluk sorunu olarak algılandığı yönünde.
Bu nedenle seçim finansmanlarının regülasyonunun yüksek sesle önerildiğini gördüğümüz raporda, yalnızca hukuki düzenlemenin yeterli olmayacağı, sorumlu devlet aygıtlarının kuralları uygulamadaki kararlılığı ve tutarlılığının olmazsa olmaz nitelikte olacağını görüyoruz. Bu doğrultuda, 2016 yılından beri 6 puanlık bir yükseliş yaşayan Güney Kore'de, seçim kampanyalarına yapılan bağışlar serbest tutulmakla birlikte, bu bağışlara yönelik izleme mekanizmalarına ve buna ilişkin kuralların uygulanmasına büyük önem verildiğini görüyoruz. Aynı şekilde Fildişi Sahilleri'nin 2012 yılından beri 6 puan artış göstermesindeki en önemli etmenlerden birinin, seçim kampanyalarına yapılan finansman yardımlarının kısmen de olsa devlet denetimi altına sokulması olduğunu görüyoruz.
Rapor'un en dikkat çekici bölümlerinden birisi de görece yüksek puana sahip ülkelerin yaşadığı yolsuzluk sorunlarındaki artışlar. Örneğin 54 puana sahip olan Malta'nın 2015 yılından beri 6 puan kaybettiği ve yolsuzluk sorununun, hukukun üstünlüğü ilkesini zedeleyecek seviyelere ulaştığı vurgulanmaktadır. Dünya'nın vergi cennetlerinden birisi olarak bilinen Malta'nın yolsuzluk algısındaki bu durumunun özellikle Panama Belgeleri ile ortaya çıkan hikayedeki rolü olduğu görülüyor. Ayrıca, Malta bankasının çöküşü ve, Türkiye'de de zaman zaman tartışma konusu olan, Malta vatandaşlığının para karşılığı varlıklı yatırımcılara satışını sağlayan "altın vize" uygulamasının Malta'da yükselen yolsuzluğun önemli aktörleri olduğu belirtiliyor.
Endekste düzenli bir yükseliş trendine sahip Estonya'nın ise Danske Bank skandalından sonra özellikle bankacılık ve özel sektörde denetim ve hesap verilebilirlik sorununa sahip olduğunun ortaya çıktığı ifade ediliyor. Benzer şekilde Endeks'teki en yüksek puanlara sahip İskandinav ülkelerinin kara para aklama (anti-money laundering) davranışları üzerindeki denetimlerinin ve ABD ve AB'nin uluslararası uygulama alanı bulan ekonomik yaptırımlarının ihlal edilmesi önündeki önlemlerinin yetersiz kaldığı vurgulanıyor. Bu kapsamda;
İzlanda'nın en büyük balıkçılık şirketinin Namibia ve Angola'da karıştığı rüşvet skandallarını ortaya koyan Fishrot Belgeleri (Fishrot Files)
İsveç'in telekom devi Ericsson'un Amerikan Yolsuzlukla Mücadele Kanunu (FCPA) kapsamında aldığı ceza,
Kanada'da yer alan inşaat şirketi SNC-Lavalin'in eski bir yöneticisi tarafından Libya'da verilen rüşvet,
Danske Bank, Swedbank ve Deutsche Bank'ın isimlerinin karıştığı kara para aklama soruşturmaları
gibi 2019 yılının en büyük yolsuzluk soruşturmaları arasında sayılan soruşturmaların tamamında, Endeks'te yüksek puana sahip ülkelerin bulunması oldukça dikkat çekici bir unsur olarak Rapor'da yer almaktadır.
Yolsuzlukla Mücadele Kapsamında 2019 Yılı Tespitlerine İlişkin Genel Öneriler
Devletlerin, karar alma süreçlerine hukuka aykırı etkilerde bulunanlarla daha sıkı mücadele etmesi gerekmektedir. Bu kapsamda, kamu görevlileri ve yöneticilerin mali ve diğer çıkar ilişkilerinin daha ciddi ve tutarlı bir şekilde denetime tabi tutulması önerilmektedir.
Seçim kampanyalarının finansmanının regüle edilmesi gerekmektedir. Bu kapsamda, siyasi partilerin gelir kaynaklarını, varlıklarını, çektikleri kredileri düzenli olarak açıklaması önerilmektedir.
Seçim güvenliğinin desteklenerek, seçimlerin özgür ve adil olmasının devletler tarafından temin edilmesi önerilmektedir.
Devletlerin, karar alma mekanizmalarına erişimi makul düzeyde açık hale getirmeleri ve müzakere kültürünü daha geniş bir toplumsal katılım ile oturtmaları önerilmektedir. Bu kapsamda lobicilik faaliyetlerinin de kamu denetimine açık ve kolaylıkla erişilebilir hale getirilmesi gerekli görülmektedir.
Kişisel ilişkilerin ve özel çıkar gruplarının kamusal kaynakların dağıtılmasında ve kamu hizmetlerinin sağlanmasındaki etkisini ortadan kaldıracak mekanizmaların kurulması önerilmektedir.
Temel özgürlüklerin ve siyasi hakların üzerindeki devlet korumasının artırılması önerilmektedir. Bu kapsamda özellikle, aktivistler, ihbarcılar (whistleblowers), gazeteciler ve sivil toplum faaliyetlerinde bulunan vatandaşlar üzerindeki korumaların artırılması gerektiği ortaya konmaktadır.
Güçler ayrılığı, yargı bağımsızlığı ve denetim-denge ilkelerinin devletler tarafından daha iyi oturtulması ve korunması gerektiğinin altı çizilmektedir.
The content of this article is intended to provide a general guide to the subject matter. Specialist advice should be sought about your specific circumstances.