Koordinatörlügünü Doç. Dr. Kerem Cem Sanli'nin yaptigi Istanbul Bilgi Üniversitesi Rekabet Hukuku Sertifika Programi bu sefer çevrimiçi olarak katilimcilariyla bulusuyor!
Rekabet hukuku ile ilgilenen basta avukatlar, profesyoneller ve ögrenciler olmak üzere herkes için rekabet hukuku ve piyasa ekonomisinin aydinlatici sekilde ele alindigi seminer 10 Ekim'de baslayacak olup ekibimizin degerli üyelerinin de dahil oldugu birçok konusmaci 7 hafta boyunca katilimcilarla bilgi ve deneyimlerini paylasacak.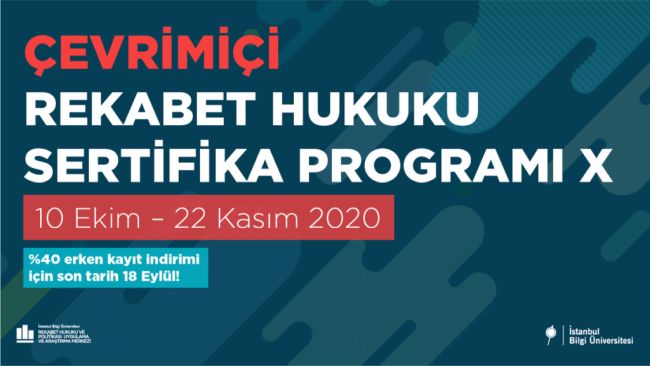 Bu dönem de Balcioglu Selçuk Ardiyok Keki ("BASEAK") Rekabet ve Regülasyon ekibinden Sahin Ardiyok, Emin Köksal ve Evren Sesli egitimciler arasinda yer aliyor. Seminerin 1. haftasinda ekibimizin Of-Counsel iktisatçisi ve Bahçesehir Üniversitesi Iktisadi, Idari ve Sosyal Bilimler Fakültesi ögretim üyesi Doç. Dr. Emin Köksal, iktisadi bir bakis açisiyla rekabet hukukuna giris yapacak. 4. haftada ise ekibimizin lideri Av. Sahin Ardiyok ile ekibimiz iktisatçilarindan Evren Sesli hakim durumun kötüye kullanilmasi tiplerinden dislayici fiyat uygulamalarini ele alacak. Telekomünikasyon alaninda da uzmanlasan Ardiyok bu çerçevede sektöre iliskin pratik bilgiler aktaracaktir.
10 Ekim - 22 Kasim tarihlerinde her Cumartesi ve Pazar saat 10:00 - 13:00 arasinda çevrimi platformda gerçeklesecek olan programa iliskin detaylara bu linkten ulasabilir ve kayit yaptirabilirsiniz.
The content of this article is intended to provide a general guide to the subject matter. Specialist advice should be sought about your specific circumstances.