Daha önce pek çok mecrada dile getirdiğimiz üzere, usul hukuku kuralları ve bu kuralların tam adalet içerisinde uygulanması, hukuki süreçlerin etkinliği ile normatif hukuk düzeninden beklenen öngörülebilirliğin sağlanabilmesi için olmazsa olmaz nitelik taşıyor. Yasama siyasetinin, mukayeseli hukukun uluslararası kaynaklarını takip (ve zaman zaman iktibas) etmek suretiyle koruma altına aldığı yasal menfaatler üzerine inşa edilen hukuk kuralları, neyi korudukları ile olduğu kadar nasıl korudukları ile de günlük hayatın her safhasını etkiliyor. Etkileri günlük hayat ilişkileri ve birel hukuki işlemler ile de sınırlı kalmayan usul kuralları, normatif hukuk sistemine duyulan kümülatif güveni de temin etmektedir. Rekabet hukukuna hâkim usul kurallarının geliştirilmesini hedefleyen Uluslararası Rekabet Ağı – International Competition Network ("ICN") de bu hedefi doğrultusunda farklı yetki alanlarından uygulayıcı otoriteleri bir araya getirerek daha etkin ve şeffaf prosedürler oluşturmak için çalışmalar yapıyor. Bu kapsamda, rekabet süreçlerinde usul kurallarının önemi ile ICN'in bu alandaki güncel çalışmalarını aşağıda değerlendiriyoruz.
Prosedürel adalet ve rekabet hukuku
İnsanın, günlük hayat ilişkilerini kurallar ile düzenleme güdüsünün bir uzantısı olarak ortaya çıkan usul hukukunun temel gayesi, düzeni sağlayan kuralların işleyişini de yine birtakım öngörülebilir kurallara bağlamak oluyor. Hukuk eliyle tesis edilen adaletin, uygulama hayatının tüm unsurları tarafından ulaşılabilir olmasını sağlayan usul kurallarının, bu hedeflerini gerçekleştirebilmeleri için her bir hukuk işlemi açısından, her defasında ve herkes için eşit, adil ve yeknesak biçimde uygulanması gerektiği değerlendiriliyor.
Prosedürel adaletin en üst seviyede tutulması gereken hukuki süreçlerin başında ise yine adli veya idari bir ceza tesis etmeden evvel yürütülen soruşturmalar geliyor. Süreç sonunda kesilebilecek cezaların ağırlığının, bahse konu sürecin önemini de tayin ettiği bu ekosistem içerisinde ise en önemli yeri rekabet soruşturmaları tutuyor. Gerçekten de, soruşturmaya tabi şirketlerin ticari itibarları, iş stratejileri, mali durumları ve pazardaki davranışları üzerinde ciddi sonuçlar doğurabilen rekabet soruşturmalarının, bu sonuçlara giden yolda tabi oldukları usul kuralları da bir o kadar önem kazanıyor. Ayrıca, bir rekabet ihlali olup olmadığının tespiti için yürütülen süreçler kapsamında rekabet otoritelerine oldukça soruşturma yetkileri tanınıyor ve sistemin doğru işleyebilmesi için bu yetkilerin de birtakım sağlam prosedürlere bağlı şekilde kullanılması gerekiyor.
Rekabet otoritelerinin görevleri, bağlı oldukları devletin egemen yetki alanı ile sınırlı olduğundan, bu görev kapsamında tabi olacakları usul ve prosedürler de öncelikli olarak kendi iç hukuklarında düzenleniyor. Öte yandan, teknolojik gelişmeler ve dijitalleşen pazarlar karşısında ortak bir uygulama dili arayışına giren rekabet hukuku çevreleri, hem pan-avrupai düzlemde hem de okyanusun diğer yakasındaki anglo-amerikan ekolünü de dâhil eden daha geniş platformlarda çeşitli çalışmalar gerçekleştiriyor. Dünyanın her köşesinden rekabet otoritelerinin ve uygulayıcı kurumların katılım gösterdiği bir platform olan Uluslararası Rekabet Ağı – International Competition Network ("ICN") de bu alanda katma değer üreten oluşumların başında geliyor. Rekabet hukuku çevrelerinde yakından takip edilen ve yüksek profilli çalışmaları ile pek çok uygulamanın gelişimine yön veren ICN'in en son girişimi ise rekabet kurallarının uygulanmasında prosedürel adaletin sağlanmasını konu alıyor.
ICN'in rekabet otoriteleri arası prosedürel adalet prensipleri (CAP)
Yukarıda da açıkladığımız üzere ICN, uluslararası bir organizasyon olarak katılımcılarının kaynaklarının bir kısmını da usul kurallarının etkinleştirilmesine kanalize etmesini destekliyor ve bu yönde çeşitli girişimler yapıyor. Tüm uygulama dünyasının kullanımına açılan birtakım prosedürel kılavuzlar ve benzeri yol gösterici metinler oluşturarak bu alanda mukayeseli hukuk kaynakları da üreten ICN'in, usuli adalet konusundaki en güncel girişimi ise Haziran başında Paris'te açılış toplantısını gerçekleştirdiği Rekabet Otoriteleri Prosedür Çerçevesi – Framework for Competition Agency Procedures ("CAP") çalışmalarıdır.
ICN bünyesinde yürütülen bir çalışma olan CAP, tüm ICN üyelerinin ve diğer rekabet otoritelerinin katılımına açık bir platform niteliği taşıyor. Rekabet kurallarının uygulanması ve icra edilmesi konusunda çerçeve çalışmaları (implementation framework) gerçekleştiren oluşum, öncelikli olarak uygulayıcı kurumların sunacağı katma değerin işlenmesi imkânı sunuyor.
Oluşumun yapacağı çalışmalar çeşitli dönemlere ayrılmak suretiyle düzenlenirken, her bir dönem için dünyanın farklı kesimlerinden rekabet otoritelerinin ortak başkanlık görevi (co-chair) yürütmelerine karar veriliyor. Bu çalışma usulü altında Paris'te bir toplantı gerçekleştiren CAP'ın birinci dönem ortak başkanları ise Avusturalya Rekabet ve Tüketici Komisyonu (Australian Competition and ConsumerCommission), Alman Rekabet Otoritesi (Bundeskartellamt) ve Amerika Birleşik Devletleri ("ABD") Adalet Bakanlığı'nın Anti-tröst Birimi (Department of Jurstice Antitrust Division) olarak belirleniyor.
Ortak başkan konumundaki uygulayıcı kurum temsilcilerinin, bir yandan CAP'ın vazifeleri açısından idari ve yönetsel bir işlev icra ederken diğer yandan da oluşum tarafından üretilecek katma değerli içeriklere yoğun olarak katılıp yön verecekleri düşünülüyor. Alman rekabet otoritesinin Avrupa uygulama hayatı üzerinde belirleyici etkisi olan saygın pozisyonu ile usul hukuku konularında Kıta Avrupası'ndan farklı refleks ve mekanizmalara sahip anglo-amerikan uygulayıcılarını bir araya getiren oluşumun, bu kombinasyon üzerinden katma değeri yüksek bir sinerji oluşturması ve her iki uygulamanın da iyi yanlarını bütünleyen ortak bir gelişim zemini teşkil etmesi bekleniyor.
İçerik açısından incelendiğinde usuli adaletin temel prensiplerini kapsama aldığı görülen CAP'ın, bu prensipler üzerinden küresel rekabet hukuku camiasında oluşan kapsamlı bir fikir birliğini yansıttığı görülüyor. Farklı hukuk sistemlerinden gelen ve farklı kurumsal kültürlere dayanan fikirleri bir araya getiren CAP üyelerinin, bu çerçeve çalışma kapsamındaki prensiplere bağlı kalarak bunların uygulanmalarını sağlamak için işbirliği yapacakları belirtiliyor.
Yukarıda açıkladığımız faaliyetlerini iki temel prosedür üzerinden yürüteceğini belirten oluşum, bu prensipleri aşağıdaki şekilde tayin ediyor:
(i) Kurumlar arası diyalog kanalları oluşturan ve buradan fikir teatisi imkânı sunan CAP İşbirliği Prosedürü ve
(ii) Katılımcılara kendi sistemleri hakkında önemli gördükleri özellikleri paylaşma ve açıklama imkanı sunarak uygulamalar arası şeffaflık sağlayan CAP İnceleme Prosedürü.
Değerlendirme
Yukarıdaki açıklamalarımız da göstermektedir ki, herhangi bir rekabet hukuku süreci kapsamında usul kurallarının layığı ile uygulanması, yalnızca o sürecin taraflarını değil, sisteme tabi tüm unsurları alakadar eder. Unutulmamalıdır ki usul kuralları, insanın özgülüğünü sistematik kurallar eliyle ençoklaştırmayı hedefleyen normatif hukukun ortak paydasıdır. Bu kapsamda sistemden beklenen hukuki kesinlik ve öngörülebilirlik ise ancak ve ancak sistemi oluşturan kuralların da -tıpkı sistemin kendisi gibi- birtakım usul ve prosedür kurallarına bağlanması ile gerçekleştirilebilecektir.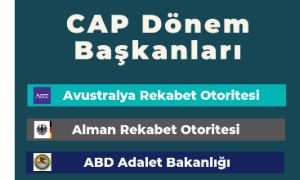 Uygulayıcı kurumların, özellikle de rekabet otoritelerinin, usul kuralları ve prosedürel hukuk üzerindeki belirleyici etkisinin farkında olan ICN, bu bilinç üzerine inşa ettiği CAP oluşumu ile okyanusun farklı her iki kıyısından öncü rekabet otoriteleri arasındaki bilgi asimetrisini gidermeyi ve işbirliğini artırmayı hedefliyor. Farkı sistemler arasında ekin bir diyalog ve şeffaflık sağlayan CAP, aynı kapsamda rekabet otoriteleri arasında bir ortak kültür ve uygulama dili geliştirilmesi açısından da fayda sağlıyor.
Özellikle Alman rekabet otoritesinin, bazı konularda Avrupa uygulayıcılarının ana akım görüşlerinden ayrılmaktan korkmayan ve yer yer katı duruşlar sergileyen yapısı ile öne çıktığı düşünüldüğünde, CAP kapsamındaki çalışmalarda etkin bir rol oynayacağı ve bir yandan Avustralya otoritesinin katkılarını yükseltirken bir yandan da ABD kurumlarının prosedürel reflekslerinin ortak entegrasyonuna katkı sunacağı değerlendiriliyor. Küresel rekabet çevrelerinde gittikçe yükselen bir trend olan usul kurallarının etkin uygulanmasına önemli bir yatırım yapan ICN'in, CAP üzerinden uzun vadede gittikçe yeknesaklaşacak bir "ileri usul hukuku" sisteminin doktrinsel temellerini oluşturmaya başladığı da değerlendiriliyor.
İlk olarak, 04.07.2019 tarihinde Lexpera Blog'da yayınlanmıştır.
The content of this article is intended to provide a general guide to the subject matter. Specialist advice should be sought about your specific circumstances.