Türk futbolu yalnız biz taraftarların değil, Rekabet Kurumu'nun da gündeminde. Rekabet Kurumu Başkanı Ömer Torlak geçtiğimiz hafta verdiği bir röportajda, rekabet hukuku açısından futbolcu transferlerinin teorik boyutunun incelendiğini belirtti.
Uzun zamandır taraftarların ve tüm ilgililerin dilinden düşmeyen konu: Ne olacak bu Türk futbolunun hali? Geçtiğimiz hafta basında yer bulan haberlerden[1] gördüğümüz kadarıyla Rekabet Kurumu'nun da Türk futboluna ilgisi artıyor. Rekabet Kurumu Başkanı Ömer Torlak basına verdiği röportajda, futbolcuların ve teknik heyetin transferine yönelik teorik bazda çalışmalar yürütüldüğünü ifade ediyor. Başkan'ın ifadelerine göre söz konusu teorik çalışma futbolcular ve teknik heyet ile sınırlı değil, yürütülen inceleme esasen futbolcuların ya da CEO'ların da dâhil olduğu nitelikli iş kaynağının transferine yönelik. Transfer sürecinde sözleşmelerde yer alan ve rekabeti kısıtlayıcı olduğu değerlendirilebilecek hükümler özelinde bir değerlendirme yapıldığı anlaşılıyor. Yine ifade edildiği üzere mesele yalnız rekabet hukukunu değil, iş hukukundan borçlar hukukuna çok geniş bir hukuki yelpazeyi ilgilendiriyor.
Bilindiği üzere dünya genelinde futbol sporu, FIFA'nın (Uluslararası Futbol Federasyonları Birliği) belirlediği kurallar ve direktifler doğrultusunda icra edilir. FIFA'nın düzenlemeleri futbol maçlarının gerçekleşmesinden futbol kulüpleri arasında gerçekleşen transferlere kadar geniş bir yelpazeyi kapsar. Nitekim ülkemizde de futbol sporunun icrasını gözeten TFF'nin (Türkiye Futbol Federasyonu) transferlere ilişkin kuralları FIFA'nın kuralları ile aynı doğrultudadır ve bu kurallara gönderme yapar. Futbolcu transferleri ile rekabet hukukunun yollarının kesişimi Türkiye bakımından yeni bir gündem olsa da esasen Türkiye'yi de ilgilendirecek şekilde Avrupa'da tartışma konusu olmuştu. Avrupa Adalet Divanı Bosman kararında[2] "işçilerin serbest seyahat özgürlüğü" kapsamında futbolcuların transferlerini ve kulüpler arası transfer bedellerini incelemiş, eski kulübü tarafından sözleşmesi sona eren futbolcu üzerinde bir kontrol kurulmasını yasaklamıştı. Her ne kadar Bosman kararı rekabet hukuku ekseninde bir değerlendirme yapmamış olsa da konu rekabet hukuku çevrelerinde de tartışılmış, sözleşmesi sona eren futbolcunun üzerinde kulübün devam eden etkisinin rekabeti olumsuz etkileyen yönleri değerlendirilmişti. Bununla birlikte Bosman kararının etkisi FIFA kurallarında az hissedilmiştir. Uygulamada kulüplerin futbolcu transferlerindeki esas aktörlerden olmaya devam ettikleri gözlenmektedir. Nitekim Başkan Torlak'ın açıklamasına göre Kurum'da yapılan teorik çalışmalar da söz konusu dikey nitelikteki anlaşmalara yöneliktir.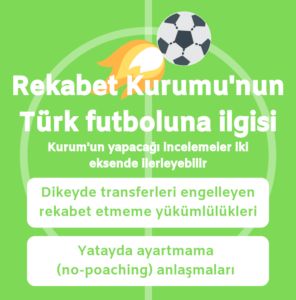 Borçlar hukukunda olduğu gibi iş hukukunda da işçinin işverene karşı bir sadakat borcu bulunmakta ve iş akdi süresince işvereniyle rekabeti yasaklanmaktadır. Bununla birlikte bazı hallerde hizmet/iş akdinin sonlanması sonrasında da rekabet yasağı söz konusu olabilmektedir. Futbol dünyasında futbolcular ya da iş dünyasında CEO'lar bakımından da gündeme gelebilen bu rekabet yasakları rekabet hukukunda bir dikey kısıtlama olarak nitelenebilmektedir. Ancak her halükarda rekabet hukukunun yasakları kapsamında değerlendirilmemektedir. Bu tip kısıtlamaların yatay anlaşmalardaki ayartma yasakları (no-poaching) ile desteklenmesi durumunda ise rekabetin kısıtlandığı yönündeki endişeler artabilmektedir. Rekabet Kurumu nezdinde yürütülen bu teorik çalışmaların ayrıntıları konusunda bilgi bulunmamakla birlikte, bu değerlendirmeler ekseninde Kurum'un Türk futboluna ilgisinin farklı boyutlarının olduğu tahmin edilebilir.
Başkan Torlak'ın belirttiğine göre Rekabet Kurumu'nun teorik çalışmaları, ilgililerden gelebilecek bir şikâyet ile uygulamaya dökülebilir. Bununla birlikte yapılacak bir incelemede Kurum'un kırmızı kart çıkarıp çıkarmayacağı dosya özelinde değişiklik gösterecektir.

---
[1] Hazal Ateş, Futbolcu Transferine Rekabet Ayarı, Sabah Gazetesi, 6.6.2019, https://www.sabah.com.tr/ekonomi/2019/06/06/futbolcu-transferine-rekabet-ayari (Erişim tarihi: 16.6.2019)
[2] Union Royale Belge des Sociétés de Football Association ASBL v Jean-Marc Bosman (1995) C-415/93.
The content of this article is intended to provide a general guide to the subject matter. Specialist advice should be sought about your specific circumstances.