Rekabet Kurumu'nun ("RK") 25 inci yilini geride biraktik. RK'nun piyasalara müdahalesinin en önemli araci olarak görülen sorusturmalara iliskin veriler, ilginç bazi trendleri içlerinde barindiriyor. Bu trendleri daha iyi görebilmek için, karar istatistiklerinden derledigimiz verileri baskanlara göre bölümlere ayirdik. Sonuçlanan sorusturma sayisi, bu sorusturmalarin ceza ile sonuçlanma orani ve dolar cinsinden verilen para cezasi miktari parametrelerinin uzun dönemde gösterdigi seyir üzerinden bir analiz yaptik.
Ilk gözlemimiz, RK'nun ilk on yilinda sorusturma sayilarinin sürekli olarak artarken, sonraki sekiz yilinda azalma egilimine girdigi, 2016 ve sonrasinda ise eski trendine geri döndügüdür. 2007-2015 arasindaki dönemde RK'nun kamuyu kendi misyonu ile ilgili olarak bilgilendirmeye, kurumsal alt yapisini saglamlastirmaya ve rekabet savunuculuguna odaklandigi söylenebilir. Bunun sonucu olarak, sorusturma açarak sirket davranislarina dogrudan müdahale etmenin arka plana atildigini görüyoruz.
Sekil 1: Baskanlara göre sonuçlanan sorusturma sayisi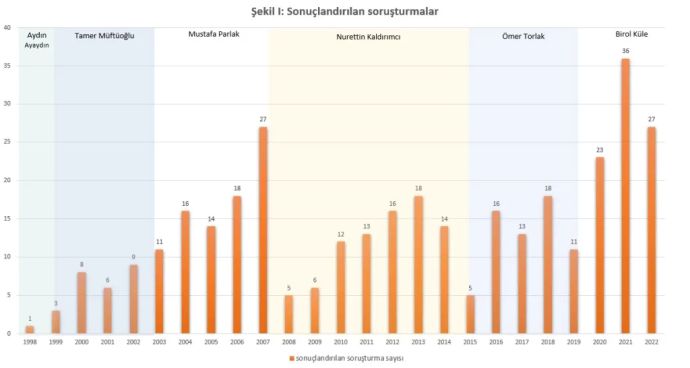 Yillik ortalama sorusturma sayisi 2016 sonrasi dönemde, 2008-2015 arasi döneme göre ikiye katlanarak 20'ye ulasti. 2021'de 36 sorusturmayi sonuçlandiran RK, geçen seneyi 27 sorusturma ile tamamladi. 1
Ikinci gözlemimiz, sorusturmalarin ceza ile sonuçlanma oraninin 2015 yilinda sifir ile dip yaptigi, sonraki yillarda da önceki dönemlere göre düsük seyrettigidir. Geçen yil sorusturmalarin %78 oraninda ceza ile sonuçlanmasi, bu düsüs egiliminin kirildigi anlamina gelebilir.
Sekil 2: Sorusturmalarin ceza ile sonuçlanma orani
Üçüncü gözlemimiz, RK'nin verdigi rekabet cezalarinin uzun dönemde aslinda yükselis egiliminde oldugu, ancak Türk lirasindaki deger kaybina yenik düstügüdür.2 Verdigi cezalari, o yilin ortalama kurundan ABD dolarina çevirerek baktigimiz uzun vadeli resimden çikartilabilecek tek anlamli sonuç bu olur herhalde. Zira, hem ABD dolarinin da 25 yil gibi uzun bir dönemde deger kaybetmesinden, hem de ekonomideki ve dolayisiyla sirketlerin cirolarindaki büyümeyi dikkate almamizdan kaynaklanan nedenlerle, Sekil 3'e yansiyan trendler yaniltici olabilmektedir.
Sekil 3: Rekabet cezalari (yillik, milyon ABD dolari)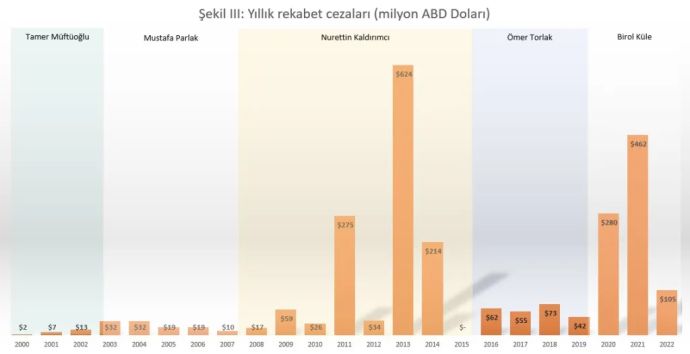 Yine de baskanlara göre alt dönemlere ayirarak bakarsak,
2008-2015 döneminde, az sayida ancak yüksek cirolu sirketlere yönelik gerçeklestirilen sorusturma sonucunda yüksek ceza rakamlari ortaya çikmistir. Bu dönemde Türk lirasinin ABD dolarina karsi degerli seyretmesi, dolar cinsinden cezalarin yüksek görülmesinin ikinci bir nedenidir.
2016-2020 döneminde, Türk lirasindaki deger kaybinin dolar cinsinden cezalari küçültmesine ragmen, cezalarda kalici bir artis gerçeklesmistir.
2020'den bu yana yillik ceza tutarinin, Türk lirasindaki büyük deger kaybina ragmen artik daha yüksek bir patikaya oturdugu görülmektedir.
Sonuç
RK, yirmi besinci yilinda hem çok sayida sorusturma ile sirketlerin piyasadaki davranislarina müdahale eden, bunlari yüksek para cezalari ile sonuçlandiran bir rekabet otoritesi haline gelmistir. Sirketlerin haklarinda açilan bir sorusturma sonucunda ceza alma olasiliklari geçen yil %78 gibi yüksek bir orana çikmistir. Bu üç parametredeki artisin, RK'nun sirketler üzerindeki caydiriciligini çok yükselttigi ve rekabete uyum çabalarini arttirdigi ortadadir.
---
1. Analizlerimizde yargi karari üzerine yeniden verilen sorusturmalara yer vermedik. O nedenle RK'nun istatistikleri ile farkliliklar içermektedir.
2 Analizde yalnizca RK'nun 4054 sayili Rekabet Kanunu'nun 16/3 sayili maddesi uyarinca esastan verdigi cezalari hesaba kattik, usul cezalarini dikkate almadik.
The content of this article is intended to provide a general guide to the subject matter. Specialist advice should be sought about your specific circumstances.