Son zamanlarda uluslararası ticaret yazılarımızda bir ilk, en yüksek, en uzun gibi ifadeleri çok kez okumaya başladınız. Ticaret savaşlarının geldiği bu noktada söz konusu ifadelerin uzun süre daha yazılarımızı süsleyeceğini söylemenin yanlış olmayacağı düşüncesindeyiz. Bu yazımızda ise Dünya Ticaret Örgütü ("DTÖ") nezdinde düzenlenen bir tahkim yargılamasından kazanılan en yüksek miktar ile huzurunuzdayız.
2 Ekim 2019 tarihinde 2004 yılından bu yana Amerika Birleşik Devletleri ("ABD") ve Avrupa Birliği ("AB") arasında sürmekte olan Airbus davalarının1 sonuna gelindi. Tahkim kararı konu hakkında verilmiş beşinci karar niteliğinde.
Uyuşmazlığın Geçmişi
İlk iki karar davanın esasına ilişkin olup Avrupa Birliği üyesi Almanya, Fransa, Birleşik Krallık ve İspanya'nın Airbus SAS ve Airbus LCA'ye ("Airbus") verdiği devlet teşviklerinin Gümrük Tarifeleri ve Ticaret Genel Anlaşması (General Agreement on Tariffs and Trade "GATT") ve Sübvansiyonlar ve Telafi Edici Önlemler Anlaşması (Agreement on Subsidies and Countervailing Measures "SCM") ile uyumlu olup olmadığını incelemekte. 2010 yılında yayınlanan ilk panel kararında Panel, yaklaşık 40 yıl boyunca dört devlet tarafından Airbus'a A300 modelinden A380 modeline kadar birçok uçağın üretilmesi, geliştirilmesi için 300'ün üzerinde teşvik verildiğini tespit edilmiş olup Airbus'ın söz konusu teşvikler olmadan ayakta kalamayacağı tespit etmiştir. Ayrıca, söz konusu teşvikler aracılığı ile 2001 ile 2006 arasında Airbus'ın Boeing'e karşı rekabetçi güç kazandığı belirlenmiş ve başta Avusturalya, Brezilya, Çin, Tayvan, Kore Cumhuriyet, Meksika ve Singapur'a satılan uçakların teşviklerden ciddi şekilde etkilendiği tespit edilmiştir. Panel kararı 21 Temmuz 2010 tarihinde hem AB hem de ABD tarafından temyize götürüldüğünde ise Temyiz Organı benzer yönde tespitlerde bulunarak Uyuşmazlıklar Çözümü Organı'na (Dispute Settlement Body "DSB") AB'nin teşviklerini DTÖ kuralları ile uyumlu hala getirmesi için tavsiyede bulundu.
Bu noktada DTÖ kurallarının ve uyuşmazlık çözümlerinin bağlayıcılığı konusunda bir parantez açmakta fayda görüyoruz. Fark ettiğiniz üzere, Panel ve Temyiz Organı üye devletler hakkında hüküm kurmamakta, sadece uygulamalarının GATT ve diğer anlaşmalarla uyumlu olup olmadığını inceleyerek tavsiyelerde bulunmaktadır. DSB ise kararın kabul edilmemesine karşı bir oy birliği olmaması (negative consensus) durumda kararı kabul ederek tarafların karara uyması gerektiğini ilan etmektedir. Tarafların kararlara uymaması ya da gereğini tam olarak yerine getirmemesi durumunda ise DTÖ anlaşmalarının bir nevi usul kurallarını düzenleyen Uyuşmazlıkların Çözümü Anlaşması'nın (Understanding on Rules and Procedures Governing the Settlement of Disputes "DSU") 21. maddesinin 5. fıkrasına uyarınca taraflar esasa ilişkin kararın nasıl uygulanması gerektiğine ilişkin yeni bir uyuşmazlık başlatabilmektedir.
Airbus uyuşmazlığı da DSU 21.5 sürecin geçen bir başka uyuşmazlık oldu. Bu doğrultuda AB'nin alınan kararla uyumlu davranıp davranmadığını inceleyen Temyiz Organı, AB'nin tek koridorlu olan ve Boeing'in 737 uçakları ile rekabet içerisinde olan A320 uçağına verdiği teşvikleri gerekli zaman içerisinde sonlandırdığını öte yandan çift koridorlu uçaklara sağladığı teşvikleri hala sürdürdüğünü ve söz konusu teşviklerin ABD'nin çıkarlarını olumsuz etkilemeye devam ettiğini tespit etmiştir.
Tahkim Kararı
AB'nin DTÖ kurallarının ihlal ettiğini ve yargılamalar sonucunda teşviklerinin GATT ve SCM anlaşmaları ile uyumlu hale getirmediği tespit edildikten sonra ise ABD elinde kalan son kozunu oynayarak daha önceden başlatılmış olan DSU madde 22 altında açılmış yargılamanın sonuçlandırılmasını talep etti. Söz konusu hüküm uyarınca yapılan yargılamalarda DTÖ üyesi devletlerin daha önce verilmiş olan kesinleşmiş karar uymaması durumunda diğer DTÖ üyesi devlete gümrük vergilerini hukuka uygun bir şekilde arttırma yetkisi tanınmaktadır.
Bu blog yazımıza da konu olduğu üzere DSU madde 22 yargılaması uyarınca gerçekleştirilen yargılama sonucunda hakem heyeti, AB'nin Airbus'a sağladığı teşviklerin etkisini ortadan kaldırmak üzere ABD'ye yıllık yaklaşık 7.5 milyar Dolar ek gümrük vergisi uygulama hakkı tanıdı. Kararın uyuşmazlıkların nihai sonucu niteliğinde olduğu için bir başka temyiz yargılaması olmayacak ve ABD tarafından yapılan açıklamada 18 Ekim itibari ile AB'den gelen ürünlere uygulanacak olan gümrük vergilerinin yükseltilmesi planlanıyor2.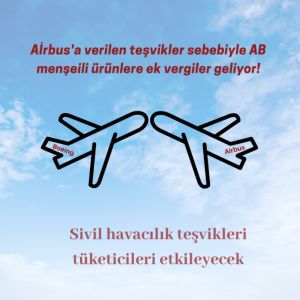 Gümrük vergisi uygulanması planlanan sektörlerin başında sizin de tahmin edeceğiniz üzere havacılık sektörü geliyor3. Bu kapsamda, ABD her ne kadar gümrük vergilerini %100 oranında arttırmaya yetkili olsa da ilk safhada havacılık sektöründe kullanılan bazı ürünlere uygulanan gümrük vergileri %25 oranında arttırılacak. Havacılık sektöründen sonra ek gümrük vergisi getirilmesi planlanan sektör ise şaşırtıcı şekilde birtakım gıda ürünleri. Bu ürünler arasında; İskoç viskileri, Fransız peynirleri, İtalyan şarapları gibi tüm dünyanın damağında tat bırakan ürünler de yer alıyor.
Madalyonun Ters Yüzü Boeing
Elbette havacılık sektöründe teşvik alan tek şirket Airbus değil. DTÖ yargılamalarına4 konu olmuş bir başka teşvik ise ABD'nin Boeing'e sağladığı teşvikler ve söz konusu yargılama 5 Haziran 2019 tarihinden beri DSU 22 aşamasında. Dolayısı ile ufukta Boeing'e verilen teşvikler sebebiyle ABD menşeili ürünlere ek vergiler gözükmekte.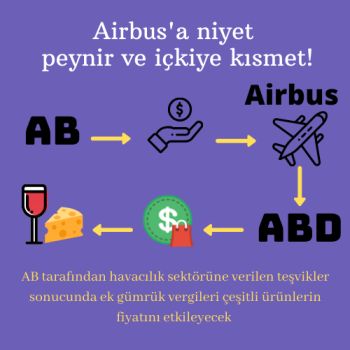 ABD'nin açıklamalarına karşı AB tarafından yapılan açıklamada AB'nin ek gümrük vergisi uygulama hakkı elde etmesinden birkaç ay uzaklıkta olduğu ve her iki devletin ticaret engellerini arttırmasının hiçbir tarafa fayda sağlamayacağı belirtildi. Bu kapsamda, AB dünya üzerindeki en karmaşık sektörlerden biri olan havacılık sektörünün düzenlenmesi için ABD ile başarısız görüşmeler gerçekleştirdiğini fakat kapısının her zaman açık olduğunu satır aralarına ekledi. Öte yandan, ABD'nin ek gümrük vergilerini uygulaması durumunda AB'nin de aynı şekilde cevap vermekten başka seçeneği olmayacağının da altını çizdi.
Sonuç olarak, Airbus'a verilen teşvikler 18 Ekim itibari ile ABD'de mukim viski, şarap ve peynir severleri ciddi şekilde etkilemeye başladı. Yakın zamanda ise AB'de yaşayan kişilerin birçok Amerikan menşeili ürünü daha yüksek fiyatlarla alacağını bugünden öngörebiliyoruz. ABD'de yaşıyorsanız buzdolabınızı şimdiden Fransız peynirleri ile doldurmayı değerlendirebilirsiniz.

Footnotes
1 DS316: European Communities and Certain member States — Measures Affecting Trade in Large Civil Aircraft
2 https://ustr.gov/about-us/policy-offices/press-office/press-releases/2019/october/us-wins-75-billion-award-airbus Son erişim tarihi 17.10.2019
3 https://ustr.gov/sites/default/files/enforcement/301Investigations/Notice_of_Determination_and_Action_Pursuant_to_Section_301-Large_Civil_Aircraft_Dispute.pdf Son erişim tarihi 17.10.2019
4 DS353: United States — Measures Affecting Trade in Large Civil Aircraft — Second Complaint
The content of this article is intended to provide a general guide to the subject matter. Specialist advice should be sought about your specific circumstances.