Hatırlamamız gerekirse, Rekabet Kurulu 2018 yılında Yandex'in başvurusu üzerine açtığı soruşturma sonucunda verdiği kararında,1 Google LLC, Google International LLC ve Google Reklamcılık ve Pazarlama Ltd. Şti'den oluşan ekonomik bütünlüğün ("Google"), "lisanslanabilir mobil işletim sistemleri" piyasasında hâkim durumda olduğuna karar vermişti. Kararın devamında da, Google'ın cihaz üreticileri ile imzaladığı Mobil Uygulama Dağıtım Sözleşmeleri'nde yer alan Google arama motorunun sözleşme ile belirtilen noktalarda varsayılan olarak atanması, Google arama parçacığının ana ekranda konumlandırılması, Google Webview bileşeninin ilgili işlev için varsayılan ve tek bileşen olarak atanması uygulamaları ile Gelir Paylaşımı Sözleşmeleri'nde yer verilen ve Google aramanın cihazlara münhasıran yüklenmesini temin eden hükümler yoluyla 4054 sayılı Rekabetin Korunması Hakkında Kanun'un ("Rekabet Kanunu") 6. maddesini ihlal ettiğine karar vermiş ve bu nedenle, 2017 gayrisafi gelirleri baz alınarak Google'a 93.083.422,30 TL idari para cezası vermişti.
Aynı kararla Google'a para cezasının dışında, tüm Mobil Uygulama Dağıtım Sözleşmelerine,  rakip uygulamaların cihaza önyüklemesinin engellenmediğine ilişkin açık bir hükmün eklenmesine ilişkin olarak görüş yazısı gönderilmesine, bununla birlikte yine ihlali sonlandırmak ve pazardaki etkin rekabetin tesisi için Türkiye'de satışa sunulmak üzere üretilen cihazlarında Ticari Android İşletim Sistemi kullanmak isteyen cihaz üreticileriyle yaptığı sözleşmelere birtakım hükümler eklemesi ve birtakım hükümleri çıkarması yönünde yükümlülükler getirilmesine karar verilmiş ve bu değişikliklerin gerekçeli kararın tebliğinden itibaren 6 ay içerisinde yerine getirilerek Rekabet Kurumuna tevsik edilmesine karar verilmişti.
Kısaca sürecin öncesinden söz edersek, Yandex'in başvurusu üzerine açılan önaraştırma sonucunda, Rekabet Kurulunca soruşturma açılmamasına ancak 9. maddenin 3. fıkrasına göre münhasırlığa yönelik Mobil Hizmetler Dağıtım Sözleşmesinde yer alan hükümlerin kaldırılması yönünde görüş gönderilmişti. Bunun üzerine Yandex, 2577 sayılı İdari Yargılama Usulü Kanunu'nun 11. maddesi uyarınca kararın değiştirilmesi talebiyle başvurmuş, talebinin reddi üzerine de dava konusu Kurul kararının iptali istemiyle Ankara İdare Mahkemesi nezdinde dava açılmış ve yürütmenin durdurulması talep edilmişti. Davada, önce Ankara 5. İdare Mahkemesince2 yürütmenin durdurulması talebi reddedilmiş, ancak bu karara yapılan itiraz üzerine Ankara Bölge İdare Mahkemesi 7. İdari Dava Dairesi3 itirazı kabul ederek yürütmenin durdurulmasının reddine ilişkin kararı kaldırmış ve dava sonuna kadar yürütmenin durdurulmasına karar vermiştir. Bunun üzerine Rekabet Kurulu soruşturma açılmasına karar vererek soruşturma sürecini başlatmıştır.
Yukarıda sözünü ettiğimiz altı aylık sürenin sonunda, Kurum'a söz konusu yükümlülüklerle ilgili bir uyum paketi sunan Google'ın, yapılan inceleme sonucunda söz konusu uyum paketinin Rekabet Kurulu'nun getirdiği yükümlülükleri karşılamadığı sonucuna varıldı. Bu tespitin üzerine Rekabet Kanunu'nun 17. maddesinin 1-a bendine göre, 07.11.2019 tarihinde başlamak üzere, Kurul kararında yerine getirilmesine karar verdiği hususların tam olarak yerine getirildiği tarihe kadar geçen süre için Google'a 2018 yılı Türkiye cirosunun on binde beşi olmak üzere süreli para cezası verdi. Rekabet Kanunu uyarınca, para cezasının kararın yerine getirilmediği tarihten itibaren işlemesi gerekirken, Kurul'un başlangıç tarihi olarak neden 07.11.2019'un belirlendiğine yönelik bir açıklama ise getirilmedi.
Gelelim Süreli Para Cezasının Belirlenmesine...
Rekabet Kurulu'nun Google'ın yükümlülüklerini yerine getirmemesine ilişkin süreli para cezasının başlangıç tarihi 07.11.2019 iken, kararın yayımlanma tarihi ise 22.11.2019 olarak karşımıza çıkıyor. Bu tarihten sonra, konu ile ilgili gelişmelere baktığımızda ise karşımıza öncelikle 17.12.2019 tarihinde yapılan Google basın açıklaması ve hemen akabindeki gerçekleşen 18.12.2019 tarihli Rekabet Kurumu basın açıklaması çıkıyor. Yapılan açıklamalara göre, bu tarih itibariyle Google'ın yükümlülükleri yerine getirme konusunda bir uyum başvurusu olmadığı anlaşılıyor. Bu tarih itibariyle, nispi para cezasına temel alınacak gün sayısının tespit ederken, Kasım ayından 23 gün ve Aralık ayından da 17 gün geçtiğinden, cezaya esas alınacak gün sayısı toplam 40 günü buluyor. Bu durumda Google'a verilen bir günlük ceza, cironun on binde 5'ine tekabül ettiğinden, 40 günlük ceza cironun %2'si seviyesine geliyor.
Rekabet Kurulu'nun ilk kararında 6. madde ihlali nedeniyle verdiği cezanın 93 milyon TL'den biraz daha fazla olduğunu hatırlayalım. Her ne kadar ticari sır nedeniyle bu cezanın Google'ın gayri safi gelirinin yüzde kaçına tekabül ettiği açıklanmasa da bu konuda bir yaklaşık bir tahmin yürütmek mümkün.
Söz konusu ceza, karardan anlaşıldığı üzere Rekabet Kanunu'nun 16. maddesi ve Ceza Yönetmeliği'nin 5. Maddesi uyarınca verilmiştir. Ceza Yönetmeliği'nin 5/1-a maddesi diğer ihlaller için temel ceza belirlenmesine ilişkin olup, bu ihlallere ilişkin temel para cezası binde 5 ile yüzde 3 arasındaki bir makas içinde belirlenmektedir. Yine aynı maddenin 2. fıkrasına göre Kurul temel para cezasını belirlerken, Google'ın piyasadaki gücü, ihlal neticesinde gerçekleşen veya gerçekleşmesi muhtemel zararın ağırlığı gibi hususları da dikkate almalıdır. Kararda da belirtildiği gibi ihlal süresi 5 yılı aştığından cezaya bir kat artırım yapılmıştır.
Bu bilgiler ışığında bir tahmin yürütürsek eğer temel para cezası cironun %0,5'i olarak belirlenmiş ise, 5 yıldan fazla sürdüğünden bir kat artarak %1, eğer temel para cezası %1 olarak belirlenmiş ise yine bir kat artarak %2 olarak karar tesis edildiğini tahmin ediyoruz.
Yukarıda yaptığımız tahmini hesaplamaya baktığımızda, asıl ceza yani ihlalden dolayı verilen cezanın cironun %1'i olması halinde ise süreli para cezasının 20. gününe; %2'si olması halinde ise 40. gününe denk geldiğini anlıyoruz. Süreli para cezasının geçen süreç içerisinde, Rekabet Kurulu'nun yerine getirilmesini istediği yükümlülüklerin yerine getirilmemesi halinde daha da artması ise mümkün.
Süreli Para Cezasının Hukuki Dayanağı Ne?
Rekabet Kanunu'nun değişik 17. maddesi uyarınca Kurulun, teşebbüs ve teşebbüs birliklerine, 16. maddenin birinci fıkrasında belirtilen cezalar saklı kalmak kaydıyla, nihai karar veya geçici tedbir kararı ile getirilen yükümlülüklere ya da verilen taahhütlere uyulmaması durumunda uyulmayan her gün için,  ilgili teşebbüsler ile teşebbüs birlikleri ve/veya bu birliklerin üyelerinin karardan bir önceki mali yıl sonunda oluşan, bunun hesaplanması mümkün olmazsa karar tarihine en yakın mali yıl sonunda oluşan ve Kurul tarafından saptanacak olan yıllık gayri safi gelirlerinin on binde beşi oranında idari para cezası vereceği, bu fiile ilişkin idari para cezasının yükümlülük getirilen kararda herhangi bir süre belirlenmemiş ise, bu kararın tebliğini takip eden günden itibaren verilebileceği hükme bağlanmıştır.
Anılan 17. maddenin değiştirilmesinden önceki halinde ise; Kurul'un teşebbüs ve teşebbüs birliklerine kararda belirtilecek tarihten başlamak üzere, ihlale son verilmesi ve diğer tedbirlere ilişkin karara uyulmaması halinde her gün için elli milyon lira (bugünkü rakamlarla 50 TL) süreli idari para cezası verme yetkisi bulunuyordu. 
Bu hükmün değiştirilmesi ile ilgili olarak Rekabet Kurumu'nda bir eski olaya göre, Kurum'un faaliyete geçtiği yıllarda, dönemin önemli iş adamlarından birinin işyerine yerinde inceleme yapılması üzerine iş adamı, yerinde incelemeye engel olunmasının cezasının ne olduğunu sormuş ve günlük 20 milyon lira (bugünün rakamları ile 20 TL) olduğunu öğrenmesi üzerine bir yıllık cezayı ödemeye ve yerinde incelemeyi engellemeye karar vermiştir. Günlük para cezası limitlerinin kaldırılmasına ilişkin hükümlerin de bu olay ve uygulamadaki diğer deneyimler sonucu değiştirildiği konuşulur.
Süreli Para Cezasının İhlale İlişkin Cezadan Daha Fazla Olduğu Başka Örnekler...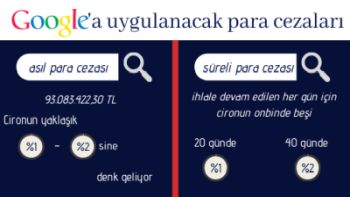 Konya ilinde faaliyette bulunan Mosaş Akıllı Ulaşım Sistemleri A.Ş. hakkında yerinde incelemeyi engellediği gerekçesiyle 2017 yılında oluşan gayri safi gelirinin binde beşi oranında olmak üzere 81.500,87 TL idari para cezası verilmiştir.4 Aynı teşebbüs hakkında yerinde teşebbüsün engellendiği 05.06.2018 gününden başlayan ve Rekabet Kurumu uzmanlarının davet edildiği teşebbüs yazısının Rekabet Kurumu kayıtlarına girdiği 22.06.2018 günü arasında 17 gün geçtiği için ayrıca 8.150,09 x 17 = 138.551,53 TL süreli para cezası uygulanmıştır.5 Görüleceği üzere yerinde incelemenin engellenmesi nedeniyle verilen idari para cezası yaklaşık 10 günlük süreli para cezasının karşılığıdır. Bir başka deyişle her 10 günde, süreli para cezası asıl cezanın katlarına ulaşacaktır.
Google kararı bağlamında, yukarıda da belirttiğimiz gibi, maddenin bugünkü hali ile nihai karar veya geçici tedbir kararı ile getirilen yükümlülüklere ya da verilen taahhütlere uyulmaması, durumunda geçecek her yirmi gün teşebbüsün cirosunun %1'ine tekabül edecek, 40 günde %2, 60 günde %3 şeklinde artacaktır. Tahminlerimize göre Google'a rekabet ihlalinden dolayı verilen asıl idari para cezanın %2 olduğunu düşünürsek, verilen süreli para cezası 80. günde iki katına ulaşacak ve her geçen gün de artmaya devam edecektir.
SONUÇ
Rekabet Kanunu'nda düzenlenen süreli para cezalarının, her ne kadar günlük hesabı ciroya göre olmakta ise de, cezanın ucunun açık olması ve azami sınır bulunmamasının fiil ile ceza arasında ölçülülük unsurunu ne denli sağlayacağı, hakkaniyete ne ölçüde uygun olacağı belli değildir. Rekabet Kanunu'na göre verilen usuli cezalarda haksızlık içeriğinin dikkate alınmayarak fiili işleyen teşebbüse, fiiller arasındaki işleniş biçimi ve dolayısıyla haksızlık içeriği dikkate alınmayarak kanunda belirlenen yüzdenin her olaya aynı şekilde uygulanarak ceza verilmesi artık rekabet hukukçularınca tartışılır bir noktaya gelmiştir. Rekabet Kanunu'nun usuli cezalarla ilgili hükümlerinin tüm paydaşlarla birlikte gözden geçirilmesinin, günün şartlarına göre adalet ve hakkaniyetin gerektirdiği ölçüde yeniden düzenlenmesinin zorunlu olduğu kanaatindeyiz.
Footnotes
1. Rekabet Kurulu'nun 19.09.2018 gün ve 18-33/555-273
2. 31.082016 gün ve E.2016/2625 sayılı karar
3. 09.11.2016 gün ve 2016/134 Y.D itiraz kararı.
4. Rekabet Kurulu'nun 21.06.2018 gün ve 18-20/356-176 sayılı kararı.
5. Rekabet Kurulu'nun 05.07.2018 gün ve 18-22/378-185 sayılı kararı.
The content of this article is intended to provide a general guide to the subject matter. Specialist advice should be sought about your specific circumstances.