Geçtiğimiz günlerde, Rekabet Kurulu İklimlendirme – Soğutma – Klima İmalatçıları Derneği ("İSKİD") ile Doğal Gaz Cihazları Sanayicileri ve İş Adamları Derneği ("DOSİDER") tarafından, Dernekleri bünyesinde hazırlanacak ve T.C. Ticaret Bakanlığı Tüketicinin Korunması Genel Müdürlüğü (''Bakanlık'') tarafından yayınlanması planlanan Kamu Spotu filmine yönelik olarak alınan yönetim kurulu kararlarına menfi tespit belgesi verilmesine, eğer bu mümkün olmaz ise bireysel muafiyet tanınması talebine rekabete aykırı olacağı gerekçesiyle olumsuz karar vermiştir.1
İSKİD ve DOSİDER taleplerinde; iklimlendirme, soğutma ve klima ile doğal gazla çalışan ürünlerin satış sonrası hizmetlerinin yetkili ve özel servisler tarafından yerine getirildiğini, yetkili servislerin piyasaya mal arz eden teşebbüslerle dikey ilişki içerisinde olduğunu, bu ilişki kapsamında yetkili servislerin sağlayıcıların marka ve logosu ile birlikte ''Yetkili Servis'' ibaresini kullanabildiklerini, özel servislerin ise sağlayıcılarla bağı olmaksızın bağımsız çalıştıklarını, özel servislerin 6769 Sayılı Sınai Mülkiyet Kanunu'na ("SMK") aykırı olarak sağlayıcıların marka ve logosu ile birlikte ''yetkili servis'' ibaresini kullandıklarını, böylece tüketicileri yanılgıya düşürdüğü gibi, tüketicinin hizmet sonucunda memnun kalmadıklarını ve şikâyetler alındığını, bu memnuniyetsizlik sonucunda da, sağlayıcı teşebbüslerin marka imajının zedelendiği gerekçesiyle menfi tespit ve bireysel muafiyet verilmesini istediklerini beyan etmişlerdir.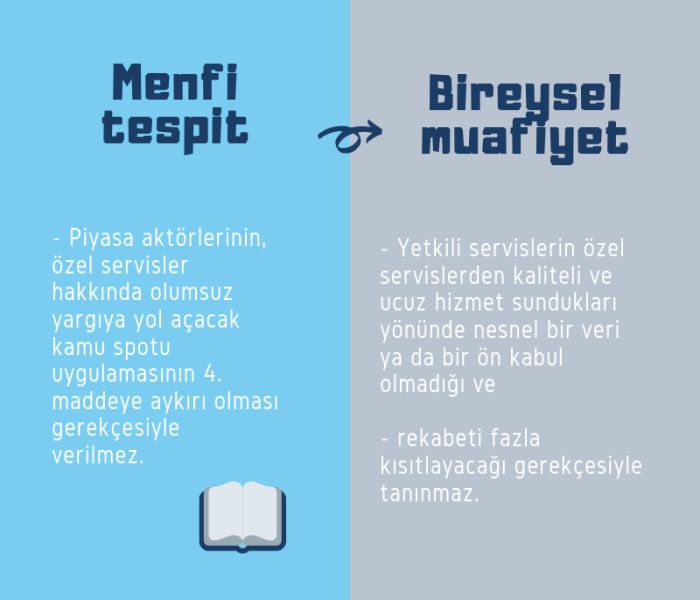 Bilindiği üzere, kamu spotu; kamu kurum ve kuruluşları ile dernek ve vakıf gibi sivil toplum kuruluşlarınca hazırlanan veya hazırlatılan ve Radyo Televizyon Kurumu ("RTÜK") tarafından yayınlanmasında kamu yararı olduğuna karar verilen bilgilendirici ve eğitici nitelikteki film ve sesler ile alt bantları olarak kabul ediliyor. RTÜK tarafından tavsiye edilen kamu spotu materyalleri medya hizmet sağlayıcıları tarafından ücretsiz yayınlanıyor.
Başvuru kapsamında, öncelikle söz konusu teşebbüs birliği kararları konusunda Bakanlık' tan görüş alınmış, bu görüşte, servisler hakkında 6502 sayılı Tüketicinin Korunması Hakkında Kanunu ve Ticari Reklam ve Haksız Ticari Uygulamalar Yönetmeliği hükümlerinin uygulandığı, mevzuata aykırı davranan teşebbüsler hakkında, durdurma ve idari para cezası gibi yaptırımlar uygulandığı belirtilerek, olası tüketici mağduriyetini önleme ve tüketiciyi bilinçlendirme adına kamu spotlarının hazırlanmasının yararlı olacağı ifade edilmiştir.
Rekabet Kurulu kararında, öncelikle talebe ilişkin kararları 4054 sayılı Rekabetin Korunması Hakkında Kanun'un ("Rekabet Kanunu") 4. maddesi açısından incelemiş, bu inceleme sırasında başvuruda bulunan teşebbüs birliklerine üye teşebbüslerin marka ve logolarının özel servislerce izinsiz kullanımına ilişki olarak hazırlanacak kamu spotu filmi olduğunu, bu marka ve logoların kullanımının aslında bir haksız rekabet sorunu olduğunu, konunun Rekabet Kanunu ile doğrudan ilişkisi olmadığını, gerçek amacın haksız kullanımla mücadele olduğu saptamasını yapmıştır. Bu saptamanın ardından, marka ve logoların üçüncü kişilerce kullanılması konusunun 6769 sayılı Sınai Mülkiyet Kanun'un 7. maddesinin 5. fıkrasına göre düzenlendiğini, marka sahibinin belirli şartlarda markasının kullanılmasını engelleyemeyeceği, Yargıtay kararlarında da belirtildiği gibi2 servis hizmeti veren işletmenin "kendi işletme adını hâkim unsur olarak yazmak" koşuluyla işyerinde hangi marka ve ürünlere hizmet verdiğini göstermek amacıyla tescilli markalara da yer verme olanağının bulunduğunu belirtmiştir. Rekabet Kurulu bu durumu göz önüne alarak, bazı piyasa aktörlerinin bir araya gelip düzenleyici işlem boyutunu aşarak özel servisler hakkında olumsuz bir yargıya yol açacak kamu spotu uygulamasının 4. maddeye aykırı olduğunu ve bu nedenle menfi tespit verilmesinin mümkün olmadığını belirtmiştir.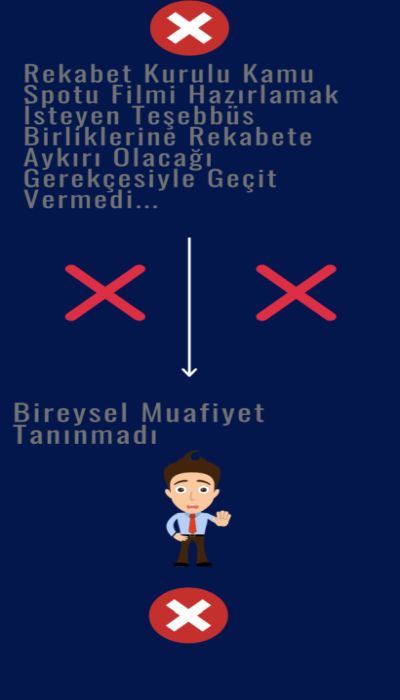 Öte yandan, menfi tespit alamayan teşebbüs birliği kararları bireysel muafiyet incelemesine tabi tutulmuştur. Kurul, Rekabet Kanunu'nun 5. maddesinde aranan 2 olumlu (a ve b fıkraları) ve 2 olumsuz (c ve d fıkraları) koşul yönünden yaptığı incelemede, olumlu koşullar açısından bireysel muafiyet tanınabilmesi için yetkili servislerin özel servislerden daha kaliteli ve daha ucuz hizmet sundukları yönünde nesnel bir veri ya da bir ön kabul gerektiğini belirtmiştir. Böyle bir nesnel veri olmadığı gibi aksine kamu oyunda özel servislerden daha ucuz ve yetkili servis ayarında hizmet alınabileceği yönünde bir genel kanı olduğunu açıklamıştır. Kamu spotu senaryosunda yer alan "ürünün garanti kapsamındaysa gereksiz yere ücret ödeyebilirsin" ifadesinin ilk bakışta tüketici yararını sağlayacağı izlenimi veriyorsa da, garanti kapsamında tüketici haklarının korunması ve iyileştirilmesinin yasal düzenlemeye dayalı bir olay olduğu açıklanmıştır. Bu nedenlerle de anılan 5. maddenin (a), (b) ve bu fıkralarla ilgili (d) fıkrasında aranan koşulların sağlanamadığı ortaya konulmuştur. Bunlara ilaveten kamu spotu uygulamasının piyasadaki rekabeti gereğinden fazla kısıtlayacağı gibi, özel servislerin dışlanmasına yol açabileceği görüşüyle anılan maddenin (d) fıkrasındaki olumsuz koşulunda sağlanamadığından bahisle kamu spotuna ilişkin teşebbüs birliği kararlarına bireysel muafiyet tanınamayacağına karar vermiştir.
Ek olarak belirtmek gerekir ki, dosyanın raportörlerinin çoğunluğu kamu spotu senaryo metninde yer alan özel servislerin kötülenmesine yol açabilecek ifadelerin çıkartılması şartıyla menfi tespit alabileceğini belirtmiş, en kıdemli raportör ise herhangi bir konuda kamu spotu çekilmesinin dahi tüketici tercihlerini etkilemek adına yeterli olduğunu ve film içeriğinde geçen ifadelerden bağımsız olarak rekabeti, kısıtlayacağından menfi tespit verilmemesi gerektiği görüşünü beyan etmiştir.
Karardan çıkaracağımız sonuç, Rekabet Kurulu'nun, kurulduğundan bu yana, yasal düzenlemelerle getirilen rekabeti bozucu, engelleyici ve kısıtlayıcı hükümler karşısında "Rekabet Savunulucuğu" adına takındığı tavrı aynen devam ettirerek, kamu araçları ile rekabet ortamının bozulmasına da geçit vermeyeceğidir.
Footnote
1 Rekabet Kurulunun 04.04.2019 gün ve 19-14/186-84 sayılı kararı.
2 Yargıtay 11.Hukuk Dairesinin E.2003/2346, K.2003/8743 sayılı kararı
The content of this article is intended to provide a general guide to the subject matter. Specialist advice should be sought about your specific circumstances.