Avrupa rekabet soruşturmalarında hâkim durumdaki şirketlerin veri toplama ve işleme süreçleri rekabet otoritelerinin odak noktası haline geldi. Bu sert rüzgârdan en çok etkilenecek teşebbüsler ise teknoloji devleri olacak gibi görünüyor.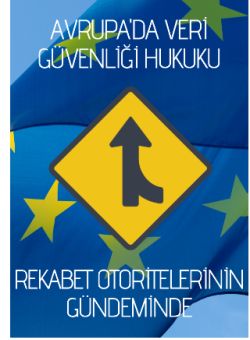 Almanya'nın rekabet otoritesi Bundeskartellamt'ın Facebook hakkında yürüttüğü soruşturmayla başlayan değişim rüzgârı, tüm Avrupa Birliği'ni etkisi altına almaya başladı. Facebook, Apple ve Microsoft gibi teknoloji devleri ulusal rekabet otoritelerince mercek altına alındıkça, rekabet hukuku soruşturmalarında veri güvenliği kurallarının incelenmesi yaygınlaşmaya başladı. Öyle ki, çeşitli evrelerde rekabet soruşturmalarında veri güvenliği kurallarının devreye girmesi tartışılıyor.
Avrupa Komisyonu Genel Sekreteri Martin Selmayr, son dönemde hem birleşme devralma hem de hâkim durumun kötüye kullanılması dosyalarında rekabet hukuku ve kişisel verilerin korunması kurallarının iç içe geçtiğini belirtti.1 Aynı zamanda Avrupa Birliği veri koruma kurallarının da mimarlarından biri olan Selmayr, Brüksel'de gerçekleşen bir konferansta yaptığı konuşmada iki alanın da insan onuru, tercihler ve özgürlükler üzerine kurulduğunun altını çizerek, düzenlemelerde yeknesaklığın kaçınılmaz olduğuna işaret etti. Selmayr'ın konuşmasında dikkat çeken bir diğer nokta ise, rekabet soruşturmalarında kişisel verilerin korunmasına ilişkin endişelerin de incelenmesine kimsenin engel olamayacağını açıkça belirtmesi oldu.
Değişim rüzgârının öncüsü Bundeskartellamt başkanı Andreas Mundt da aynı konferansta yaptığı konuşmada Avrupa rekabet otoritelerinin hâkim durumun kötüye kullanılıp kullanılmadığının değerlendirirken Genel Veri Koruma Yönetmeliği'ni ("GDPR") dikkate alması gerektiğini vurguladı. Rekabet hukukuna ilişkin yeni bir GDPR yaratmaktansa, var olan düzenlemenin uygulanmasının daha mantıklı olduğunu savunan Mundt, teknoloji devlerinin sahip olduğu pazar gücünün endişe verici olduğunu belirtti.
Bu süreç nasıl başladı?
Bundeskartellamt 2019'un başlarında sonuçlandırdığı soruşturmada, Almanya'da sosyal ağ pazarında hâkim durumda olan Facebook'un veri toplama ve işleme süreçlerinin hâkim durumun kötüye kullanılması teşkil ettiğine karar vermişti.2 Facebook, kendi uygulamasının yanı sıra, Instagram, Whatsapp ve beğen-paylaş özelliği gömülü olan üçüncü taraf internet sitelerinden herhangi bir kısıtlama olmaksızın kullanıcı verisi toplamakta, daha sonra bu verileri Facebook kullanımı için bir şart olarak ileri sürmekteydi. Kullanıcılar rıza göstermeksizin uygulamayı kullanamadığından, kişisel verilerin işlenmesinin bir mal ve/veya hizmet sunumunun şartı olarak ileri sürülmemesi kuralına aykırılık söz konusuydu.
Başta veri koruma otoritelerinin yetki alanında görülebilecek bu konuya, Bundeskartellamt tarafından söz konusu verilerin hâkim durumun korunması ve güçlendirilmesi hususunda teşebbüslere önemli bir avantaj sağladığı gerekçesiyle müdahale etti ve Facebook'a iş yapış modelini düzeltmesi için toplamda 12 aylık bir süre tanıdı.
Fransa'dan işbirliği çağrısı
Fransız rekabet otoritesi Autorite de la Concurrence'in başkanı Isabelle de Silva, otoritenin geçtiğimiz yıla ilişkin yıllık raporunu sunduğu toplantıda rekabet soruşturmalarında veri toplama ve veri güvenliği konularına daha fazla ağırlık vereceklerinin sinyallerini verdi.3 Teşebbüslerin veri işleme olduğu gibi, veri toplama yöntemlerinin de hakim durumun kötüye kullanılması teşkil edebileceğinin altını çizen de Silva, Bundeskartellamt'ın Facebook kararına atıf yaparak, kendilerinin de dijital platformları mercek altına aldığına işaret etti.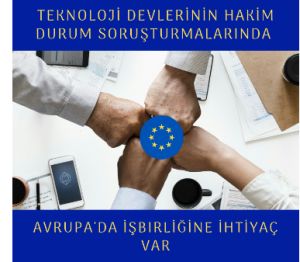 Hâlihazırda Autorite de la Concurrence ve Bundeskartellamt algoritmalar üzerine ortak bir çalışma hazırladığı biliniyor. Önümüzdeki Ekim ayında Mundt ve de Silva tarafından sunulması beklenen raporun algortimaların rekabet hukukundaki yerinin belirlenmesinin yanı sıra benzer işbirliklerinin devamını getireceği de öngörülüyor. Fransız rekabet otoritesinin Fransız telekomünikasyon otoritesi ARCEP ve veri koruma otoritesi CNIL ile veri gözetim ve denetimi alanlarında güçlerini birleştireceğini açıklayan de Silva, teknoloji devlerinin hâkim durum soruşturmalarında da Avrupa'da benzer bir iş birliğine ihtiyaç duyulduğunun altını çizdi.
Türkiye'de ne noktadayız?
Aslında rekabet kişisel verilerin korunması hukuku arasındaki yakın ilişki ve işbirliğini görmek için fazla uzağa gitmemize gerek yok. Nisan ayında Rekabet Kurumu eski başkanı Ömer Torlak ile Kişisel Verileri Koruma Kurumu Başkanı Faruk Bilir arasında gerçekleşen toplantıda Avrupa'daki rüzgârların Türkiye'yi de etkisi altına alacağının sinyalleri verilmişti. Kurum başkanları dosyalarda bilgi alışverişinde bulunacaklarını ve mevzuat uyumluluğunun şirketlerin uluslararası rekabet gücünü arttıracağını düşündüklerini belirtirken, iki Kurum arasında bir de İşbirliği Protokolü imzalandı.4
İşbirliği rüzgârlarının Avrupa'da ve ülkemizdeki rekabet hukuku iklimini ne şekilde değiştireceğini ise zaman gösterecek. 
Footnotes
[1] Newman, Matthew. "Facebook, Microsoft antitrust cases show convergence with data-privacy rules, EU officials say." MLex Global Antitrust, MLex, 10 July 2019, 14:47.
[2] https://www.bundeskartellamt.de/SharedDocs/Entscheidung/EN/Fallberichte/Missbrauchsaufsicht/2019/B6-22-16.pdf?__blob=publicationFile&v=4
[3] Yaiche, Arezki. "Data-Collection Abuses among Priorities of French Competition Authority." MLex Global Antitrust, MLex, 9 July 2019, 14:05.
[4] https://www.kvkk.gov.tr/Icerik/5431/-Kurumumuz-ile-Rekabet-Kurumu-Arasinda-Isbirligi-Protokolu-Imzalandi
The content of this article is intended to provide a general guide to the subject matter. Specialist advice should be sought about your specific circumstances.