Uluslararası Rekabet Ağı (International Competition Network – ICN), 3 Nisan 2019'da yaptığı açıklama ile üyesi olsun olmasın tüm rekabet otoritelerini daha adil ve daha güçlü bir rekabet hukuku uygulaması için hazırlanan prosedürlere yönelik çerçeve anlaşmayı imzalamaya davet etti.
Rekabet hukukunun daha iyi anlaşılması ve dünya genelinde daha uyumlu ve etkili bir rekabet uygulamasının oluşması amacıyla 15 rekabet otoritesi öncülüğünde Ekim 2001'de kurulan ICN, bugün 125 ülkeden toplam 138 üyesi ile rekabet politikası alanındaki gelişmelerde en belirleyici aktörlerden biri. Bu belirleyici ve öncü rolün son yansıması ise ICN tarafından 3 Nisan 2019'da duyurusu yapılan "Rekabet Otoriteleri Prosedürlerine Yönelik Çerçeve Metin". Geçtiğimiz yıllarda, ICN üyesi rekabet otoriteleri ve bu alanda çalışan rekabet danışmanlık şirketleri tarafından başarılı bir şekilde hayata geçirilen kartel ve devralma uygulamalarına yönelik çerçeve metinlerinin ardından ICN, kendi üyesi olan ve olmayan tüm rekabet otoritelerini "Rekabet Otoriteleri Prosedürlerine Yönelik Çerçeve Metni" imzalamaya davet ediyor.
Ülke uygulamalarındaki hukuki veya yapısal farklılıklardan bağımsız olarak güçlü bir prosedürel veya usule yönelik işleyişin, etkin bir rekabet hukuku uygulamasının en önemli unsurlarından biri olduğunu belirten ICN, duyurusunda geniş katılımın önemine vurgu yapıyor. Gönüllü katılım esasıyla işlemesi planlanan uygulama kapsamında Çerçeve Metin, 1 Mayıs 2019'dan itibaren ICN'nin internet sayfasında imzaya açıldı. Yine bu sayfadan belirli aralıklarla metne imza atan katılımcı rekabet otoritelerinin duyurulması planlanıyor.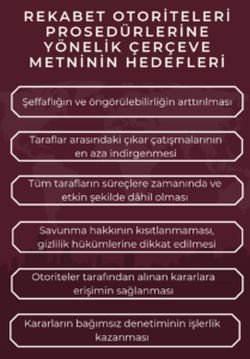 ICN'nin büyük önem atfettiğini gördüğümüz "Rekabet Otoriteleri Prosedürlerine Yönelik Çerçeve Metnin" hayata geçmesi ile başta soruşturmalar olmak üzere rekabet otoriteleri tarafından uygulanan çeşitli işlemler sırasında şeffaflığın ve öngörülebilirliğin arttırılması, taraflar arasındaki çıkar çatışmalarının en aza indirgenmesi, tüm tarafların süreçlere zamanında ve etkin şekilde dâhil olması, savunma hakkının kısıtlanmaması, gizlilik hükümlerine dikkat edilmesi, otoriteler tarafından alınan kararlara erişimin sağlanması ve kararların bağımsız denetiminin işlerlik kazanması gibi çeşitli hedefler öngörülüyor.  ICN'nin internet sayfasında yer verilen ve rekabet otoritelerinin farklı konulardaki işleyişine ve yasal düzenlemelerine ilişkin on alt başlıktan oluşan şablon metinlerin en geç altı ay içinde, uygulamayı hayata geçirmeyi planlayan rekabet otoriteleri tarafından doldurulması planlanıyor. ICN, etkin bir rekabet otoritesinin en önemli unsurlarından biri olarak gördüğü uygulamanın işlerliğini sağlamak adına yıllık olarak düzenlediği konferanslarda Çerçeve Metin ile ilgili oturumlar yapmayı düşündüğünü de açıkladı. Böylelikle, rekabet otoritelerinin deneyimleri ile mevcut metnin iyileştirilmesi ve daha çok rekabet otoritesinin Çerçeve Metni imzalamak için teşvik edilmesi amaçlanıyor. Yine bu toplantılar sonunda hazırlanacak raporlar ile ülke rekabet otoriteleri özelindeki bilgi ve deneyimlerin anonimleştirilerek aktarılması ve genel eğilimin ortaya konulması ve böylelikle tecrübelerin daha geniş kitlelere yayılması gündemde.
ICN'nin 15 Mayıs 2019'da Cartagena'daki (Kolombiya) yıllık konferansında lansmanı yapılacak "Rekabet Otoriteleri Prosedürlerine Yönelik Çerçeve Metnin" ortaya koyduğu gerçek ise birçok kamu otoritesi ve düzenleyici kuruluşa kıyasla daha şeffaf ve öngörülebilir usuli kurallara sahip rekabet otoriteleri için hala gidilebilecek yollar var. Değişen ve daha da önemlisi dijitalleşen ekonominin piyasadaki tüm oyuncular ve düzenleyiciler için daha fazla şeffaflık ve öngörülebilirlik ihtiyacını beraberinde getirdiği çok açık. ICN'nin davetine rekabet otoritelerinin katılımının nasıl olacağını biz de merak ve ilgiyle takip ediyor olacağız. 
The content of this article is intended to provide a general guide to the subject matter. Specialist advice should be sought about your specific circumstances.