2000'li yılların başlarında Apple ile Google arasında gizli bir şekilde imzalanan ve birbirlerinin işçilerini istihdam etmemeye yönelik anlaşmaların (no-poach agreements), çalışanlara ödenen ücretlerin belirli seviyelerde baskılanması ve çalışma imkanlarının engellenmesine yönelik danışıklı hareketlere dönüştüğü yönündeki şikayetler, Silikon Vadisi'ni Amerikan otoritelerinin radarına sokmuştu. Amerikan Adalet Bakanlığı (the U.S. Department of Justice) ve Kaliforniya Savcısı'nın (California Attorney General) bu şikayetlerin araştırılmasına ilişkin harekete geçtiği sıralarda, 100.000 civarında teknoloji sektörü çalışanının önemli miktarda zarara uğradığı düşünülmekteydi.
Dünyanın teknoloji ve inovasyon merkezi olma yolunda hızla ilerleyen Silikon Vadisi'nin en büyük şirketlerinin, yaratıcılık ve inovatif zekanın etkin rekabet için hayatî önemde olduğu bir sektördeki iş gücü piyasalarını alt üst etmelerine karşı nasıl bir önlem alınabilirdi? Rekabet hukuku, buna karşı önlem geliştirebilmek için doğru kaynak mıydı?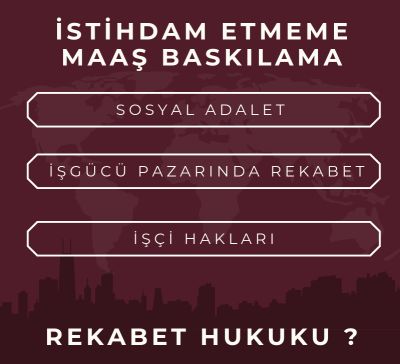 Bunun gibi onlarca sorunun peşine düşmek üzere, 1988 yılında Michal Aviad ve Kevin White tarafından kurulan  Filmmakers Collaborative SF adlı kâr amacı gütmeyen medya kuruluşu "When Rules Don't Apply" adında bir proje başlattı.
Projenin temel amacı, Amerikan rekabet hukukunun temel ilkelerini kullanarak, işçi ücretlerindeki baskılanmanın ve istihdam etmeme anlaşmalarının Amerikan ekonomik sistemi üzerindeki etkilerini ortaya çıkarmak olarak açıklanıyor. Projenin başlatılması altında yatan temel güdünün, işçilerin rekabet hukuku bilincini ve rekabet hukuku kurallarının işçiler açısından nasıl uygulanacağına yönelik farkındalığı artırmak olduğu ifade ediliyor.
İşçi haklarını korumak adına başlatılan bu projenin ilk ürünü, 28 dakikalık bir kısa film ve 3 mini klipten oluşan "When Rules Don't Apply" adlı belgesel.
Belgeselin ana teması, 2010 yılının Eylül ayında Google, Apple, Adobe, Intel, Intuit ve Pixar gibi dönemin teknoloji devlerinin üst düzey yöneticilerinin birbirilerinin çalışanlarını işe almama konusunda yaptıkları gizli anlaşmaların, Amerikan Adalet Bakanlığı tarafından rekabet hukuku konusu olarak görülmesi üzerine kurulu.
Kaliforniya Üniversitesi Hukuk Fakültesi (UC Hastings College of the Law) öğretim üyesi olan Prof. Veena Dubal, ABD'nin temel rekabet yasası olan Sherman Act (1890)'in, ticarî işletmelerin, kendi piyasa çıkarları doğrultusunda faaliyetlerini nasıl gerçekleştirmeleri gerektiğine ilişkin çerçeve kurallar bütünü öngördüğünü belirtiyor. Bu kapsamda Prof. Dubal'ın yönelttiği temel soru şu: Ticarî işletmelerin piyasa faaliyetlerine uygulanması öngörülen bir hukuk disiplini, bireylere/işçilerin söz konusu olduğu bir pazarda aynı şekilde uygulanabilir mi?
Teknoloji yoğun sektörlerde hayatî öneme sahip olan mühendisler başta olmak üzere, şirketlerin önemli çalışanları istihdam etmek için rekabet ettikleri bir piyasada, işgücü pazarını manipüle etmek üzere rakiplerle gizli veya açık anlaşmalar içerisine girmenin tartışmasız bir şekilde rekabet hukuku ihlali olduğu, belgeselde savunulan baskın görüş olarak öne çıkıyor.
Buna karşın, 1890'larda yazılan bir rekabet kanununun ölçüsüzce geniş yorumlanarak amacı dışında uygulandığını, işgücü pazarlarını korumak amacıyla rekabetçi parametrelere müdahale etmeyen teşebbüslerin cezalandırılmasının inovasyon güdüsünü ve imkânını azaltabileceğini, rekabet hukukunun amacının esas itibarı ile tüketici refahını korumak olduğunu, sosyal adalete hizmet etme amacının olmadığını savunan bir görüş de var.
Bununla birlikte, işçilerin serbest dolaşımının yaratıcılık ve inovatif zekanın öne çıktığı teknoloji sektörlerinde pazar için rekabeti artıracağı öne sürülüyor.
Belgeselde öne çıkan düşüncelerden birisi de dijital çağda rekabet hukuku kurallarının, yalnızca ürünün/hizmetin fiyatını korumaması gerektiği yönündeki düşünce. Buna göre, rekabet hukukunun amacı, basitçe fiyat temelli bir tüketici refahı olamaz. Ürünün kendisinden ziyade ürüne ulaşma sürecinin tüketici gözünde değer kazandığı dijital çağda, rekabet hukuku kurallarının, ürün ile tüketicinin buluşması sürecindeki her elementi korumayı hedeflemesi gerektiği savunuluyor. Bu nedenle; küçük işletmelerin, meslek gruplarının ve işçi ücretlerinin rekabet hukukunun temel konularından birisi olduğu düşünülüyor.
Araba hırsızlığı, ev soygunu, yan kesicilik gibi basit hırsızlık suçları ABD çapında 15,5 milyar dolar civarında zarara yol açarken, işçi ücretlerine yönelik ihlallerin yarattığı zarar yaklaşık 39,2 milyar dolar seviyelerindedir.
İşgücü pazarının yalnızca teknoloji şirketleri tarafından değil, daha küçük işletmelerin faaliyet gösterdiği sektörlerde de manipüle edilmeye çalışıldığı ortadadır. İşçinin dolaşımının engellenmesi üzerine anlaşmaların yapılabileceğinin düşünüldüğü dünyada mademki işçiler alım satıma konu bir emtia olarak değerlendirilmektedir, bu ticaretin gerçekleştiği piyasanın rekabetçi koşullarının korunmasının da rekabet hukukuna konu edilebileceği tartışılabilir.
Öte yandan, "adalet", "hakkaniyet", "sosyal adalet" gibi kavramların rekabet hukuku dünyasına aidiyeti de ciddi şekilde tartışılmaktadır. Piyasaların rekabetçi yapısının korunması hedefinin, sosyal adaleti sağlama amacıyla harmanlanması rekabet hukuku konusu olmaktan ziyade bir rekabet politikası sorunu olarak görülebilir. Ancak bu hedefe ulaşmada yalnızca rekabet politikalarının gözden geçirilmesi yeterli olacak mıdır? Rekabet hukukunun geleneksel araçları, dijital çağda ortaya çıkan yeni rekabet hukuku endişelerine ve değişen rekabet politikalarına ayak uydurabilecek midir? Rekabet otoritelerinin işlevi, yargısal bir işleve mi dönüştürülmelidir? Sosyal adaleti sağlamada doğru araç rekabet hukuku mudur?
Uçsuz bucaksız ve yepyeni bir rekabet hukuku evrenine giden yolda basit tartışmaların yer aldığı 28 dakikalık belgesele buradan ulaşılabilir. Projenin devamı olacak mı henüz belli değil. Bununla birlikte, devam sorusunun şöyle başlayacağını tahmin ediyoruz: Kurallar uygulansa bile...
The content of this article is intended to provide a general guide to the subject matter. Specialist advice should be sought about your specific circumstances.