Overview
Where does POPIA come from and when does it apply?
Who are the role-players?
Operators vs Responsible parties in structured finance and securitization
Role of the IO/DIO
Who can go to jail?
When can personal information be processed?
Transborder transfers
Prior authorization
Security compromises
Non-compliance
When does POPIA apply?
Who is POPIA's mother?
The OECD Privacy Guidelines, 1980 were the first internationally agreed statement of the core information privacy principles
The Guidelines served as a basis for other international instruments, like the EU Directive 95/46/EC
The EU Directive was replaced by the General Data Protection Regulation (GDPR) in May 2018
Section 3(3)(a) of POPIA provides that the Act must be interpreted in a manner that gives effect to the purpose of POPIA set out in section 2. These include regulation of the manner in which personal information may be processed, by establishing conditions, in harmony with international standards that prescribe the minimum threshold requirements for the lawful processing of personal information
POPIA also gives effect to the Constitutional right to privacy
POPIA timeline & milestones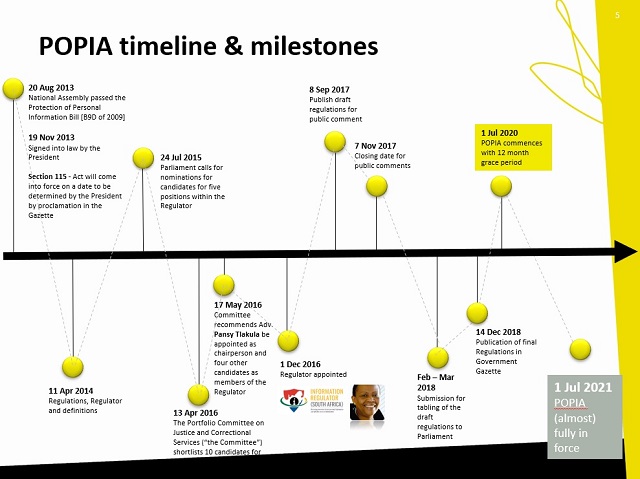 Click here to continue reading . . .
The content of this article is intended to provide a general guide to the subject matter. Specialist advice should be sought about your specific circumstances.