STARTING A BUSINESS IN GHANA
The first step in starting a business in Ghana is to legally register the business entity at the Registrar General's Department (RGD). There are various forms of business entities that can be registered under the laws of Ghana and it is therefore imperative to choose the right legal structure that best serves your business intentions. These are the various forms of business registration under the laws of Ghana;
Companies Limited by shares
Companies Limited by guarantee
Companies with unlimited liability
External Company
Sole Proprietorship
See Below infographics on the current statistics of business registrations at the Registrar General's Department (RGD)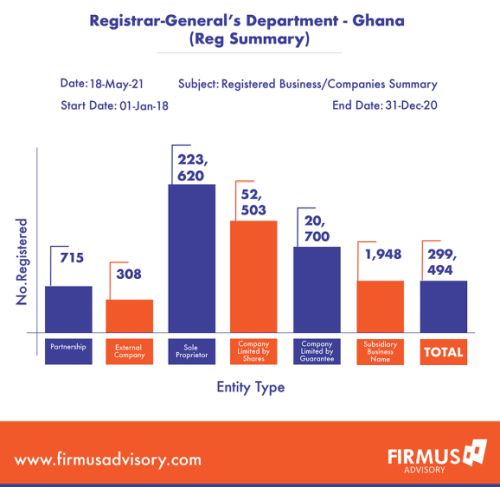 With the automation at the Registrar General's Department (RGD), business registration has become fairly easy.
All business registration forms are downloadable at https://rgd.gov.gh/forms.html or on-sale at GHS 50.00 at the RGD. Register your company in Ghana with ease, by simply following the steps outlined below.
STEPS TO REGISTERING A COMPANY LIMITED BY SHARES IN GHANA
Step 1 – Company Name search at RGD
Conduct your company name search in Ghana to ensure the availability of the proposed business name for the company. Company promoters may after the name search apply to have their business name reserved for a period of 30 days.
The business name must be meaningful, relevant and distinctive. Business names that are too similar to existing names are likely to be rejected by the Registrar General's Department. For example, if there is an existing company called Yayra Company Limited, a similar name like Yayara Company limited cannot be registered; such a name would be rejected, however, applicants will be advised to amend their company name accordingly. The choice of a business name must be relevant to the nature of activity of the company. Moreover, the business name must not be offensive and undesirable or violate existing trademarks.
Step 2 – Taxpayer Identification Number (TIN) registration for all company directors, secretary and shareholders
Download TIN forms @ http://rgd.gov.gh/wp-content/uploads/2015/12/Taxpayer-registration-form-individual.pdf. All company directors, secretary and shareholders are required to register and obtain a TIN for the purposes of business registration. Complete TIN forms and attach a copy of photo ID (Drivers, passport bio-data, voters ID). TIN numbers are created within 24 to 48 hours at no charge at any Ghana Revenue Authority office.
TIN numbers can also be created for corporate organizations. This situation becomes necessary when the shares of the company being registered are held by a corporate entity. In such a scenario, the corporate organization will obtain a TIN Form for Organizations and dully complete same and attach a letter of introduction. A TIN number will subsequently be created for the corporate shareholder.
All persons or organizations are required to have one TIN number for all their registered businesses; in case you decide to register more than one business entity or you serve as a director on several business organizations. Information required to complete an individual TIN form include;
Name
Occupation
Photo ID details
Mother's maiden name
Residential and postal address (Digital/Ghana Post Address of the company)
Contact
i. TIN form for business registration

For more information, watch this video;
To view the article in full click here
The content of this article is intended to provide a general guide to the subject matter. Specialist advice should be sought about your specific circumstances.