WHEN: Thur, Sept 29 at 9am ET / 2pm BST / 3pm CET
WHERE: Online
Rahman Ravelli has assembled a panel with in-depth expertise for a webinar that will address key aspects of the sanctions imposed on Russia and their effect on those with Russian business links.
The event, entitled "Navigating Russian Sanctions: The Lessons to Be Learned'', will be held online on Thursday, September 29 at 9am ET / 2pm BST / 3pm CET.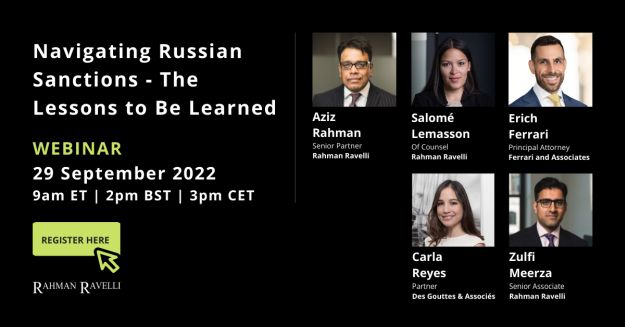 Panellists will detail the sanctions that have been imposed on Russia since it invaded Ukraine. Using a high-level case study, they will discuss the key sanctions-related issues being faced by companies around the world with Russian business links. The panellists will also provide guidance and suggestions on how to both identify and navigate the sanctions against Russia that have been introduced by the UK, European Union, the United States and Switzerland.
The webinar will be of value to UK, EU, Swiss and US companies with activities in Russia, their Russian counterparts and companies with a Russian shareholding structure. It will also be of use to law firms around the world that are dealing with the impact of sanctions for clients.
The main discussion points will be:
Navigating the UK, EU, Swiss and US jurisdictions.
Assessing the impact of having a designated person within the structure of a corporate.
Applying for a licence to conduct activity prohibited by sanctions.
Reporting sanctions-related matters to the authorities.
How sanctions affect various business and professional sectors – and how those sectors can manage those issues.
Assessing and mitigating the risks facing law firms handling sanctions matters.
The event will be moderated by Aziz Rahman, senior partner at Rahman Ravelli.
The panellists will be Salomé Lemasson, of counsel at Rahman Ravelli, discussing EU sanctions; Erich Ferrari, partner at Ferrari and Associates, discussing US sanctions; Zulfi Meerza, senior associate at Rahman Ravelli, discussing UK sanctions; and Carla Reyes, partner and attorney at law at Des Gouttes & Associés, discussing Swiss sanctions.
To register for the webinar visit this link.