Compliance remains high on Malta's agenda: an overview of the MLRO officers and the Unified AML Directive
Free Live Webinar by FM Search and supported by FinanceMalta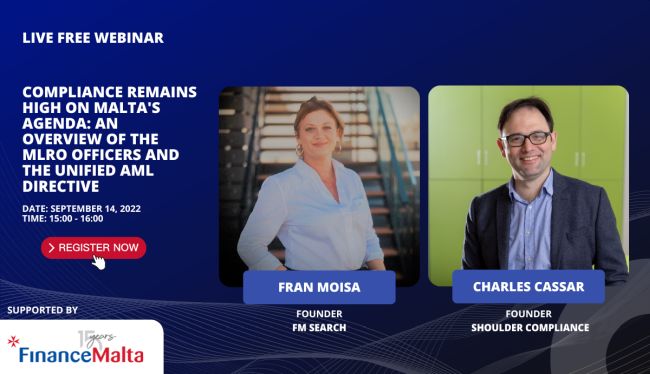 'Compliance remains high on Malta's agenda: an overview of the MLRO officers and the Unified AML Directive' alive webinar by FM Search and supported by FinanceMaltawill take place on the 14th of September 2022at 3 pm(CET).
The event will explore the evolving role of the compliance / MLRO officers, as well as the Unified AML Directive andwhat it means in the EU context and for Malta. A Q&A session will follow, to give attendees the opportunity to interact with the panellists.
The live webinar will be moderated by Fran Moisa (Founder of FM Search), and she will be joined by Charles Cassar (Founder, Shoulder Compliance).
The webinar is free to attend and is aimed at financial services practitioners based in Malta and internationally, as well as investors, students, and the general public.
Registrations are now open(Click here)