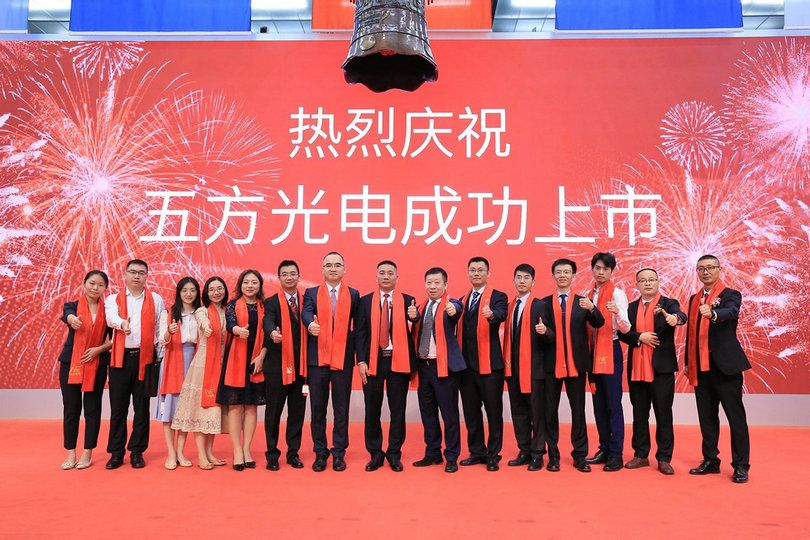 ▲The IPO ceremony
On September 17, Hubei Wufang Optoelectronic Technology Co., Ltd. ("Wufang Optoelectronic Technology") held an initial public offering of 50.4 million A shares on Shenzhen Stock Exchange and was officially listed on the SME board with the stock code "002962". DeHeng acted as its counsel for the IPO. 
Founded in 2012, Wufang Optoelectronic Technology is a high-tech enterprise specializing in R&D, manufacturing, and sale of precision optoelectronic thin-film components. Its product lineup features infrared cut-off filter (IRCF) and biometric filter, mainly used in digital imaging for mobile phone cameras, built-in cameras of computers, car cameras and security cameras. Its clients include Huawei, Xiaomi, OPPO, VIVO, Lenovo and other well-known mobile phone brands. It has established long-term and stable partnerships with well-known optical module manufacturers such as Sunny, O-film, TRULY and Q Technology. After years of development, it has become a major IRCF manufacturer in China, with a high level of market share and brand awareness.
▲DeHeng lawyers were invited to the IPO ceremony of Wufang Optoelectronic Technology
(From right to left: lawyer Liu Zhenguo, director Wei Lei of Wufang Optoelectronic Technology, lawyers Tang Yongsheng, Chen Hongyu and Deng Shuyi) 
As the legal counsel for the IPO, the DeHeng team composed of partner Liu Zhenguo and lawyers Tang Yongsheng, Zheng Jie, Chen Hongyu, Guo Yaosen and Deng Shuyi has provided full-process legal services for the client since 2017, winning high praises from the latter. In the future, DeHeng will continue to provide high-quality legal services to clients in domestic and overseas IPOs and M&A deals .