Khurana & Khurana's pursuit for excellence continues as it celebrated 10 glorious years of service in 2018. It has been acknowledged many a times for its quick and effective services so far. K&K has again made its mark as a tier two law firm for Trademark/Copyright and Patent in offshore as well, according to IP rank list as published by Asian Legal Business (ALB). (For more details click here)
Khurana & Khurana has been one of the law firms to help India protect its IPR by providing Patent and trademark portfolio services, which includes Patent filing, Patent prosecution, Patent opposition, Trademark filing, Trademark prosecution, Trade opposition, IP enforcement as well as litigation. This full service firm has, further contributed in improving India's Patentability environment through filing a number of Patent applications surpassing more than 1200 applications in 2017, both domestic as well as Conventional filings, in the country.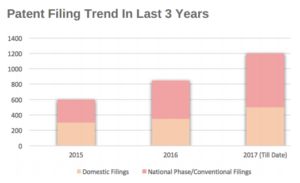 Khurana and Khurana has also carved a niche for itself by successfully representing a diverse portfolio of clients, ranging from start-ups to fortune 500 companies. K&K is pacing swiftly towards filing more number of Trademark applications with each passing year as highlighted in the diagram given below: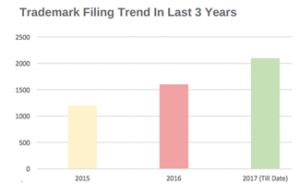 Khurana & Khurana has its presence across the globe as its has offices in various places in India and in other countries namely USA, Bangladesh, Myanmar, Nepal, Vietnam, Sri Lanka and Malaysia. Moreover, with its diligent and sincere work, Khurana and Khurana has been able to engage Clients from diverse section of the world. The figure below shows the Geographical split of K&K's Client base:
As Khurana and Khurana climbs the ladder to success, such recognition by ALB, infuses a new zeal and passion to scale new challenges. Khurana and Khurana is happy to acquire a firm position in the realm of Intellectual Property and strives to achieve greater heights!