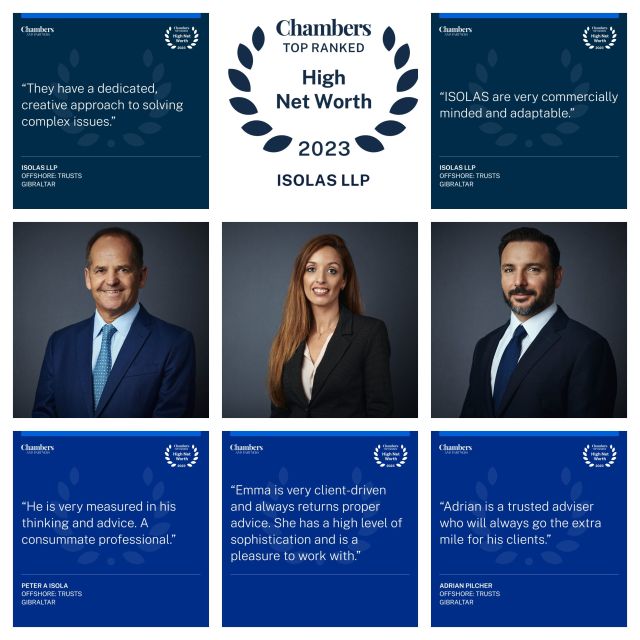 Clients describe ISOLAS as "...very commercially minded and adaptable" and "The team inspires a great deal of confidence and is very professional."
ISOLAS LLP, a leading Gibraltar law firm, has once again retained its Band 1 ranking in this year's Chambers and Partners High Net Worth ("HNW") Guide with Senior Partner Peter Isola and Partners Emma Lejeune and Adrian Pilcher recognised as Band 1 lawyers.
The Chambers High Net Worth guide offers market-leading rankings, reviews, and insights to the world's leading professional advisers, covering private wealth management work, financial and investment planning, and specialists across key jurisdictions. Chambers High Net Worth is used by tens of thousands of professionals each year, and the 2022 edition was accessed by over 120,000 users in more than 100 countries.
This exceptional result follows ISOLAS' back-to-back win as Best Law Firm in the Fund Domicile at this year's Hedgeweek European Digital Assets Awards.
Peter Isola, Senior Partner at ISOLAS commented: "It is true recognition of the whole ISOLAS team to be once again ranked Band 1 in this year's Chambers and Partners High Net Worth Guide. I am particularly pleased that Emma Lejeune and Adrian Pilcher have been ranked Band 1 in recognition of their outstanding knowledge and client work. This ranking confirms that ISOLAS stands as a leading law firm in Gibraltar and reflects the high level of service we provide to our clients on important and sensitive matters. On that note, we would all like to thank our clients and peers who have spoken so highly of us."
Marcus Killick OBE, CEO of ISOLAS commented: "It is great to see Peter, Emma and Adrian's fantastic work and expertise recognised once again by Chambers and Partners. The firm is consistently focused on providing the best service for our clients and this recognition solidifies this. This ranking is just the latest showcase of how the firm continues to excel."