Le calendrier prévisionnel de la JUB reprenant l'ensemble des dates et activités clés est disponible. Cette feuille de route s'intéresse notamment aux étapes liées au recrutement, au budget, à la ratification, etc. L'entrée en vigueur de l'accord de la JUB est actuellement prévu pour le 1er avril 2023 : date à partir de laquelle la Cour devrait commencer à recevoir des affaires.
Vous trouverez dans cet article nos publications pour suivre en temps réel la feuille de route de la juridiction unifiée du brevet.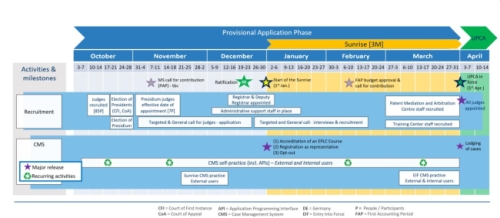 Partie 1 : Mise en place (recrutement, budget, ratification...)
Partie 2 : Sunrise period - Profitez de janvier à mars pour bien vous préparer
Partie 3 : Entrée en vigueur - les débuts de la JUB
Les brèves relatives à la JUB sont rédigées en temps réel par nos experts. Nous ne manquerons pas de compléter cette troisième partie en temps voulu.
Pour approfondir certaines notions relatives à la JUB, découvrez ici toutes nos autres actualités :
The content of this article is intended to provide a general guide to the subject matter. Specialist advice should be sought about your specific circumstances.