El día 09 de enero de 2018, Pemex Logística dio a conocer el inicio de la temporada abierta 1.2, cuyo propósito es que los interesados en participar puedan contratar la capacidad de PEMEX disponible en los Sistema de Almacenamiento y Transporte por ducto del Sistema Norte Zona Frontera.
La capacidad objeto de la temporada 1.2 será la siguiente: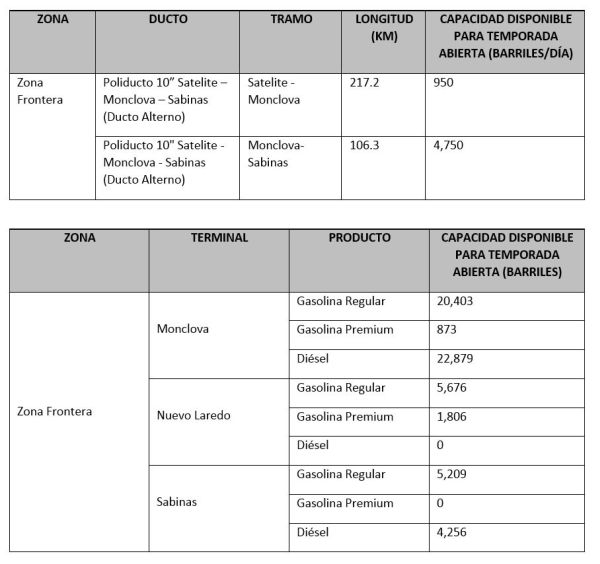 De acuerdo con la convocatoria emitida por Pemex, el calendario para el presente procedimiento es el siguiente;
Siguientes pasos:
La temporada abierta de Pemex Logística se llevará a cabo mediante una subasta.
Para precalificar, los siguientes documentos deberán presentarse a Pemex Logística: (i) carta que manifestando interés en participar en la temporada abierta de acuerdo con el correspondiente Anexo publicado por Pemex Logística; (ii) convenio de confidencialidad; (iii) documentos que evidencien la constitución legal de los interesados; (iv) Registro Federal Contribuyentes; y (v) Escrito de no colisión.
Las compañías precalificadas deben presentar sus propuestas a Pemex Logística.
Pemex Logística evaluará y, en su caso, aceptará la propuesta.
Aquellos interesados deben presentar las garantías requeridas a más tardar el 26 de febrero de 2018.
Las tarifas aplicables a la temporada abierta serán las determinadas de acuerdo con el proceso de subasta mencionado en la convocatoria.
The content of this article is intended to provide a general guide to the subject matter. Specialist advice should be sought about your specific circumstances.