BACKGROUND
As many readers involved in the aviation industry are aware, by August 20161, all non-commercial operators of complex aircraft having their principal place of business or residence in European Aviation Safety Agency (EASA) Member States (and, crucially, both EASA and non-EASA registered aircraft) will have to comply with the Part-NCC European regulations.
Part-NCC comprises Regulation (EC) No 216/20082 which came into force on 25 August 2008 and Regulation EC 965/20123 which came into force on 28 October 2012.
The EASA requirements titled Part-NCC (non-commercial operations of complex motor-powered aircraft) propose a division of regulatory responsibility between the State of Registry and the State of the Operator. Having attained the new International Civil Aviation Organisation (ICAO) Annex 6 Part II requirements for their State of Registry, the operators of aircraft established or resident in an EASA Member State may also need to meet the additional Part-NCC requirements set out in Annex IV to Regulation (EC) No 216/2008.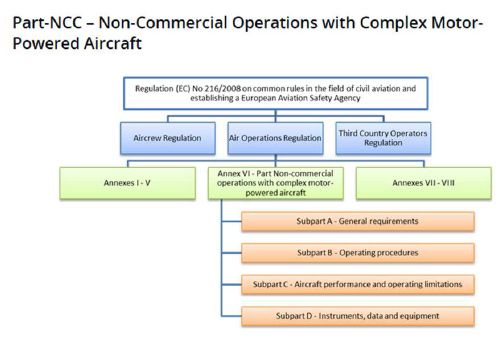 Fig 1: Accessed from EASA & You, European Aviation Safety Agency (https://easa.europa.eu/easa-and-you/aviation-domain/commercial-aviation/air-operations/air-operations-structure)
IN PRACTICAL TERMS, HOW DOES PART-NCC AFFECT AN OWNER OF AN ISLE OF MAN REGISTERED AIRCRAFT?
The focus of Part-NCC is on the "operator" of an aircraft. Article 3(h) of Regulation (EC) No 216/2008 defines an operator as "any legal or natural person, operating or proposing to operate one or more aircraft". On analysis of the factual position surrounding operation and management of an aircraft, this wide definition can be applied to a number of people involved in the day to day operation of an aircraft and can include pilots, aircraft managers and even the owner. Whoever is deemed to be the operator of an aircraft has full legal and regulatory responsibility for the aircraft in general and on each flight.
Owners of aircraft registered on the Isle of Man Aircraft Register (IOMAR) may opt to employ the services of a professional operator who is the holder of an Air Operator Certificate (AOC).
The Isle of Man is not part of the European Union (EU) and EU law does not extend to the Isle of Man except in limited circumstances. Part-NCC regulation will apply to aircraft registered on IOMAR if the operator (whether a professional AOC holder or otherwise) is resident in an EASA Member State.
If the aircraft is not operated by a professional operator (who is an AOC holder or otherwise), responsibility for the safe and proper operation of the aircraft will default to the owner. Owners or operators of aircraft registered on IOMAR that are established or reside outside the EU, and those established or reside in a non-EASA State will not be affected by Part-NCC regulation.
What steps should an owner of an aircraft registered on IOMAR who employs the services of a professional operator resident in an EASA Member State take to protect their position?
1. Examine your management or operation agreement to ensure that all responsibility for the operation of the aircraft is comprehensively delegated to the professionally engaged operator.
2. If the agreement governing the relationship between owner and operator is that of a management agreement, and the term 'manager' is used in place of 'operator', this should not cause immediate concern if the manager is contracted to perform the functions of the operator in line with the Article 3(h) of Regulation (EC) No 216/2008 definition.
3. Look out for all clear references which provide for an owner retaining operational control of an aircraft.
4. An example being: "It is expressly understood and agreed that CUSTOMER shall retain operational control of the Aircraft for all flights of the CUSTOMER on the Aircraft".
5. Care should be taken to identify less obvious references such as an owner retaining the right to approve all crew employed by the operator.
6. One such example being: "All crew employed by OPERATOR shall be approved by CUSTOMER and must be replaced upon CUSTOMER'S request"
7. A further example: "CUSTOMER shall bring to the attention of OPERATOR any maintenance or operational issues related to the Aircraft that become known to CUSTOMER during the Term of this Agreement."
8. Request to see the declaration made by your professional operator which states that they fulfil the Part-NCC obligations and assume responsibility and liability for their operations.
9. Request confirmation as to whether the professional operator has been audited and / or inspected by the relevant competent EASA States authority in the operator's jurisdiction.
Footnotes
1. With certain countries requiring earlier declarations – for example - France have declared that third country resident aircraft have to declare their existence by 25 August 2015.
2. Regulation (EC) No 216/2008 of the European Parliament and the Council of 20 February 2008 on common rules in the field of civil aviation and establishing a European Aviation Safety Agency, and repealing Council Directive 91/670/EEC, Regulation (EC) No 1592/2002 and Directive 2004/36/EC (OJ L 79, 19.3.2008, p. 1), as last amended by Commission Regulation (EU) No 6/2013 of 8 January 2013 (OJ L 4, 9.1.2013, p. 34).
3. laying down technical requirements and administrative procedures related to air operations pursuant to Regulation (EC) No 216/2008. 
The content of this article is intended to provide a general guide to the subject matter. Specialist advice should be sought about your specific circumstances.