Following a delay to the effective date, green funds have until 1 January 2022 to comply with SFDR Level 2 compliance standards.  While the majority of these Level 2 measures were finalised by the ESAs in February 2021 and are now awaiting adoption by the Commission, a further set of standards have now been issued for consultation which relate to those disclosure rules that were written into SFDR by the Taxonomy Regulation (which was finalised 6 months after SFDR) and which provide for Taxonomy-related product disclosures for green funds.  The Taxonomy-related SFDR disclosure rules for green funds come into effect on 1 January 2022. 
To aid fund managers in their preparation for compliance ahead of the 1 January 2022 deadline, the Asset Management & Investment Funds team at William Fry have prepared an analysis of the Taxonomy-related SFDR disclosure rules and the draft compliance standards currently under consultation until 12 May 2021.
Click here or on the image below to download our analysis: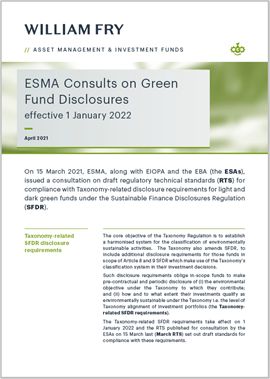 The content of this article is intended to provide a general guide to the subject matter. Specialist advice should be sought about your specific circumstances.