INTRODUCCIÓN
"One belt, one road" "一带一路" ("yi dai yi lu") ("OBOR") es una estrategia de desarrollo propuesta por las altas autoridades de la República Popular China en octubre del 2013, que se concentra en la conectividad y la cooperación entre los países a lo largo de dos rutas principales: una terrestre, que se basa en el "cinturón económico de la Ruta de la Seda", y una marítima que atraviesa Asia, Europa y África, conectando a las economías del este de Asia y oeste de Europa, abarcando más de 65 países tan variados como Singapur, Georgia, Kenia y Holanda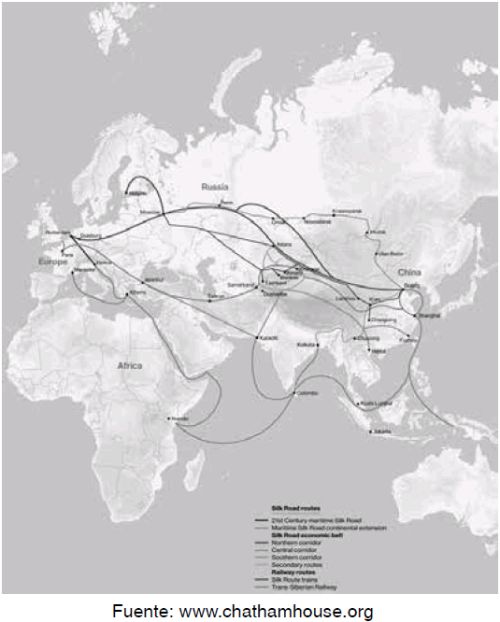 * Carey y Cía. Ltda. (Chile) Diego Peralta V. / Ignacio Tornero O. / Fernanda Jara V.
1 DLA PIPER, "One belt one road – China´s new outbound trade initiative", January 18th, 2016.
OBOR es expresión de un alto compromiso político-económico de China de trabajar con zonas geográficas estratégicas con el objeto principal de facilitar y aumentar los flujos de comercio e inversión, así como la interconectividad. Uno de los puntos clave, está en la búsqueda de disminuir las barreras físicas al comercio (como el déficit de infraestructura portuaria, férrea y vial), y aquellas menos tangibles, como la promoción de la liberalización del comercio, facilitación de procesos aduaneros y procedimientos de cuarentena. Asimismo, la iniciativa pretende mejorar la política de coordinación e integración financiera entre los países que la integran. De acuerdo con el Dr. Tim Summer, miembro asesor sénior del "Asia Programme", la OBOR se ha convertido en un punto central de la política extranjera china y su acercamiento a la economía global, siendo una iniciativa promovida directamente por su presidente, Xi Jinping.
Uno de los principales desafíos consiste en resolver cuál es el significado y contenido exacto de la frase "一带一路" ("yi dai yi lu"), ya que traducción al inglés, "One belt, one road", es equívoca y no refleja sino parcialmente el verdadero alcance de las ideas y objetivos que se relacionan con este concepto.
La primera de estas ideas, dice relación con la estructuración del cinturón económico de la Ruta de la Seda que se extiende desde el oeste-interior de China, pasando por Asia Central en dirección a Europa, replicando el modelo histórico de la antigua Ruta de la Seda en Eurasia, que alcanzó su punto de desarrollo y tránsito más alto durante la época de la Dinastía Tang entre los años 618 y 906. De la misma forma, la segunda idea – una Ruta de la Seda marítima para el siglo XXI –, está inspirada en las antiguas rutas históricas de comercio marítimo con punto de partida en la costa china, para luego adentrarse en el Mar Meridional de China.
Al estudiar en profundidad ambas ideas, se puede constatar que ninguna de ellas está reflejada en su integridad en el concepto "One belt, one road", el que se refiere a una ruta singular; por el contrario, OBOR, se trataría de la creación de múltiples redes de conectividad en diversos ámbitos.
Planeado como una multiplicidad de corredores económicos que une a más de 60 países, OBOR revive la histórica Ruta de la Seda terrestre y marítima. El plan original conecta el continente asiático desde China, con Europa hasta España, incluyendo también el este de África. "Desde que los chinos hemos comenzado a poner en acción este plan, se ha hecho evidente que esto consiste en una asociación económica con múltiples anillos interconectados" señala He Yafei, vice ministro del gobierno chino.
2. Objetivos
La idea de OBOR yuxtapone una colaboración bilateral y multilateral que apunta a la cooperación económica, cultural y política
Ha sido descrita por el gobierno chino como la tercera ronda de apertura económica luego de la creación de las Zonas Económicas Especiales y la incorporación de China a la Organización Mundial de Comercio (OMC). Según el Presidente Xi Jinping, "debería construirse a partir del diálogo para conjugar los intereses de todos, y deberían hacerse esfuerzos por integrar las estrategias de desarrollo de todos los países a lo largo de las rutas. No se trata de un grupo cerrado, sino que por el contrario, abierto e inclusivo, tal como podría ser un coro en contraposición de un cantante solista"4.
A pesar de este ideal de cooperación y colaboración equitativa, podemos entender que China está buscando ocupar un rol protagónico en la misma, para consolidar su posición de potencia mundial, y contrarrestar la influencia de Estados Unidos en el plano global.
A partir del desarrollo de la OBOR, se espera que se de origen a un nuevo panorama geopolítico-económico para esta región (y probablemente para todo el mundo), con las consecuencias propias en el statu quo actual, el cual tiene a Estados Unidos como potencia global indiscutida. Será muy interesante ver cómo este último logra mantener su predominio en Asia Pacífico y el resto del mundo.
En la aspirando a construir una estructura de conectividad en Eurasia (en especial en términos de carreteras, trenes bala y transporte marítimo), será necesario que la OBOR considere a la vez un programa muy ambicioso que integre una gran variedad de recursos a través de una colaboración multilateral. Asimismo, para lograr estos objetivos y tener éxito en la creación de un sistema alternativo al norteamericano, China deberá estructurar un plan que responda a las inquietudes y necesidades del resto de los países que integren OBOR.5
Es en esta línea que China ha impulsado la creación y fortalecimiento de distintas instituciones como medidas concretas de materialización de la OBOR. Entre ellas, podemos destacar el Asian Investment Infrastructure Bank (AIIB), el BRICS New Development Bank, China Development Bank (CDB), The Export-Import Bank of China (Exim Bank), y el Silk Road Fund. Este último, es un fondo de inversión diseñado especialmente para promover el desarrollo económico y social, así como la interconectividad de los países a lo largo de OBOR, creado en el 20146. Por su parte, la creación del Asian Investment Infrastructure Bank (AIIB) podría entenderse como un intento de desafiar al FMI, al Banco Mundial y al Banco Asiático de Desarrollo, dada su clara vinculación a Estados Unidos7.
Si bien la política tiene un claro contenido económico, tiene también importantes componentes e implicaciones políticas y estratégicas, según afirma Zhuang Jianzhong, vice director del Centro de Estudios Estratégicos de la Universidad Jiao Tong en Shanghai, ya que "persigue el desarrollo conjunto, la prosperidad común y también la energía segura". Las rutas van a requerir de plataformas logísticas, redes de comunicación, aeropuertos, líneas de tren, modernas carreteras, puertos e incluso de un com onente militar que permita responder rápidamente ante una eventual crisis8.
3. Principales enlaces geográficos
Las ideas del "cinturón y la "ruta" cobraron vida por primera vez el año 2013 al ser presentadas por el Presidente Xi Jinping y el primer ministro Li Keqiang durante sus visitas al Asia Central y el Sudeste Asiático.
Los enlaces geográficos previstos por el cinturón y la ruta marítima se encuentran en múltiples localidades, cuya naturaleza no está limitada a su infraestructura sino que el Presidente Xi se ha referido a conectividad también en los términos de comercio, producción, capacidad de cooperación, inversión, finanzas, y flujo de turistas y estudiantes9.
Según dijimos, esta nueva Ruta de la Seda abarca más de 60 países que en su conjunto comprenden el 60% de la población mundial y un producto interno bruto colectivo equivalente al 33% de su riqueza.
En el marco de la iniciativa OBOR se han propuesto 6 corredores económicos: un nuevo puente terrestre entre Europa y Asia, China-Mongolia-Rusia, China- Asia Central-oeste de Asia, China-Península Indochina, China-Pakistán, Bangladesh-China-India-Myanmar. Para ello el Banco de Desarrollo de China ha presupuestado una inversión de US$890 billones para su desarrollo. Ello importa un gran beneficio para todas las empresas dedicadas a actividades comerciales, al poder hacer uso de los corredores para repartir bienes a lo largo de los países que conforman la ruta.
Con su incorporación a la OBOR, los mercados de los países en desarrollo se verán inclinados a la liberalización y diversificación de sus economías. Se espera asimismo que se reduzcan las barreras de entrada y que mejore el ambiente de negocios, lo que aumentaría sustancialmente las oportunidades de inversión y la exportación tanto de bienes como servicios.
Con la implementación de la política, el potencial de crecimiento en las economías emergentes es gigantesco; pronosticándose que el PIB real de los países en vías de desarrollo va a aumentar en un 6,7% anual durante los próximos 15 años, con la expectativa de llegar al 73% nominal de las exportaciones mundiales para el año 203010.
To view the article in full click here
The content of this article is intended to provide a general guide to the subject matter. Specialist advice should be sought about your specific circumstances.