A nation once characterised by land-locked isolation and poverty, Ethiopia has emerged as Africa's 'newest Lion economy' and continues to accelerate in the global economy. With a population of 70.7 million people, Ethiopia has enjoyed a period of rapid economic growth by about 10% a year since 2004.
Ethiopia was once a synonym for poverty and famine. Even though it is still one of the poorest nations in Africa - with an estimated third of the population earning less than $1 a day - the country has one of the fastest-growing economies in Africa, and development of the agriculture industry is a major feature of Ethiopia's economic growth.
Aside from agriculture, many other factors contribute to Ethiopia's economic growth. The inflow of Foreign Direct Investment (FDI) from diverse sources into different sectors, stable non-food price inflation, increasing exports to a diversified range of markets, stable economic policies, and a strong investor protection framework- are all features which characterise Ethiopia's emerging economic status. In terms of FDI inflows, the largest source of income into Ethiopia have mostly come from EU, China, Germany, Saudi Arabia, India and US with no export destination dominating. This has proven to be an advantage for Ethiopia who has been able to avoid vulnerability to changing business cycles in any of the global regions. Indeed there has been a decade-long increasing trend of foreign investment into Africa, and now it is Ethiopia's turn to enjoy this trend.
Ethiopia - GDP Annual Growth Rate 2004-2014(%)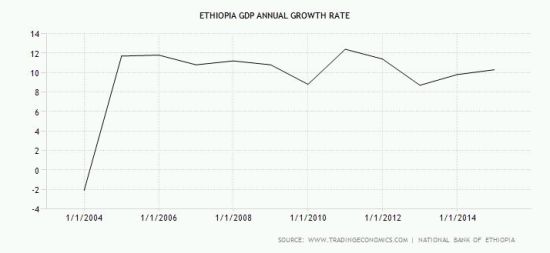 Agribusiness- a promising industry?
The development of the agricultural industry (which accounts for 40% of the nation's GDP) in Ethiopia is at the heart of the country's steady economic and social growth over the last decade.
By land size, Ethiopia has significant agricultural potential, with over 80% of its workforce employed in the agriculture sector. Trade exports are almost entirely agricultural commodities and coffee has always been one of the biggest export earners in Ethiopia.
Ethiopia - Foreign Direct Investment (US$ million)
Aside from the traditional agricultural products (coffee, cotton, cocoa), Ethiopia has evolved towards diversification of non-traditional exports e.g. the Floriculture industry-a strategy that has opened up global markets. This strategy encourages stimulation of local markets, thereby pushing a modernist idea that development comes from within. The result: productivity increases and people become more skilled in their different cottage industries.
The Ethiopian floriculture industry has proven to be a promising sector that ensures steady economic growth and has strong foreign investment potential. Floriculture is a labour-intensive industry; and as a result has had the biggest impact in terms of employment creation specifically for uneducated/skilled workers- creating more than 100, 000 jobs in 5 years. There has been a significant infusion of foreign capital inflows in this industry across the country from India, Singapore, China, Malaysia and other sources. The biggest market for the Ethiopian rose is the Dutch auction, with accounts for about 70% of the total volume of Ethiopian rose exports.
With a reputation as the second largest flower exporter in Africa, making $371 million this 2014 fiscal year, Ethiopia has the potential to increase to $550 million by 2016. Its trading industry looks promising, and the government would do well to develop its extractive sector in a way that it yields sustainable economic benefits to the country. After all, agriculture accounts for 60% of Ethiopia's GDP.
How should investors prepare for this expansion?
The good news is, Ethiopia has become a hub where investors have a new opportunity to exploit market capacity and cheap labor in a way that would potentially yield profitability. In the same way, farmers can also exploit the investment potential that is available to their advantage as it would increase their local production and improve their standard of living. However, despite Ethiopia's promising future, there are some salient challenges that might be faced by investors.
It seems while the country has opened its doors for foreign investors, the state still maintains absolute control. As such, this has opened investors to some risks:
The government adopts a public sector-led development strategy - Growth Transportation Plan (GTP) - based on achieving economic growth through FDI. Part of the GTP requires huge investments that the country cannot generate locally. For instance, with a population of around 85 million, the government has a responsibility to feed one of the world's poorest countries. This situation has affected the liquidity of Ethiopia thereby creating high inflation and shrunk credit availability to private firms.
Ethiopia's misguided policy of continuous currency devaluation poses a high risk, as instead of inducing export growth, it has aggravated inflation, which in turn deters new and already existing investment. A recent survey shows that 90% of firms in China perceive foreign exchange rates as one of the largest risk doing business in Ethiopia.
Ethiopia's selective approach in encouraging business entrepreneurs is also a problem. Its labyrinthine bureaucracy is the bane of the smallest of private businesses. In short, investors wanting to do business in Ethiopia, more or less have to forge good relations with the government or selected influential members of the society. For example, investments in Ethiopia's biggest coffee-export business - Schulze Global Investments (SGI) - are made with the elite families who run the business.
Nevertheless, despite the perceived obstacles, Ethiopia still remains an attractive business destination for investment, and a risk that is worth taking.
It is safe to say that Ethiopia's performance has moved it into the league of major emerging markets but with significant challenges, which may threaten the continuity of its position as the 'newest Lion economy'.
Moving forward, the Ethiopian government should endeavour to continue the sustainability of the development of its agriculture industry by creating an environment for business growth through the removal of unnecessary bottlenecks and obstacles that can create impediments for foreign investments. This will be crucial to the social and economic stability of the country.
The content of this article is intended to provide a general guide to the subject matter. Specialist advice should be sought about your specific circumstances.