Creditors will soon be able to obtain a court order allowing them to freeze their debtors' bank balances in other EU member states. Creditors will further be able to request information on debtors' accounts in other member states. This is the result of a regulation establishing the European Account Preservation Order (EAPO), which will enter into force on 18 January 2017. The scope of the EAPO is limited to civil and commercial matters. It applies in all EU member states except for the United Kingdom and Denmark.
The EAPO provides two methods for a creditor to improve his position regarding his debtors in cross-border matters:
the creditor can apply for an order allowing the protective attachment of bank balances of his debtor, even if the creditor has not yet obtained an enforceable 'title' against his debtor – that is, an enforceable judgment, a court settlement, or an authentic instrument such as a notarial deed; and 
the creditor who has obtained a title can request account information of his debtor if he has reason to believe that the debtor holds one or more accounts with a bank in a specific EU member state, but knows neither the name or address of the bank nor the IBAN, BIC or other bank number allowing the bank to be identified. The creditor can file this request even when his title is not yet enforceable.
Significantly, the EAPO does not affect the Dutch system for cross-border protective attachments. Creditors can therefore continue to enjoy the benefits of the Dutch system, which, in several respects, is more creditor-friendly than the EAPO and systems for protective attachments in other European countries. Notwithstanding the EAPO, a creditor can still apply to a Dutch court for a Dutch attachment order. At the same time, creditors can benefit from the new opportunities offered by the EAPO, in particular the prospect of obtaining a debtor's account information. This is a measure that was previously not available in the Netherlands. A notable similarity between the EAPO and Dutch law is that the debtor will not be heard on the application for the protective attachment. The debtor will only be notified after the attachment is in full place.
The main differences between the system of protective attachments under Dutch law and under the EAPO are contained in this schedule.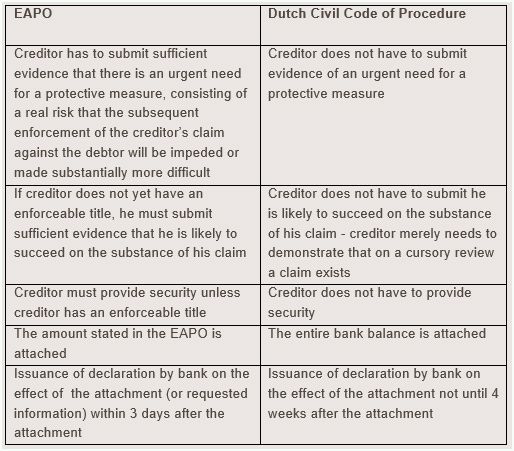 The content of this article is intended to provide a general guide to the subject matter. Specialist advice should be sought about your specific circumstances.