Apple, founded in 1976 by two prominent pioneers - Steve Jobs and Steve Wozniak, is now one of the most valuable companies in the world with a valuation of over $2 trillion as on 19th August 20203. Apple has been a Silicon Valley trend-setter for almost four decades.
Over the years, the company has fought aggressively to protect its brand name, understandably so. It has successfully opposed several trademarks containing fruit related logos resulting in alteration of these logos or their complete abandonment.
On 25th March 2020, Apple had filed a Notice of Opposition at the USPTO (Before the Trademark Trial and Appeal Board) against a small company "Prepear" owing to the alleged resemblance of the Pear Logo with the well-reputed and iconic Apple Logo.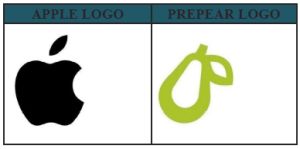 Figure 1.1
Apple's key claims include4:
Apple's logo has been used continuously and extensively since 1976.
Apple owns trademark registrations prior to January 26, 2017 i.e. prior to date of filing of application for the Prepear logo.
The Prepear's mark consists of a minimalistic fruit design with a right-angled leaf, which readily calls to mind Apple's famous Apple Logo and creates a similar commercial impression.
The services rendered/proposed to be rendered under the Prepear's application such as food and meal planning-related services are within Apple's natural zone of expansion for Apple's Apple Marks.
There is a likelihood of association and hence a likelihood of confusion.
Owing to similarity in appearance and commercial impression to the famous/wellknown Apple marks, and keeping in view, the prior, extensive and continuous use, the reputation/goodwill and the inherent distinctiveness of the Apple marks; the adoption of the Prepear logo is likely to cause Dilution by blurring of the famous Apple marks.5
Prepear(ed) to Fight!
Prepear, is a healthy kids meal planning app owned by "Super Healthy Kids, Inc.". The app is currently available on App Store and Google Play Store. As is evident from the description of the services rendered under the app, the line of operations under both the marks is completely different. While, many small businesses wouldn't even dare to fight a tech giant like Apple in court, Prepear feels that it has now become its moral obligation to fight Apple's aggressive legal actions against small businesses for use of fruit-related logos.6
In its attempt to persuade Apple to drop its Opposition against the Prepear logo, Prepear has launched a petition on Change.org sending a really strong message to big tech companies that there would be consequences if they try to bully small businesses. The petition titled - "Save the Pear from Apple! End Apple's Aggressive Opposition of Businesses with Fruit Logos" has already garnered lot of attention with over 220,000 signatures.7
Apple or Pear?
While, there is no iota of doubt that Apple should protect its most valuable brand from infringers however, with the present opposition it seems that Apple has gone way too far. Just because Apple has established a well-known status for its Apple logos, does not give them right to claim monopoly over all fruit-related logos even when the line of operations is evidently different. It would be interesting to see what courts have to say in this matter.
Footnotes
3. Sergei Klebnikov, "Apple Becomes First U.S. Company Worth More Than $2 Trillion", FORBES, 19th August 2020, also available at: https://www.forbes.com/sites/sergeiklebnikov/2020/08/19/apple-becomes-first-us-company-worth-more-than-2-trillion/#6a99104f66e6 (last visited on 21st August 2020).
4. APPLE INC. v. SUPER HEALTHY KIDS, INC., Notice of Opposition, 25th March 2020, The United States Patent And Trademark Office Before The Trademark Trial And Appeal Board, also available at http://estta.uspto.gov/.
5. Id.
6. Times of India.com, "Apple has a 'problem' with fruit logos", THE TIMES OF INDIA, 10th August 2020, also available at https://timesofindia.indiatimes.com/gadgets-news/apple-has-a-problem-with-fruit-logos/articleshow/77456343.cms#:~:text=Apple%20is%20 . (last visited on 24th August 2020).
7. Russell Monson, "Save the Pear from Apple! End Apple's Aggressive Opposition of Businesses with Fruit Logos", change.org, also available at https://www.change.org/p/apple-save-the-pear-from-apple-end-apple-s-aggressive-opposition-of-small-businesses-with-fruit-logos?re (last visited on 24th August 2020).
The content of this article is intended to provide a general guide to the subject matter. Specialist advice should be sought about your specific circumstances.