Information technology and communication systems are important parts of how our society operates in the present times. In today's digital world, the telecommunication industry has become the backbone for companies, governments, social structures, and individuals to communicate easily and share information.
The telecommunication industry provides both wired and wireless systems to connect people with devices for peer-to-peer communication and internet communications. The wireless system has followed different evolutionary paths aimed at a unified target - better performance and higher efficiency in the mobile environment. The evolution of wireless and cellular systems depends on radio access, data rates, bandwidth, and switching schemes. New research and development in the field of technology give new directions to the telecommunication industry.
Wireless technology has come a long way - from analog communication systems to digital communication systems which connect users and devices for peer-to-peer communication and internet communication. The key aspects of wireless technologies have evolved and have shaped generations of cellular technology: radio access, data rates, bandwidth, and switching schemes.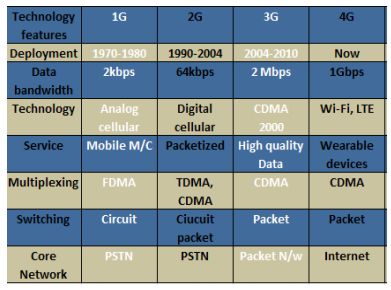 Figure 1. Evolution and features of wireless technology
Telecommunication industry experts predict exponential growth in the number of mobile users, smart grids, smart home appliances, smart health care systems, smart transports, machine-to-machine interactions, smart vehicles, smart sensors, smart tools, and other connected devices which cause high data transfer traffic. As a result, technology pioneers are working on 5th generation (5G) cellular technologies that meet the requirements of the next-generation wireless devices.
Ultra-high bandwidth with 1000 times higher capacity, ultra-high data date, zero latency, high-speed mobility, and high energy optimization is needed for the fifth-generation wireless technology that can be allowed with new emerging technologies. In comparison to previous wireless technologies, 5G is technologically advanced in following ways:
Super speed i.e., 1 to 10 Gbps
Latency will be 1 millisecond (end-to-end round trip)
500Mhz to 1-2 GHz
Feasibility to connect 10 to 100 numbers of devices
Worldwide coverage
About 95% reductions in network energy usage
Battery life will be much longer
The whole world will be in a Wi-Fi zone
MARKET REPORT OF 5G TECHNOLOGY
The global 5G services market size was expected to reach USD 41.48 billion by 2020 and expand at a compound annual growth rate (CAGR) of 43.9% from 2021 to 2027. 5G wireless mobile services which provide a digitally connected environment by providing a wide range of use cases and business models to consumers are estimated to be commercialized between 2021-20231 .
5G - FUTURE OPPORTUNITIES
The faster data speeds and extremely low latency offered by the 5G technology will enhance the user experience while using 5G services for numerous uses, for example, Virtual Reality (VR) and Augmented Reality (AR) gaming, seamless video calling, and Ultra-high Definition (UHD) videos and for smart device services. Growing demand for highspeed data for smart services and other connected devices are expected, over the forecast timeframe, to accelerate the acceptance of 5G networks.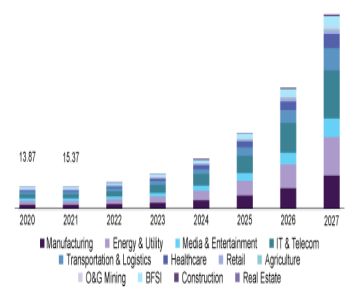 Figure 2 Shows Year Wise 5G services market
Also, the developing significance of 5G system deployment providers on establishing relationships with telephone companies is expected to accelerate the use of 5G services.
PATENT TRENDS
In telecommunications, there is a notion of Standard Essential Patents (SEPs). There are patents in the production stages of standardized technologies that cannot be avoided. They are innovative, pioneering innovations that can build whole industries around them. This also applies to SEPs in 5G.
Currently, the 3G and 4G patentees have control of smart technology which augurs well for 5G network patent owners. They will most likely soon become the leaders in the field of technology as they would be providing 5G connectivity for various types of smart devices. The increasing market demand for smart wireless technology has also increased the 5G technology patent application filing trends worldwide. The key players with the highest number of patent applications are Intel Corporation, Nokia Corporation, Qualcomm Inc., Inter-digital Tech Co, Telefonaktiebolaget IM Ericsson, ZTE Co, NEC CO, and LG Electronics INC. These key player have years of experience in licensing technology and patents2.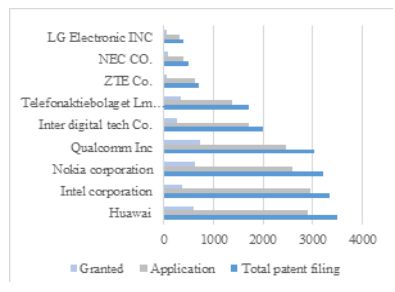 Figure 3. Shows Number of patents filed by Key players CONCLUSION The 5G is anticipated to provide a new direction to thousands of new products, technologies, and services. The advantages of a 5G network over 2G, 3G, 4G create licensing opportunities for 5G SEP owners. But licensing 5G SEPs may become a serious problem for the telecommunication industry. The patent owner of wireless networks like Huawei may obtain royalties from many different types of products that communicate using wireless networks like 3G and 4G. In the current scenario, most of the telecommunication-based industry is generating 5G patents with an aim to license royalty revenues.
Footnotes
1 https://www.grandviewresearch.com/industry-analysis/5g-services-market
The content of this article is intended to provide a general guide to the subject matter. Specialist advice should be sought about your specific circumstances.